Spoilers: 'My 600-Lb. Life' Subject Brandon Says He Will Die If He Doesn't 'Lose Weight in Drastic Amounts'
My 600-Lb. Life subject Brandon loves music and had dreams of traveling to Italy to sing opera or teach music to children, but his passions derailed because of his addiction to food. After developing a large lymphedema mass on his leg, he is now finding it hard to walk or fit in a car. He also has dreams of marrying his girlfriend, Taylor, and taking care of his mother, but Brandon is slowly being incapacitated by his weight. To chase his dreams, Brandon is willing to seek help from renowned bariatric surgeon Dr. Younan Nowzaradan. If he doesn't lose weight, the consequences could be deadly.
In a sneak peek clip of Wednesday's episode, obtained by Newsweek, Brandon talked about not being able to care for his mother or marry his girlfriend because of his size. "It's not fair that my mom has to provide for me when I should be helping her out and this isn't a life for me or for Taylor," he says. "I want us to get married but right now if I propose to her what kind of life would I be offering her? She'd be saying yes to being my caretaker. That's not fair to her."
They don't have a typical relationship and part of that is because of his weight. "We don't do boyfriend-girlfriend stuff partly because of my size. But when it comes to physical stuff, Taylor and I do not partake in intimacy because we're not married yet," Brandon explains. "We're waiting until we're married but that won't happen unless I lose the weight and I'm actually able to give her what she deserves."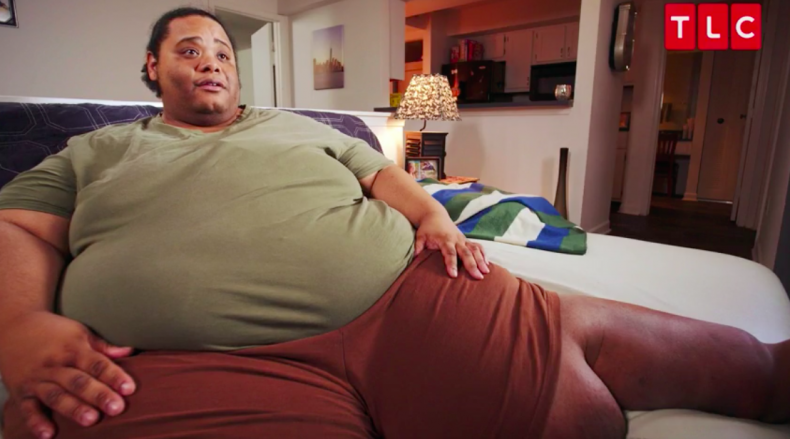 If he doesn't change his life, Brandon is worried his body will give out. "I know I desperately need to lose weight to not only be able to do that but because it's getting so bad that my body is starting to struggle more and more and I know that if I don't lose weight in drastic amounts I will die," he says. "My heart or something will give out and that will be the end."
In high school, Brandon had hopes of pursuing a football scholarship, but that plan was derailed when he was involved in a car accident and had to quit playing sports. His next option was to chase an opera career in Italy, but he put that dream on the back burner when his parents divorced following his father's affair.
Taylor is the love of his life, and he wants to teach music to children even if he can't sing in Italy, but his food addiction is holding him back. To marry Taylor and have his dream of a performer come to life, he wants to get weight loss surgery with Dr. Now.
To find out if Brandon is able to get control of his food addiction, don't miss My 600-Lb. Life when it airs Wednesday at 8 p.m. ET on TLC.