What Happened To 'My 600-Lb. Life' Subject Jennifer? 570 -Pound Woman 'Gorged' Herself on Food After Alleged Molestation
Jennifer, the subject of Wednesday's My 600-Lb. Life episode, knew she had to get her life in order when her bad eating habits started to affect her daughter, Marissa. By the time she was 25 years old, Marissa weighed 430 pounds and Jennifer had ballooned to 570 pounds. Together, the mother-daughter duo decided to pack up their things and travel from Oregon to Houston to seek the help of renowned bariatric surgeon, Dr. Younan Nowzaradan, and get healthy through weight loss surgery.
In a sneak peek clip of Wednesday's episode, obtained by Newsweek, Jennifer said she didn't have an easy home life when she was little. "Growing up, I had a pretty tough childhood. The first couple of years of my life revolved around the fact that my father was an addict," she told cameras. "So a lot of my earliest memories were of my dad losing his temper and going into a rage. But because of that my parents got a divorce."
Things got worse when Jennifer's mother remarried. Within two years of their nuptials, Jennifer's stepfather allegedly molested her. "My mom remarried when I was 5 and my stepdad started to abuse me and my siblings. When I was 7, that's when my stepdad started to molest me," she said. "I think that my mom knew I was being molested, and my mom would just excuse my stepdad's behavior. Nothing ever changed."
Since no one helped her, Jennifer used food to soothe herself. "Nobody did anything to save me and I had nowhere to turn, so I turned to food. I just started gorging myself," she explained. "It was the only thing in my life I could turn to that made me feel safe and happy. It was something I could control. It never judged me. It never hurt me."
Newsweek subscription offers >
Jennifer started to put on weight when she was 8 years old. By the time she was 9, she weighed 100 pounds. "My weight gain never slowed from that point," she said. "I was just eating nonstop."
Her parents tried to control her weight by locking up the cabinets and refrigerator, but it didn't work. "I'd find ways to sneak snacks," she said. Over the next three years, she ballooned to 150 pounds.
That's when Jennifer's stepfather started to humiliate her. "[He] would stand me on a scale, naked, in front of a mirror and just degrade me [and say], 'Why do you want to look like this? Why can't you lose weight?' I just felt useless and inadequate."
To find out what happens to Jennifer and Marissa on their weight loss journey, don't miss My 600-Lb. Life when it airs Wednesday at 8 p.m. ET on TLC.
Newsweek subscription offers >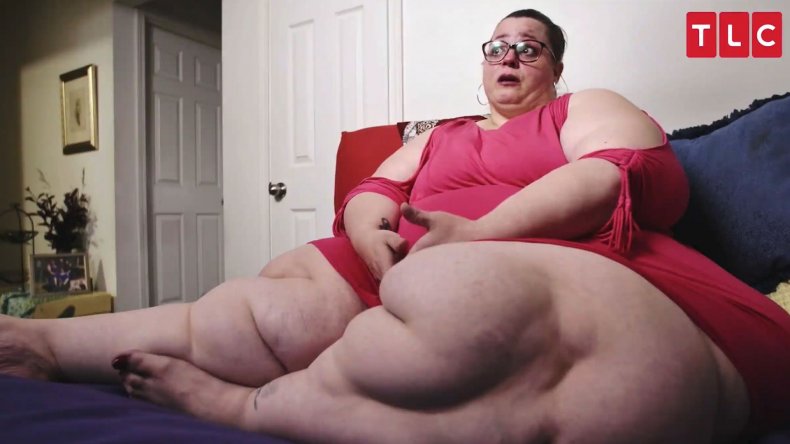 What Happened To 'My 600-Lb. Life' Subject Jennifer? 570 -Pound Woman 'Gorged' Herself on Food After Alleged Molestation | Culture