$600 Unemployment Payment for Americans Won't Last Much Longer, White House Economic Adviser Says
The weekly federal payment of $600 for Americans receiving unemployment insurance will not last much longer, according to comments made Tuesday by the White House's chief economic adviser.
"The problem with the $600 plus-up—and maybe we needed it in that emergency period—but frankly it is a major disincentive to go back to work. We don't want that, we want people to go back to work. We are looking at that," Larry Kudlow, director of the White House's National Economic Council, said in an appearance on Fox News' America's Newsroom.
"I would also add [President Donald Trump] is a firm supporter of the payroll tax holiday...for the worker's side," Kudlow continued. "That's an incentive because it would increase after-tax income by 7.6 percent. We have already done it on the business side. Now we can do it on the worker's side. So there will be some combination. I, frankly, do not believe the $600 plus-up will survive the next round of talks, but I think we will have substitutes to deal with that issue."
The $600-a-week unemployment benefit provision, which is set to expire by the end of July, was part of the historic $2.2 trillion Coronavirus Aid, Relief and Economic Security (CARES) Act signed into law by Trump in late March. The payment goes to those who filed for state unemployment benefits, but an unintended consequence was that some workers were choosing to remain on unemployment rather than return to work because they could make more money that way.
The $3 trillion Health and Economic Recovery Omnibus Emergency Solutions (HEROES) Act, a bill crafted by House Democrats without any input from Republicans, would see the $600 unemployment provision extended until the end of January 2021, and for some it would go until March of next year.
Senator Rob Portman, a Republican from Ohio, has suggested that workers be given a bonus in addition to their regular salaries, instead extending the $600 federal payment, an idea Kudlow said Tuesday was something the Trump administration is "looking at very carefully."
"It may well be [something we can get behind]…. Senator Portman has a good idea. He understands incentives and disincentives," Kudlow said.
The economic adviser did say he saw "glimmers of hope" for the U.S. economy, as business are reopening after close to 40 million people have filed for unemployment.
"I think you're in a turning-zone phase," Kudlow said. "As we have said time and again, the second quarter is going to be a rough quarter. It is a contraction, a pandemic contraction. A lot of hardship on the unemployment claims, a lot of heartbreak there. But these signs...are showing a lot more glimmers of hope and growth, and the signs seem to be mounting."
"I think folks see that the virus, first of all, is flattening on its way down, they see business opening, they themselves feel like going out and spending," he added. "These are all very positive developments that will show up in perhaps July or August. The third quarter could be the fastest growing quarter in U.S. history."
A White House spokesperson told Newsweek in an email that the administration is working to return the country to "economic prosperity" following the novel coronavirus pandemic.
"As President Trump has said, we are going to ensure that we take care of all Americans so that we emerge from this challenge healthy, stronger, and with economic prosperity, which is why the White House is focused on pro-growth, middle class tax and regulatory relief," the spokesperson said.
"The President's bold policies of low taxes, deregulation, reciprocal trade and energy independence took this economy to record-setting historic highs once, and they will do so again."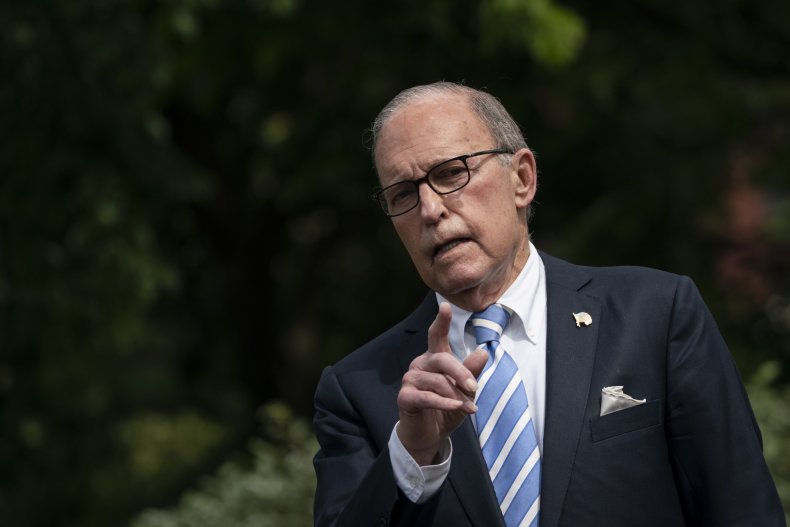 Update (5/27/20 12:07 p.m.): Updated to include comments from a White House spokesperson.