Lately I've been busy sorting things out at home in Malmesbury, England, the small town where I live—because I lost my mom in November 2019. I've been here all my life, so I know a lot of people in the community.
I met Ben—who is now 15-years-old— because his family's yard backs onto mine. We were talking through a hole in the fence when he was seven-years-old, and he said he wanted to do some gardening for me.
I was looking after my poorly mom at the time, and so I agreed to let him help out, and that's how our friendship started. He's done gardening, digging, weeding, cutting the hedge, and lots of lawn mowing. His mom was alright with it as she could keep an eye on him through the fence and see what he was up to.
Ben looks after me, and his mom. He pops round or rings up to keep an eye on me, to see what I'm doing and make sure I'm alright.
The gardening started out as a favor, but I do give him a bit of pocket money sometimes. And then, a few years ago when Ben was about 12-years-old, we started doing community work together, picking up litter together around Malmesbury.
Ben formed the Helping The Community of Malmesbury group on Facebook and he's built a website, Helping Clean Malmesbury, which details all the work we do in the community. Obviously I know what he's doing, but I'm no good on computers!
Ben thought the place looked a bit of a mess, so as well as litter picking, he started cleaning paths, sweeping and clearing weeds—he really likes helping the community. And then we both decided to cut the a local hedge.
The local council gave us black bags and litter picking gear so we could get on with picking up the litter, and in 2019 we had a donation from a poor gentleman who died and left us items from his garage for our community work. When we started, we had nothing, we just started from scratch, but then the gentleman left us hedge cutters and clippers and other equipment.
It is an unusual friendship, because I'm 61 and Ben's just turned 15. But we just seem to get on so well—we complement each other. He's kept me going since I lost my mom, and we do this and that in the garden together.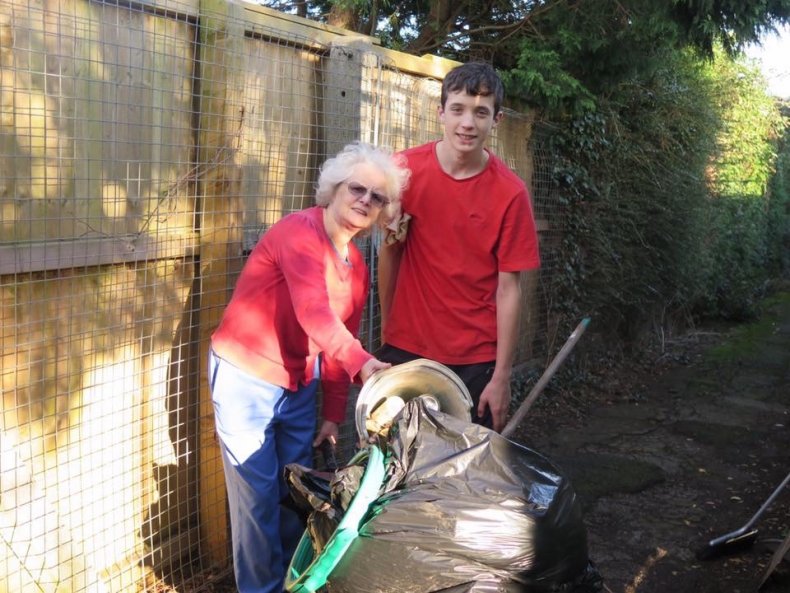 He also helped me with my computer at the beginning of our friendship. He's a whizz kid. In the winter we used to do computer work—on a Saturday night Ben would come round and help me. He's set up a few computers at my house. We're also both interested in photography, so we'd do that too.
Just before shutdown, Ben surprised me with more than 200 trees he'd bought for the community. We were organizing a planting day for the end of March, and Ben had arranged for a lot of volunteers to help us plant the trees. People follow us on the Facebook page he set up, and also know me from working in Clarks shoe shop on the Malmsebury high street. The local skittle team that Ben and I both belong to were volunteering to make tea and cake, which we were going to give out to people. But everything ground to a halt because of the pandemic.
When Ben told me we had these trees coming, I said, "where are we going to put them then?" He hadn't thought of that, he'd just ordered the trees. We've had to put them in my garden because of lockdown, so I've got more than 200 saplings in my garden in a vegetable patch. I now can't plant any vegetables because Ben's collared it for the trees.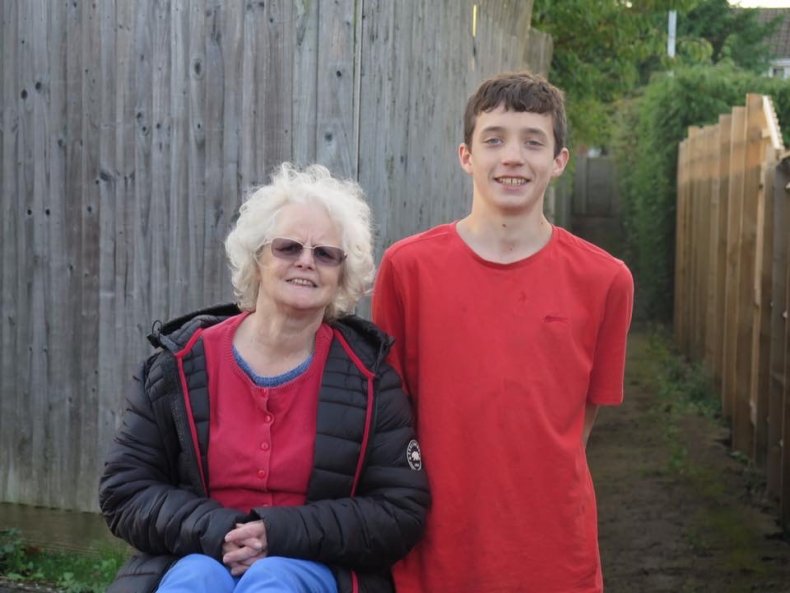 He planted them himself because I told him he'd have to put them in or they'd die over the summer. The plan is that we'll replant them as planned in the fall—we have permission to plant them in various places in the community.
When we started out, we did have a bit of leisure time to do things like photography together, but now we're having meetings with the council or Ben's arranging things for us to do. It has helped me after losing my mom, he's a very good friend to me.
Ben's mom and dad are both key workers, so when they are at work during the pandemic, and after he's done his school work, he might come round to mine. Ben knows I'm always at the bottom of the yard if he needs anything.
We recently made a funny film about the seaside. Ben thinks of these ideas, and comes around and tells me that we're making a film about the seaside. He'll give me a vague idea, and then I'll add a bit of comedy and away we go. My shed is stripy, so we used that in the seaside film. Ben's also been to our high street to film because it's all shut down. In years to come, people will watch it back to see what happened during lockdown.
Once lockdown is over we're definitely replanting the trees. I don't want them staying in my yard, they'll get too big. I shall have enough trees for a forest!
There aren't many 15-year-old lads out there like Ben, who would do gardening and help out. He set up a website connecting volunteers and people in need in our area during the pandemic, and in May he set up another website called Malmesbury Activities, suggesting things for people to do during lockdown.
We do have fun together, though we can't do many fun things during lockdown. Ben loves taking photos, he's got a drone now. I help him as much as I can. He works super hard, and he keeps me on my toes. He's a great guy.
Julie Taylor lives in Malmesbury, England and works in Clarks shoe store. She and Ben Thornbury are neighbors and met when Ben was seven-years-old. The pair have been on a clean up mission around Malmesbury for the past four years. More information on their community work can be found on the Helping The Community of Malmsbury group on Facebook and Helping Clean Malmsbury website, both run by Ben.

The views expressed in the piece are the writer's own.
As told to Jenny Haward.