61 Percent Believe America's Response to COVID Crisis Is Unsuccessful, Poll Says
New polling data suggests more than two-thirds of U.S. adults disapprove of the federal government's pandemic response, as President Donald Trump tracks nearly 10 points behind presumptive Democratic presidential nominee Joe Biden in national election surveys.
Results of an NBC News/Wall Street Journal poll, released Sunday morning, show 61 percent of respondents believe the country's COVID-19 management strategy is unsuccessful. They also indicate the majority of individuals who hold that perspective feel strongly about it, with close to 40 percent of the poll's participants describing America's response the virus outbreak as "very unsuccessful." Another 36 percent of those surveyed said they feel the response is successful, although just a small fraction—8 percent—described it as "very successful."
The poll acquired responses from 900 registered voters across the U.S. between August 9 and August 12, shortly after the country's confirmed COVID-19 cases surpassed 5 million and presidential election campaigns entered a final stretch leading up to November.
Its statistics reflect increasing public concern about the novel coronavirus outbreak's health and economic impacts, with a number of U.S. states continuing to see rising case counts and altering reopening plans as a result. Results of the NBC/WSJ poll additionally highlighted rising economic dissatisfaction across party lines, with 77 percent of respondents describing the nation's economy as "fair" or poor."
Responses related to America's handling of the pandemic varied more significantly between Democratic and Republican survey participants, aligning with the political divide that has become exceedingly evident over the past few months. The poll noted that 80 percent of Democrats surveyed said the U.S. approach to outbreak management was ineffective, compared to 59 percent of Republicans surveyed who said the opposite.
Sunday's polling data placed Biden's overall lead at 9 points ahead of Trump, on the eve of this year's Democratic National Convention. The number was similar to those included in most other national election polls conducted throughout the summer.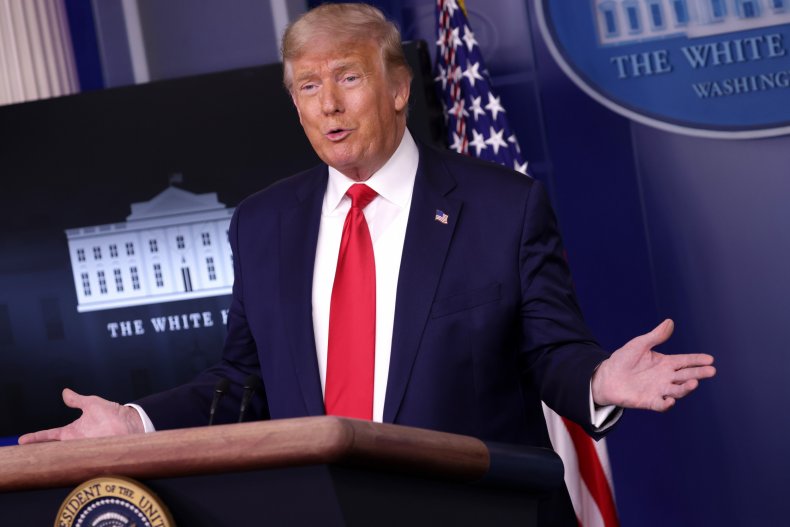 While Trump polled higher than Biden on issues related to the economy in the NBC/WSJ survey, his Democratic opponent held an advantage in a greater number of areas, including leadership, foreign policy, immigration, health care, race relations, the coronavirus and national unity. Almost 50 percent of voters surveyed said they believe Biden is the best candidate to manage the COVID-19 pandemic, while 33 percent said the same of Trump.
The president, who called coronavirus concerns "a hoax" during the early weeks of the outbreak, went on to face widespread criticism for promoting anti-malaria drug hydroxychloroquine as a virus treatment method despite a sweeping lack of scientific evidence to support his claims. His failure to wear a face mask on camera until July and frequent assertions that the U.S. outbreak is improving, often contrary to the most recent public health data, incited additional backlash.