61 Percent of Republicans Think the FBI Is Framing Trump, Poll Finds
A new poll from YouGov released Wednesday found a majority of Republicans think the FBI is working to frame President Donald Trump amid the ongoing investigation into his connections with Russia.
YouGov asked U.S. adults: "Do you believe Donald Trump is being framed by the FBI and the Department of Justice?"
Sixty-one percent of Republicans responded with "Yes, he is being framed." Just 17 percent said he was not being framed while 21 percent were not sure. Overall, 29 percent of Americans thought that the FBI and Justice Department were working to frame the president. A plurality of 45 percent thought Trump was not being framed while 26 percent were not sure. Perhaps predictably, not many Democrats—just 7 percent—thought the FBI was framing Trump while 78 percent responded no, according to YouGov. Twenty-five percent of independents thought Trump was being framed while 39 percent thought he was not.
The YouGov poll surveyed 1,500 U.S. adults from May 6 through May 8. It had a margin of error of plus or minus 3 percentage points.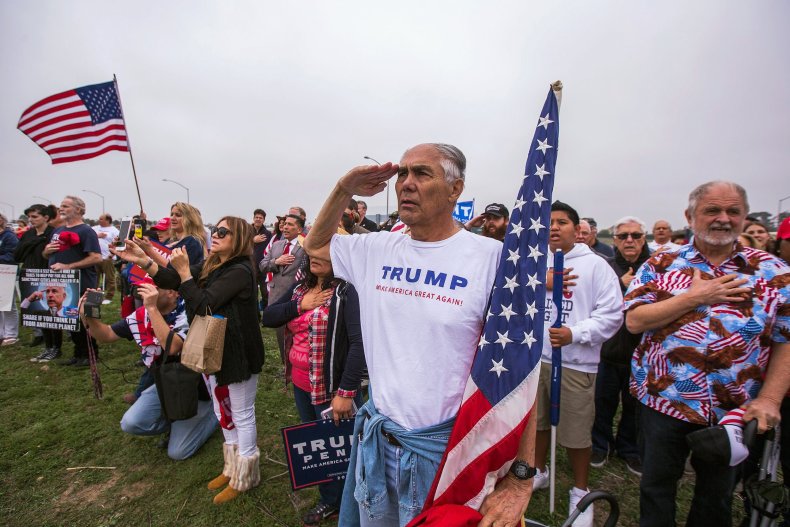 Trump has made it a regular practice to criticize officials he doesn't like and has regularly claimed the investigation is a "witch hunt."
"The Russia Witch Hunt is rapidly losing credibility," the former reality-TV star tweeted this week, for instance. "House Intelligence Committee found No Collusion, Coordination or anything else with Russia. So now the Probe says OK, what else is there? How about Obstruction for a made up, phony crime.There is no O, it's called Fighting Back."
That messaging appears to be working with Trump's base as well. A YouGov poll in April found that 75 percent of Republicans—and about a third of all Americans—agreed with the president that the investigation into Trump is a "witch hunt."