A reported $615 million price tag for a sprawling, grand palace for Turkish President Recep Tayyip Erdoğan in Ankara is raising the ire of the country's opposition parties, according to local media.
The presidential pad's budget was revised from previous estimates of $350 million, with $432.7 million already spent on construction and an additional $135 million budgeted for it in 2015, Turkey's Hurriyet newspaper reported Wednesday.
Nicknamed "Ak Saray" (White Palace), the palace has drawn strong criticism from opposition parties and the public, according to Hurriyet, and they are comparing the 1,000-room building to the enormous People's Palace in Bucharest, Romania, built for Romanian dictator Nicolae Ceauşescu. Construction on the People's Palace began in 1984, and it opened in 1997.
At 3.1 million square feet, the residence is four times the size of the Palace of Versailles, the luxurious residence of France's King Louis XIV, built in 1682, and far exceeds the size of the White House, The Telegraph reports.
Hundreds of trees in a historic forest reserve were felled to make way for the palace, which features a park, an underground bunker and a "majestic tree lined interior hallway," according to the Financial Times. The Telegraph describes the overall architectural look as a "cross [between] the Ottoman and Seljuk traditions with that of a modern Chinese railway station."
The building was originally intended for Turkey's prime minister, a position Erdoğan held until he became the country's first directly elected president, in August. It then became the residence for the head of state, replacing the Cankaya Palace, which will become home to Turkish Prime Minister Ahmet Davutoğlu.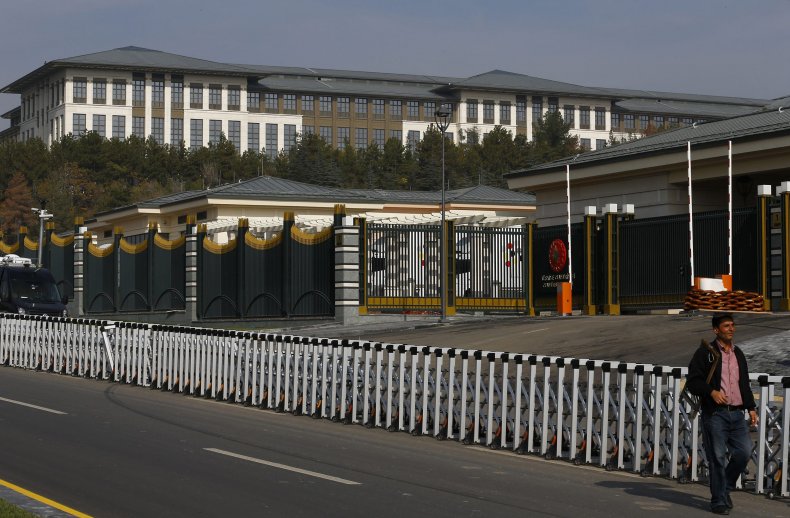 Opposition parties claim the palace was built without permission, with some, including Nationalist Movement Party (MHP) Manisa Deputy Erkan Akçay, referring to it as "Unlicensed Palace." While Erdoğan views the palace as symbolic of a renewed Turkey, critics deem it the "sultan"-like excess of an increasingly authoritarian leader, the Financial Times says.
Roughly 2.6 million people are unemployed in Turkey, Hurriyet reports. Erdoğan's AK Party (Justice and Development Party) has ruled Turkey for 11 years.
Erdoğan has a famously contentious relationship with the press and was named the world's top jailer of journalists in 2012 and 2013, according to the Committee to Protect Journalists. He sued a journalist in July for an insult made against him on Twitter and temporarily banned Twitter in Turkey earlier this year.
In addition to announcing the new total for the presidential palace, Finance Minister Mehmet Şimşek announced Tuesday that $185 million would be set aside for a new presidential jet. A mosque and Erdoğan's three-story residence in the presidential palace are still being built, according to Tezcan Karakuş Candan, head of the Ankara branch of the Chamber of Architects.
This article originally incorrectly stated that Bucharest is in Hungary. Bucharest is in Romania.