The COVID–19 Hate Crimes Act passed the House Tuesday by a 364-62 vote. All 62 votes against the bill were cast by Republican members of Congress. The bill passed the Senate passed 94-1 last month, with only Sen. Josh Hawley (R-Mo.) as the dissenting vote.
The legislation, which will now go to President Joe Biden's desk for approval, passed in the Senate last month in a rare nearly unanimous display of bipartisan cooperation. Biden has already intimated that he will sign the legislation into law.
The main intention of the COVID–19 Hate Crimes Act is to address and slow the notable and troubling rise in hate crimes directed at Asian Americans and Pacific Islanders since the beginning of the coronavirus pandemic. As the beginning of the act notes, between March 19, 2020 and February 28 of this year, there were almost 3,800 reported cases of anti-Asian incidents linked with COVID-19 throughout America.
The act also instructs the Justice Department to create a review process that expedites the processing of anti-Asian hate crimes related to COVID-19, designating an officer "whose responsibility during the applicable period shall be to facilitate the expedited review of hate crimes."
It gives state and local law enforcement more streamlined resources for collecting and acting upon information related to hate crimes, such as online databases. These instructions include provisions regarding how to remove barriers surrounding data aggregation, like language differences.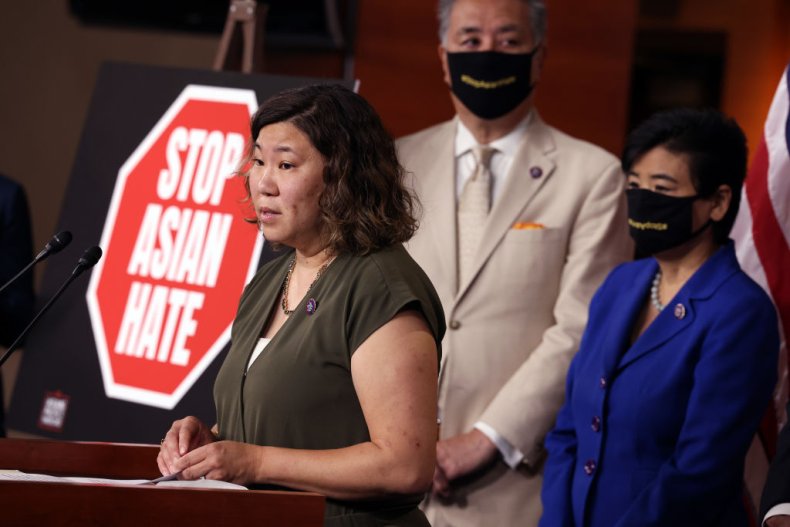 In the Senate, Hawaii Democrat Mazie Hirono who introduced the bill, and GOP Sen. Susan Collins of Maine successfully worked together to "broaden support for the COVID-19 Hate Crimes Act while retaining the bill's core purpose to combat anti-Asian hate," Hirono said in a statement.
In the House, Rep. Grace Meng (D-N.Y.), and Sen. Mazie Hirono (D-Hawaii) introduced the bill to wide Democratic support.
Speaker Pelosi said on the House floor, "The COVID-19 Hate Crimes Bill will strengthen our defenses against any anti-AAPI violence, speeding our response to hate crime, supporting state and local governments as they improve reporting, and ensuring that they have crimes information and [that] it's more accessible to the Asian American communities."
After his "no" vote in the Senate, Sen. Hawley took to social media to explain his decision, saying: "My big problem with Sen Hirono's bill that Senate voted on today is that it turns the federal government into the speech police - gives government sweeping authority to decide what counts as offensive speech and then monitor it. Raises big free speech questions."
Newsweek has reached out to House Minority Leader McCarthy for comment and will update this story with any response.