65 Percent of Americans Think Biden Isn't Doing Enough to Address Record-High Inflation
A majority of Americans believe President Joe Biden is not doing enough to address record-high levels of inflation, according to a new poll.
In a CBS/YouGov poll released Sunday, 65 percent of Americans said they don't believe the Biden administration is doing enough to alleviate rising costs, while 70 percent of respondents said they disapprove of the president's overall handling of the issue. Furthermore, only 25 percent of respondents said Biden's policies have been working to make the economy better, while 52 percent believe his administration has made inflation worse.
In total, the poll found that inflation is one of the most pressing issues for voters—both Democratic and Republican—one year into Biden's presidency. Now, Biden's overall approval rating sits at just 44 percent, according to the poll, a number that has dropped significantly from when he began his term in January 2021 with a rating above 60 percent.
However, the survey found that 63 percent of voters said they would improve their opinion of Biden if he manages to get inflation down.
"In all, the public's evaluations of him appear framed around their most pressing problems, more so than on the fate of his bills in Congress," the poll noted.
The survey comes as U.S. inflation levels have risen by 7 percent in the last 12 months, marking a 40-year high for the country. Biden initially suggested last year that rising prices were a direct result of the coronavirus pandemic, and that the issue would only be temporary. However, the president has since appeared to walk back on that analysis and has instead shifted the blame to large corporations and supply-chain issues, according to the Associated Press.
On Wednesday, Biden said a new consumer inflation report shows that price jumps have started to slow in some areas, but that the economy will require a lot of work to get back on track.
"Today's report—which shows a meaningful reduction in headline inflation over last month, with gas prices and food prices falling—demonstrates that we are making progress in slowing the rate of price increases," the president said in a statement. "At the same time, this report underscores that we still have more work to do, with price increases still too high and squeezing family budgets."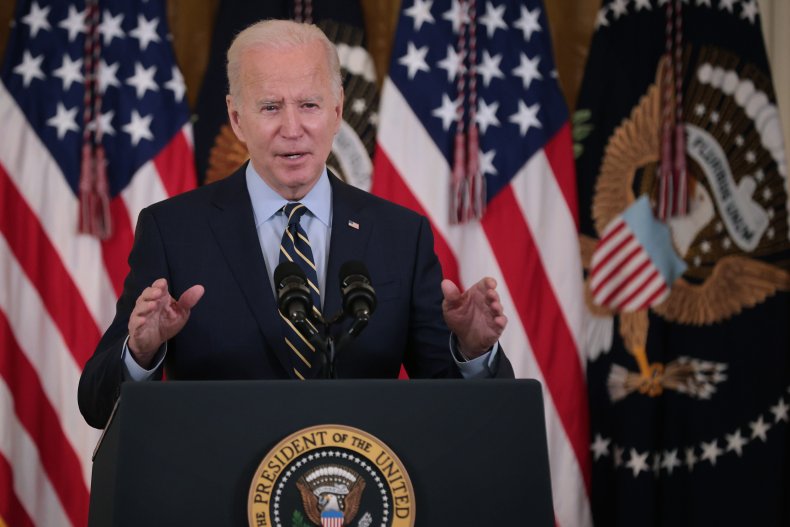 Democratic Virginia Senator Tim Kaine insisted Sunday that inflation issues would also be addressed better if Congress passes Biden's Build Back Better legislation.
"The inflation issue is real. We've got to tackle it. Some of the inflation is related to the continuing pandemic, which has disrupted supply chains. But President Biden and Congress are also working on initiatives in the Build Back Better legislation that will reduce costs on health care, prescription costs, eduction," Kaine told Face the Nation.
Overall, the latest survey found that inflation has partly caused Biden's approval rating after his first year in office to be lower than his six predecessors—except for Donald Trump, who reached just a 37 percent approval rating after one year.
The survey was conducted with a nationally representative sample of 2,094 U.S. adult between January 12-14. It has a margin of sampling error of plus or minus 2.5 percentage points.