650 Die at Border in First Year of Biden, 24 Percent More Than Peak Under Trump, Obama
Over 650 migrants died at the U.S.-Mexico border in 2021, as of the most recent data posted in a Wednesday report by the International Organization for Migration's Missing Migrants Project.
This figure represents a 24 percent jump from the previous high of 524 posted in 2019, prior to the pandemic, under then-President Donald Trump. Furthermore, this number represents a steeper jump than the figures reported over the last three years of the Obama administration when a high of 412 was reported in 2016, representing a 58 percent change.
In the first year of his presidency, Joe Biden has overseen a continued surge of migration at the Southwest border that rose each month of his tenure from the end of January 2021 up until July 2021.
At its peak, encounters between U.S. Customs and Border Protection posted nearly 214,000 encounters over the month of July. Since that time, the number has slowly dropped each month, with the most recent data for October reporting over 164,000 encounters. And while that number may signal a decline, it outnumbers any total posted in 2020 and 2019.
The Missing Migrants Project writes that those who undertake the journey to cross America's border face "numerous physical and environmental factors which pose risks" to their lives.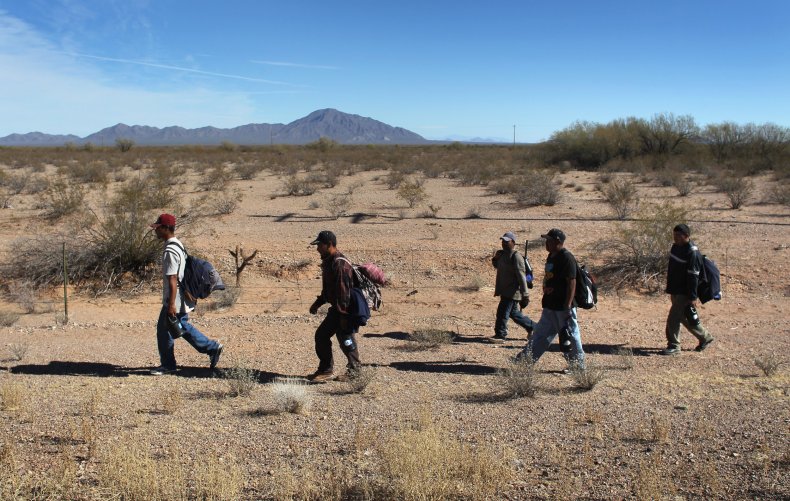 While nearly 45 percent of the 650 plus deaths are due to "unknown" circumstances, 135 of the deaths (over 20 percent) are attributed to harsh environmental conditions and lack of proper essentials like water, food and shelter. The next two highest causes for fatality include 83 drownings and 71 deaths tied to vehicle accidents and other transportation hazards.
A report in November by a coalition of human rights organizations, including the Migration Policy Institute, found that economic insecurity served as the largest driver for migration, with many poor individuals in Central America facing severe food insecurity. In addition to this, migrants also violence and environmental devastation brought on by climate change, the report writes, noting that COVID-19 has made the situation even more dire for these individuals.
In respect to the increased number of deaths at the border, Daniel Martínez, director of the Binational Migration Institute at the University of Arizona, told Newsweek this past May after the Institute reported the rate of discovery of the remains of undocumented border crossers has increased:
"We've seen more and more undocumented border crossers being pushed into particularly remote and dangerous areas of southern Arizona. This is a direct consequence of increased border enforcement and border militarization."
Over the 30 years of the study, CBP's operation budget has grown, and Martínez said the enforcement strategy has to been to push migration routes into harsher portions of the border landscape through a strategy known as Prevention Through Deterrence program. However, as desperation to reach the United States has grown, the numbers suggest more have become willing to navigate these dangerous routes.