67 Percent of Americans Blame Trump for Inciting Deadly Capitol Riot, Poll Says
Most Americans believe Donald Trump is responsible for provoking the violence that shook Capitol Hill last week, according to a recent national poll.
The survey, conducted by ABC News and Ipsos, collected responses from 570 U.S. adults between Friday and Saturday. It found that more than two-thirds of the poll's participants—67 percent—blame the sitting president for Wednesday's riots. Of that group, 52 percent of respondents said they believe Trump shoulders "a great deal" of liability, while another 15 percent said "a good amount" of fault, on his part, is warranted.
Nearly all participants who identified as Democrats supported Trump's removal from office, as did close to 60 percent of those who identified as independents. Just 13 percent of Republicans who participated in the survey said the same.
Overall, 56 percent of respondents said they believe Trump should exit the White House prior to his presidential term's official end.
A mob of Trump's supporters stormed the U.S. Capitol complex in a destructive siege Wednesday afternoon, which took place as congressional leaders met to certify results of the presidential election. Many of them traveled to Washington, D.C., from elsewhere to attend a rally held to protest Trump's loss to Joe Biden.
The sitting president delivered remarks during a 'Save America' rally, where he galvanized the crowd with conspiratorial rhetoric. Despite an absence of evidence to support his claims, Trump continued to allege that November's election was "rigged" and "stolen" by Democrats plotting to oust him from the White House. He, again, refused to concede the presidency, although Biden's upcoming inauguration was just two weeks away.
Trump and his followers have peddled accusations of election fraud for months, since early ballot tallies pointed to Biden's projected win soon after Election Day. While subsequent audits and judicial rulings confirmed the president-elect's victory was legitimate, Trump's ongoing insistence that election misconduct cost him a second term in office emboldened supporters to back his unsubstantiated claims. Crowds who attended Wednesday's 'Save America' rally could be heard chanting "Fight for Trump!" as he reiterated these baseless allegations.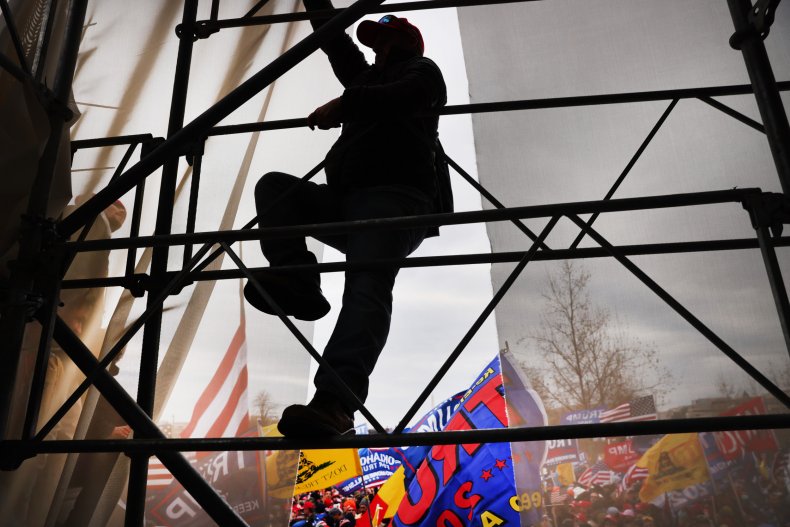 Photos and videos of rioters who went on to storm the Capitol showed angry individuals scaling the walls of the complex and clashing with law enforcement officers, while a group breached the complex itself. The Capitol was placed under lockdown as a result, and several surrounding buildings were evacuated. Five deaths were reported in connection to the riots, alongside numerous injuries.
Congress ultimately certified Biden's Electoral College victory late Wednesday, following a forced recess in light of the violence occurring at the Capitol. Even with Trump's expected departure from the White House due next week when Biden is inaugurated, multiple political officials have called for his early dismissal.