7 in 10 Young Americans Too Fat, Uneducated, or Criminal to Join Army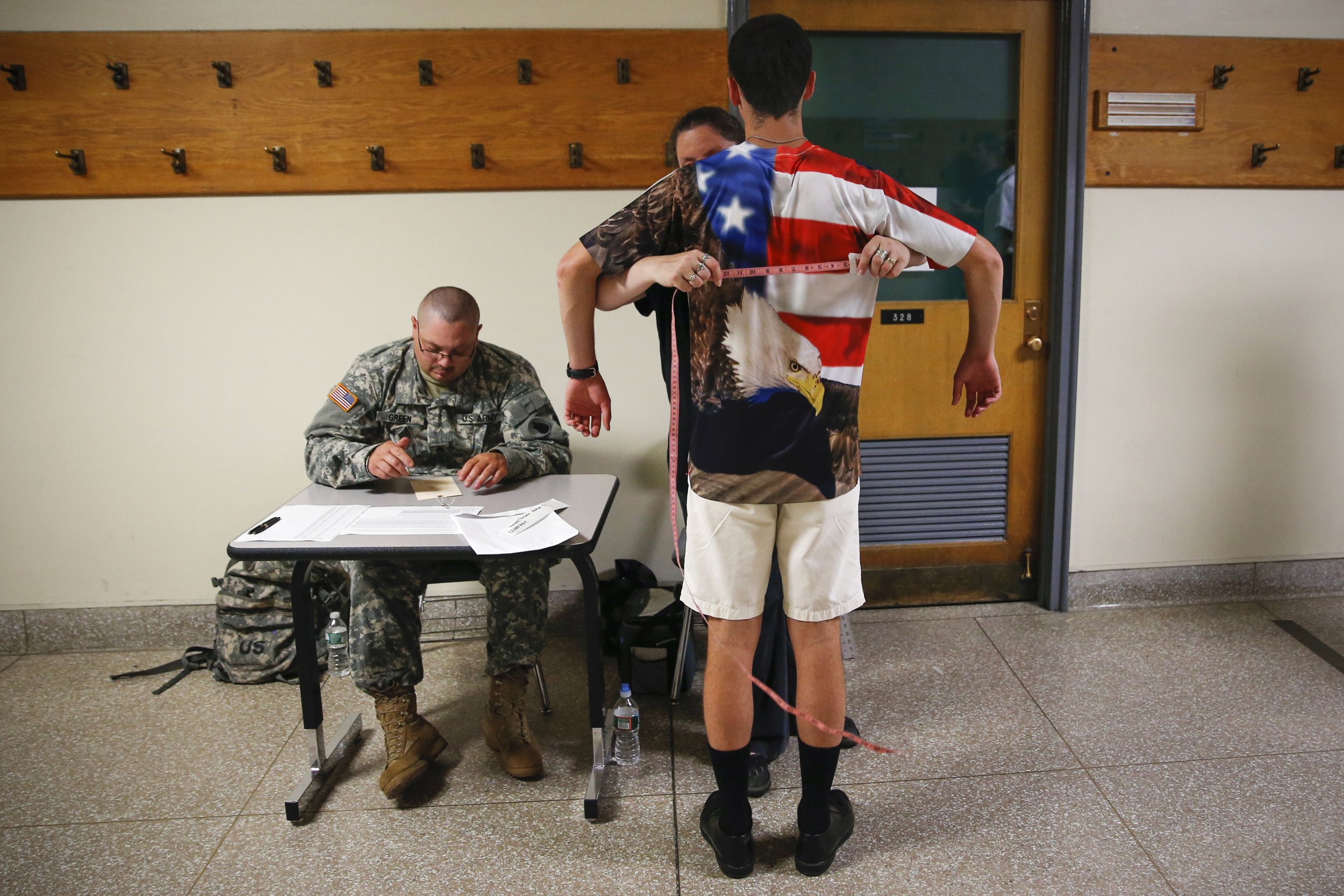 Health problems, low education levels and criminal histories make seven out of 10 young people ages 17 to 24 unfit to become soldiers, according to the U.S. Army.
Major General Allen Batschelet, commanding general for the U.S. Army Recruiting Command at Fort Knox, Kentucky told The Florida Times-Union Monday that officials expect the number of young Americans eligible to join the Army to shrink to two in 10 by 2020.
The Army's increasing reliance on "an ever-smaller group to serve and defend the country," presents a "big national security question," according to Batschelet.
To deal with this shrinking pool of quality soldiers, the Army plans to redefine "quality"—or define it "in a more precise way," as Batschelet puts it. The Army currently requires every recruit, regardless of what they are enlisting for, to pass the same physical requirements, something which may change, the Times-Union reports. For "cyber warriors," Batschelet said, being able to do "100 pushups, 100 sit-ups and run the 2-mile inside of 10 minutes" isn't as important as being able to "crack a data system of an enemy."
As long as "you're physically fit, you're a healthy person and maintain your professional appearance," Batschelet told the Times-Union, we [won't] make you have the same physical standards as someone who's in the Ranger Battalion," a group of elite soldiers within the U.S. Army.
An increasing reliance on soldiers with specialized backgrounds and skills has also contributed to the Army's pool of potential recruits shrinking in number. "We're looking for those men and women who excel in science, technology, engineering and math," Lieutenant Colonel Sharlene Pigg, head of the Jacksonville, Florida–based 2nd Recruiting Brigade, told the Times-Union.
Obesity, a concern for the Army, has quadrupled among adolescents in the past 30 years, according to the Centers for Disease Control and Prevention.
The U.S. Army currently has about 500,000 troops, Batschelet said. Earlier this year, Defense Secretary Chuck Hagel announced plans to shrink the force to 450,000.