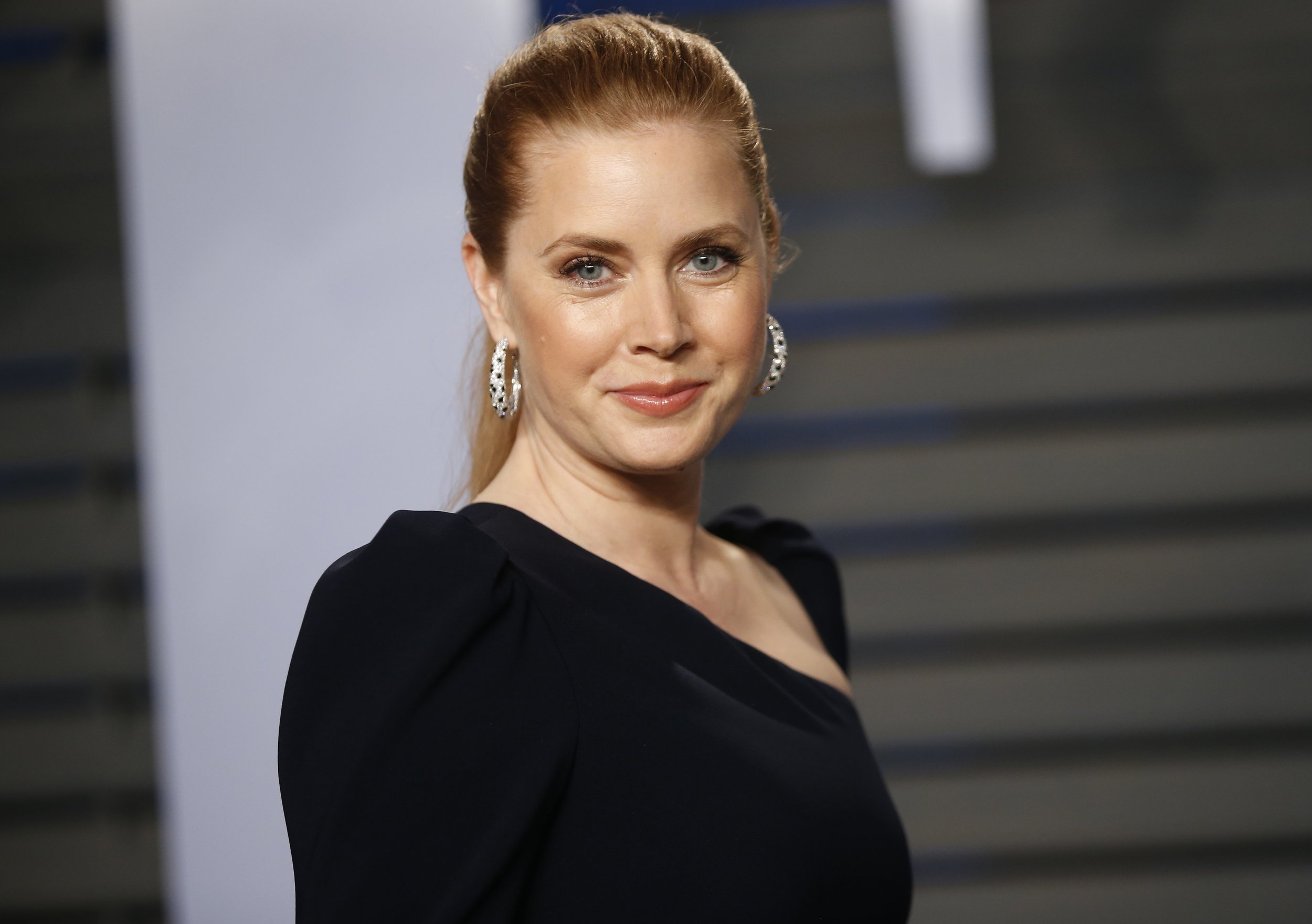 Anyone who is looking for something dark and twisted to watch this summer needs to look no further than HBO and Sharp Objects, based on Gillian Flynn's book. It's just one of several books for which a TV adaptation is yet to come in 2018.
In the limited series, viewers will meet Amy Adams's Camille Preaker, a reporter who returns home on assignment: the murders of two girls. There's a darkness to her that came from how she was feeling, Flynn told The Hollywood Reporter in an interview posted on Wednesday. "I wrote Camille coming from a very, very dark place, a place of deep pain," she said. "The reason I wrote about the scars, about Camille writing on her skin, was because I felt that [misery] of, like, 'Why can't anyone see how much pain I'm in?'"
That darkness made it difficult for Flynn to sell the novel initially, until the Crown Publishing Group bought it. "You saw portrayals of bad-boy men and men who were making bad choices," she said. There were no women like that. Enter Camille. It was just as difficult to find someone who wanted to adapt it. "Anyone who was interested wanted to do it as a horror film," the author said.
But that wasn't how she wanted her work portrayed. "I wrote Sharp Objects because I wanted to write a character study, and I hid that inside of a mystery," she explained. "People were only interested in the yummy, chocolate coating of the mystery and not the Camille part, and I knew that I was going to lose that if I sold it that way."
Fortunately, writer Marti Noxon wanted to make it into a TV show, and Flynn's characters are coming to the screen. Though it is being called a limited series, this run may not be the end. "My characters always go on in my imagination. They have full working lives in there, and I keep in touch with all of them," Flynn said, adding that she "would never say no" to more because, "I know exactly what happens to them."
Being able to explore more is a great reason to turn a book into a series for television. Sharp Objects is just one such adaptation that is still to come in 2018, so why not add it and others to your summer reading list before tuning in?
Instinct (previously published as Murder Games) - James Patterson
Currently airing on CBS
The book follows Dr. Dylan Reinhart, an expert on criminal behavior whose book is found at a crime scene. The NYPD detective leading the investigation of the serial killer known as The Dealer, Elizabeth Needham, turns to Dylan for help. The series stars Alan Cumming as Dr. Dylan Reinhart and Bojana Novakovic as Elizabeth Needham.
C.B. Strike – Robert Galbraith
Currently airing on Cinemax
Based on the Cormoran Strike series written by J.K. Rowling of Harry Potter fame, using a pseudonym, it follows a private investigator who investigates a death that the police determined to be a suicide. In the series, he uses his background in the military to solve cases the police can't. The series stars Tom Burke as Cormoran Strike.
Dietland – Sarai Walker
Currently airing on AMC
The book follows Plum Kettle, who answers fan mail for a teen girls' magazine and is waiting for her weight-loss surgery. She ends up part of an underground group of women. The series stars Joy Nash as Plum and Julianna Margulies as Kitty, her editor.
You – Caroline Kepnes
September 9 on Lifetime
The book follows Joe Goldberg, who works in a bookstore in the East Village and Googles the name on the credit card of his crush, Guinevere Beck. He goes from her stalker to her boyfriend, thanks to social media. The series stars Penn Badgley as Joe and Elizabeth Lail as Guinevere.
The Haunting of Hill House – Shirley Jackson
TBA on Netflix
The novel follows four people who stay in an old mansion that is the site of supernatural happenings for the summer. The series stars Timothy Hutton, Carla Gugino and Michiel Huisman.
Nightflyers – George R.R. Martin
TBA on Syfy
The novella by Martin takes place in the year 2093 and follows the crew of an advanced ship looking for an alien spacecraft that may help them survive. However, it turns out that they need to worry about what's on their ship. The series stars Eoin Macken and David Ajala.
The Rook – Daniel O'Malley
TBA on Starz
The book follows Myfanway Thomas, a woman who wakes up in a park in London with bodies around her and amnesia. She is a Rook, a high-ranking member of a secret organization that fights the supernatural, and she has a supernatural ability. One of the members of that organization betrayed her. The series stars Emma Greenwell as Myfanwy.