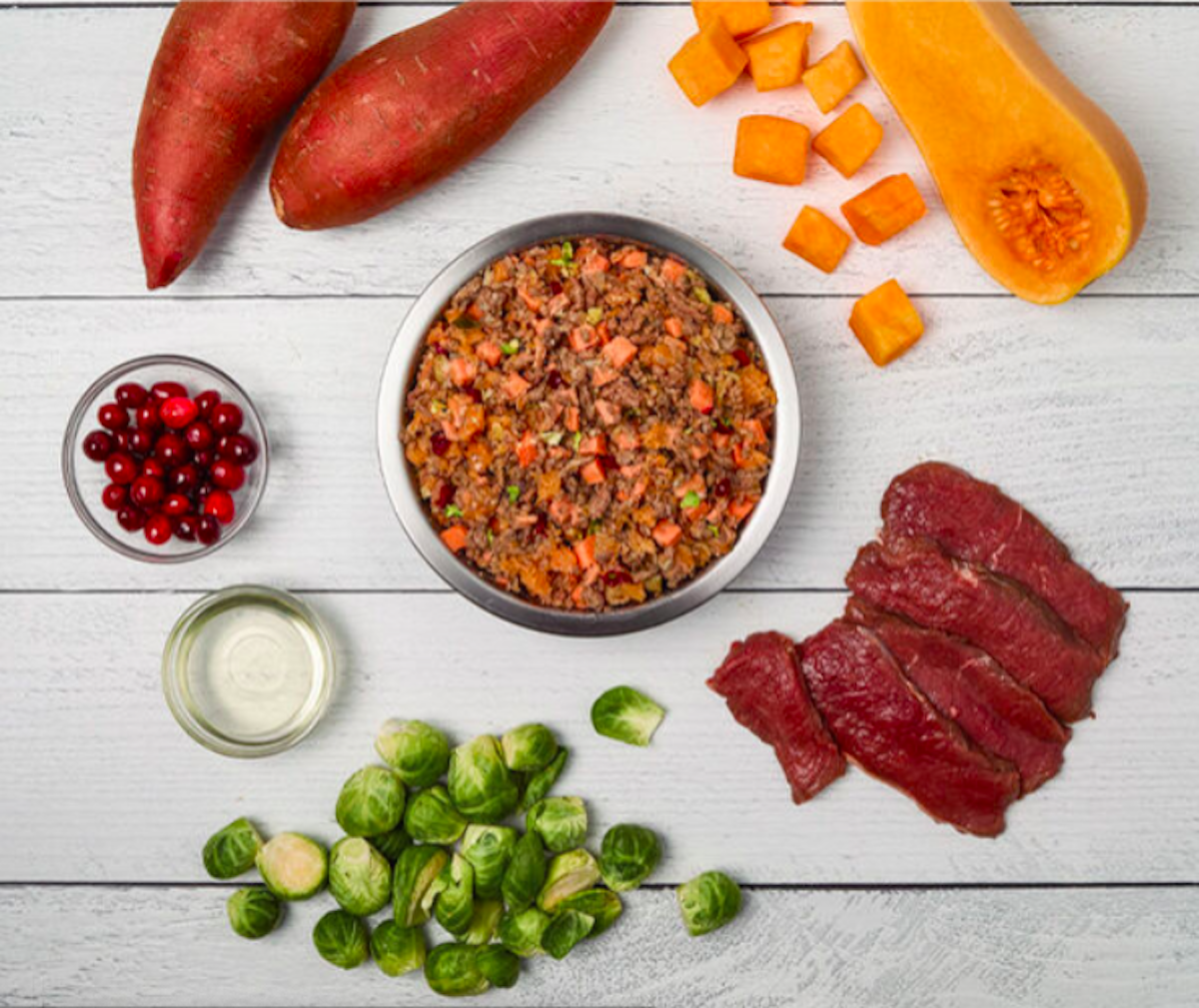 Our dogs hold a very special place in our hearts—from the time they're little pups, all the way up to their more mature years—and as all dog paw-rents know, health is a top concern at any stage of your furry friend's life. Whether they're small dogs or nearing their senior years, it's really important to feed your dog high-quality, nutrient-dense food that is tailored to their individual nutritional needs.
According to the American Kennel Club, our pet's nutritional needs evolve as they get older. That's why it's so important to ensure your senior dog's diet is rich with protein—to make up for the muscle mass they lose as they age—contains the appropriate amount of calories for their weight and, of course, is low sodium. Depending on other health concerns, some dogs might also benefit from adding supplements to their food or adhering to a specific diet. Older dogs tend to be picky and may struggle with losing their appetites, as well, so delicious, healthy food really is a must.
At the end of the day, each dog is different and what you choose to feed your fur baby is totally dependent on the individual animal. Still, our roundup of the best foods for senior dogs can be a helpful resource. Here are our top picks:
Best Dog Food for Senior Dogs
Just Food for Dogs Venison and Squash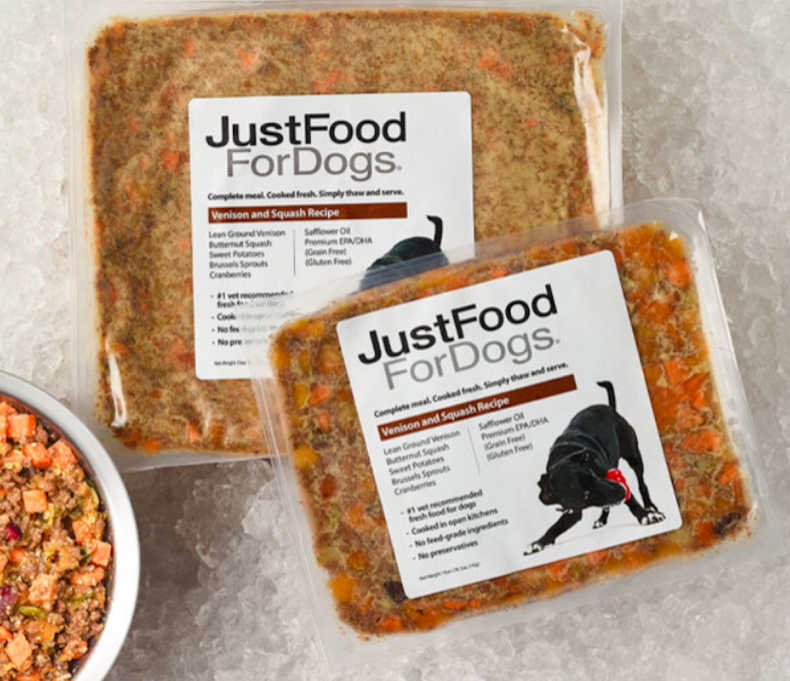 With a near-perfect 5-stars and 278 reviews on JustFoodForDogs.com, it's clear that Just Food for Dogs is one of the leading brands of dog foods. Its Venison and Squash Recipe is on the pricier end of the spectrum, but it also has some really high-quality features that make it totally worth it. It's gluten-free, grain-free, made without preservatives or hormones, ideal for allergies or sensitive GI tracts and is very high in protein. Venison and Squash is only 25 calories per ounce and is also delicious—well, for the dogs—and this is important because dogs can grow picky as they get older. If your pet struggles with allergies, sensitivities of any kind or is just plan picky, we're willing to bet that this protein-packed Venison and Squash recipe will for sure motivate them to eat.
Buy at Just Food for Dogs.
Open Farm Wild-Caught Salmon Rustic Stew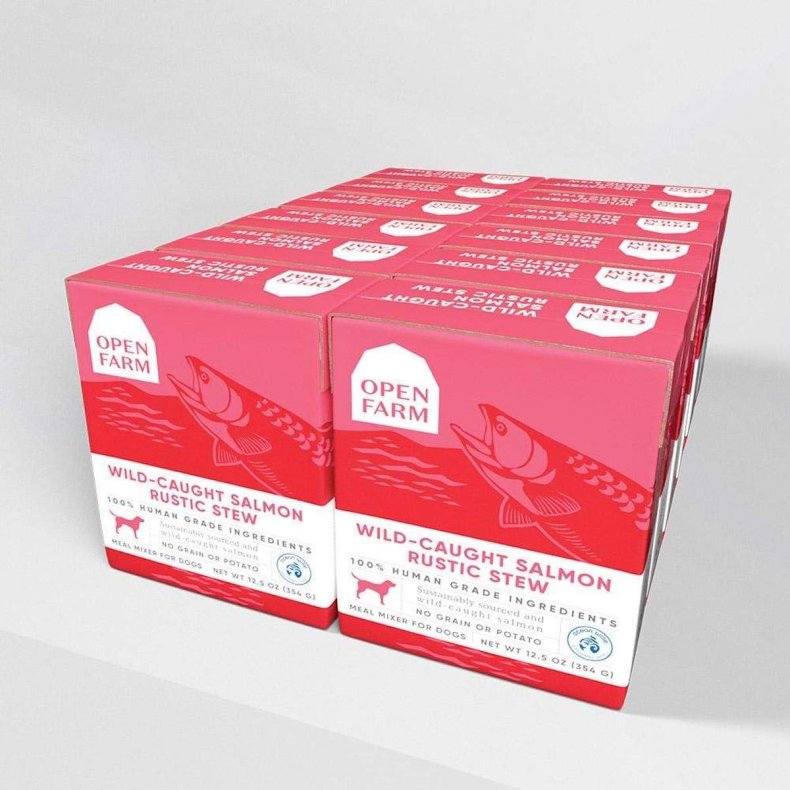 Open Farm Wild-Caught Salmon Rustic Stew is premium wet food made from Ocean Wise–approved fresh salmon. This recipe also features locally sourced non-GMO pumpkin (which is excellent for dogs' digestion) as well as the superfoods turmeric and coconut oil. It can be distributed as either a meal topper or as a complete meal, but it's a stew, so it might take some getting used to for unfamiliar parents. But texture and preparations aside, older dogs—particularly dogs that live for salmon as their protein—really love this recipe. This dog food is never made with potato or grains, and all of Open Farm's ingredients are 100 percent human-grade. To top it off, its packaging is reusable, resealable and BPA-free.
Buy at Open Farm.
Diamond Naturals Senior Formula Dry Dog Food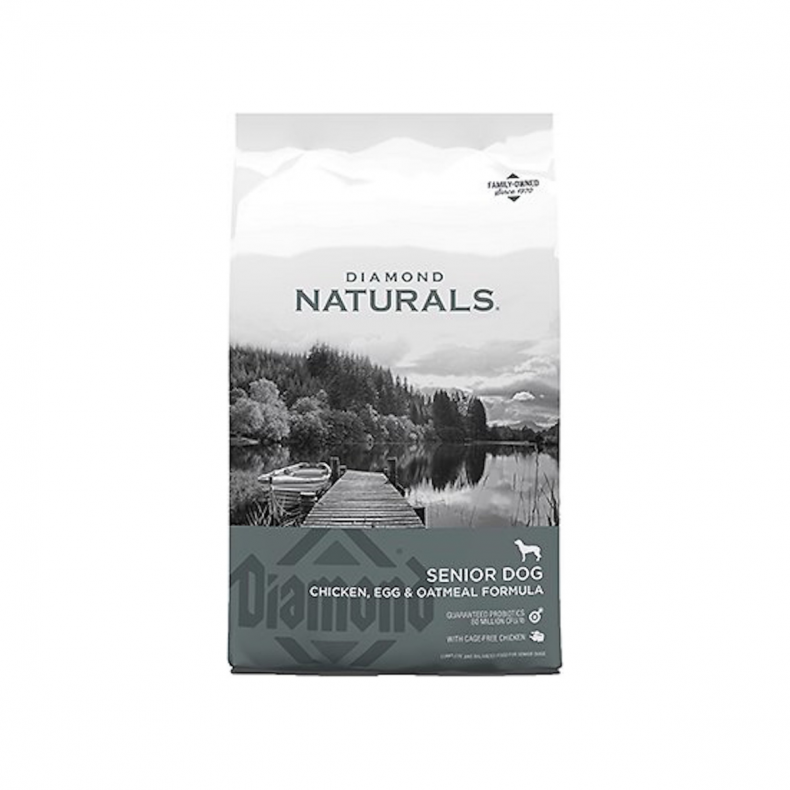 If it's a dry food you're looking for, Diamond Naturals Senior Formula Dry Dog Food comes from a reputable brand and at an inexpensive cost. With 304 reviews and a four-and-a-half out of 5 star rating on Chewy.com, this senior-friendly recipe is designed to support a dog's muscles with real chicken, fruit and vegetables, including peas, kale, blueberries and coconut. High in antioxidants and omega fatty acids (omega-3 and omega-6), a positive result of feeding your dog this recipe is a healthy, shiny-looking coat!
Buy at Chewy.
Halo Holistic Senior Chicken Recipe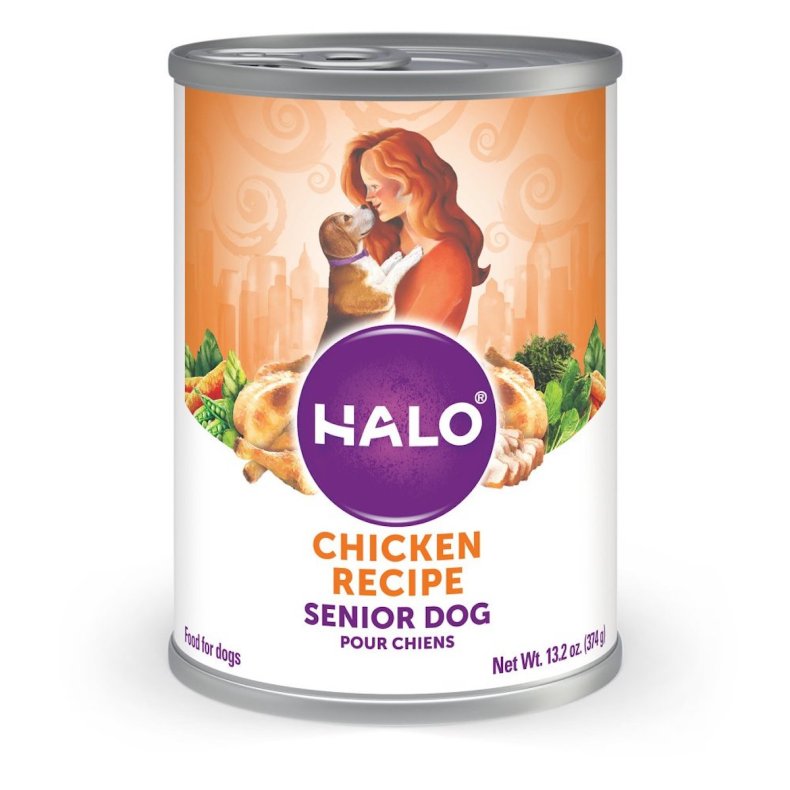 The number one thing you'll love about Halo is that, as a brand, it's completely meal-and byproduct-free. Halo's Senior Chicken Recipe Canned Dog Food focuses on premium ingredients, sustainable practices and only whole meats. To supplement the whole meat in this wet dog food recipe, there are non-GMO fruits, vegetables and added hydration. Better-for-you ingredients like chickpeas, green peas and wholesome grains (in lieu of rice, corn or dairy) make this recipe highly digestible, rendering it easier for mature dogs to eat. It also means dogs retain more of the food's important nutrients. Other highlights include that it's made in the U.S., never uses factory farming practices and comes in BPA-free cans. It's an all-around win.
Buy at Petflow.
Tailored Pet Bison, Lamb Meal, Sweet Potato and Lentil Blend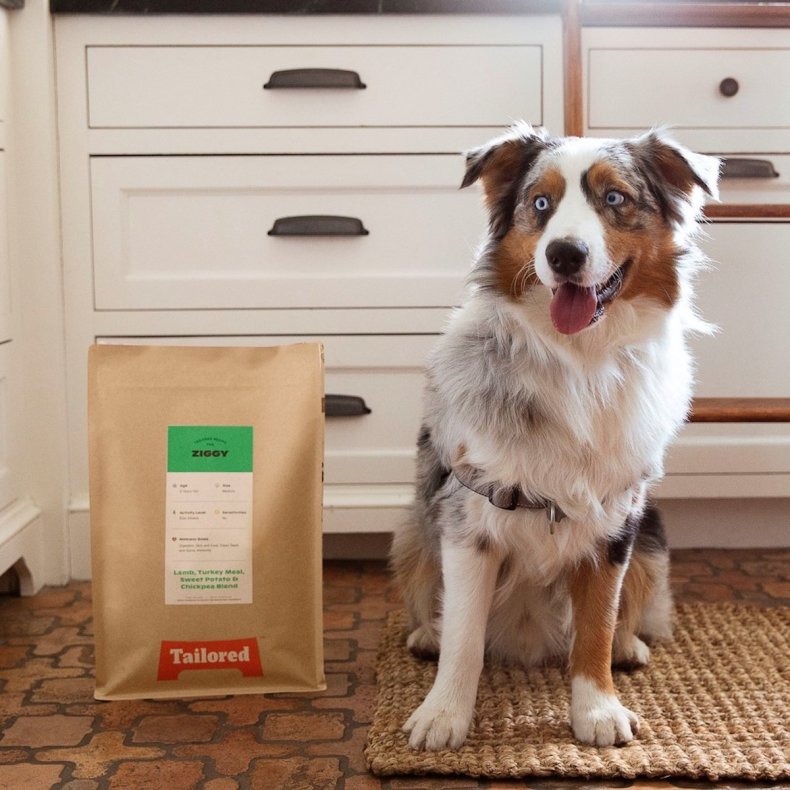 Like the name suggests, food from Tailored Pet really is tailored to your dog's specific nutritional needs. Here's what we love about it: The Bison, Lamb Meal, Sweet Potato and Lentil Blend is made with all those listed ingredients plus lentils, carrots, pork meal, tapioca, canola oil, sun-cured alfalfa, natural flavor, vitamins, minerals and probiotics. This recipe is also made without corn, wheat, soy, artificial flavors, colors or preservatives—none of that yucky stuff pet owners worry about. The key players that make this recipe so delicious and healthy for senior dogs are the bison, lentils and sweet potatoes: Bison is a source of easily digestible and nutrient-dense protein; sweet potatoes provide antioxidants, B vitamins and minerals that can improve energy levels, immune and digestive health; and lentils are known for their rich protein, fiber and minerals that support healthy digestion.
Buy at Tailored Pet.
PetPlate Lip Lickin' Lamb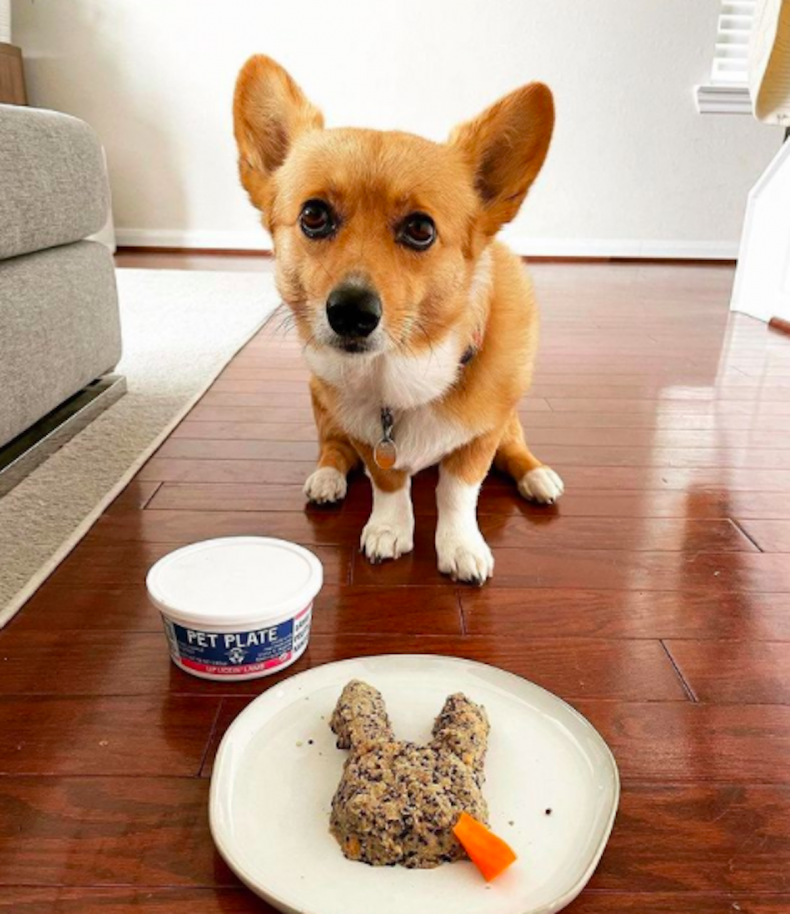 Warning: Side effects of your dog trying PetPlate for the first time might include... well, lip lickin'! PetPlate's Lip Lickin' Lamb recipe is perfect for geriatric dogs—for smaller breeds, that's considered age 7 and up and for larger breeds, that's considered age 6 and up. Pricing varies depending on the plan you choose—$1.11 per day for the Topper Plan and $2.85 per day for the Full Meal Plan—but the high standards of each meal is the same. The Lip Lickin' Lamb recipe is kettle-cooked in a USDA kitchen with 100 percent human-grade ingredients, including ground lamb, apples, broccoli, lamb liver, quinoa, salmon oil and sweet potatoes. It's good for sensitive tummies and high in protein, which is crucial to maintaining body mass.
Buy at PetPlate.
The Farmer's Dog Beef Dog Food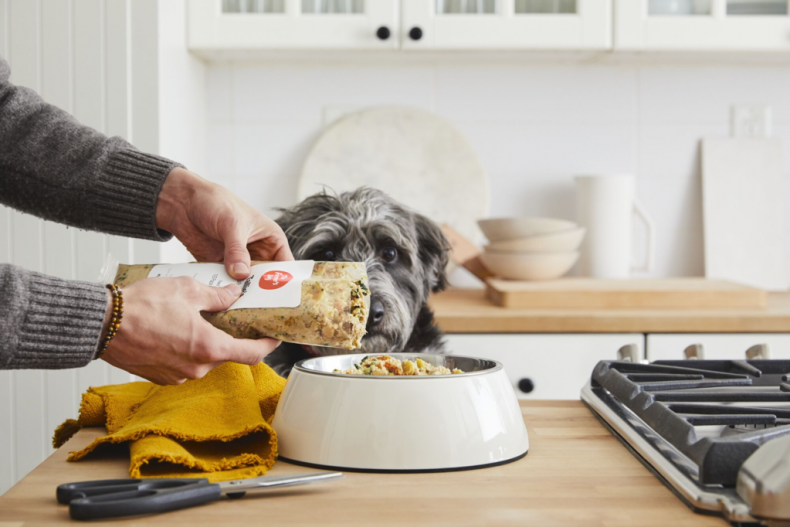 It's no secret that pet owners love the Farmer's Dog. That's because it's a dog food subscription service that shows up at your door on a specific schedule (that you get to set), is designed by a veterinarian and made with human-grade ingredients (as in, yes—you could lick that food bowl, too). But while it's often touted as a meaningful dog food choice for puppies and dogs of all ages, it really does make a great food option for senior dogs, as well. With high-quality ingredients, four protein options—pork, turkey, beef or chicken—and never any preservatives or fillers, dog food doesn't get much healthier than the Farmer's Dog. After all, it was designed with picky eaters and allergens in mind, making it easily digestible for all dogs. If allergies are a concern—and they sometimes are as our doggies age—check out the beef recipe, since turkey and chicken are common triggers. With 2,450 reviews on ConsumerVoice.org and a perfect 10 out of 10 rating, the Farmer's Dog is definitely a top option for older dogs.
Buy at the Farmer's Dog.
ProDog Raw Flexx Supplement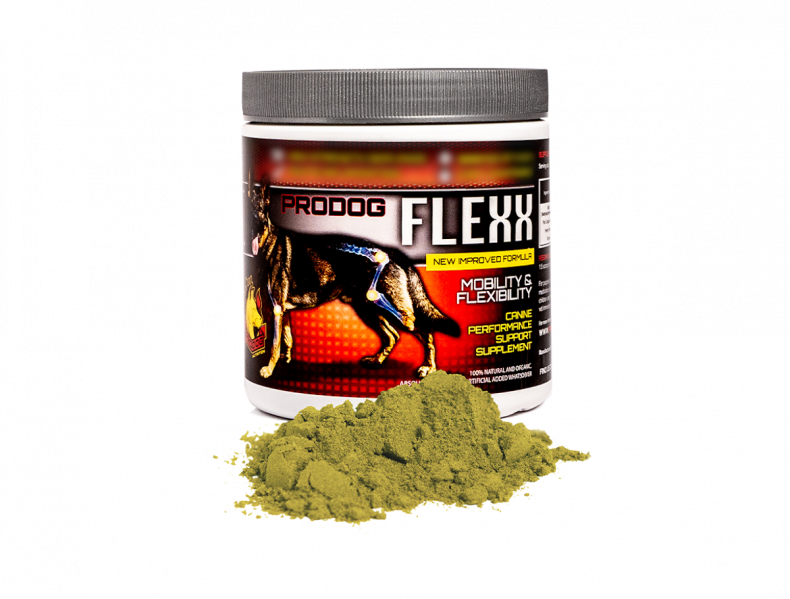 ProDog Raw's line of raw diet foods is an awesome, healthy and delicious option for older pooches, but unfortunately, it doesn't deliver its meal plans to the U.S. right now. (Although if you're reading this from the U.K., we highly recommend its 80:10:10 Pure Bundle, which follows the popular 80 percent meat, 10 percent bone, 5 percent kidney, 5 percent liver, zero vegetables prey model of feeding dogs raw—that's uncooked!—meat.) The Flexx dietary supplement from ProDog Raw is worth mentioning as it's an easy (and tasty) way to provide added nutrition to your dog's meal. One hundred percent organic and made with premium grade ingredients, Flexx is a blend of human-grade botanicals and superfoods that work together to support your senior dog's joint structure and function, reduce inflammation and increase their mobility and flexibility. And as an added bonus? Flexx also does wonderful things for your dog's skin and coat, too.
Buy at ProDog Raw.
Newsweek may earn a commission from links on this page, but we only recommend products we back. We participate in various affiliate marketing programs, which means we may get paid commissions on editorially chosen products purchased through our links to retailer sites.