7 Best Restaurants in Le Marais in Paris
Choosing where to eat in Paris' Marais district can be touch and go - unless you know where to look.
Fashionable, trendy, packed with locals tourists, Le Marais is a district crammed with a maze of streets that are flanked by sensory dazzling shops and restaurants. How do you choose where to please your palate? Below are seven solid choices.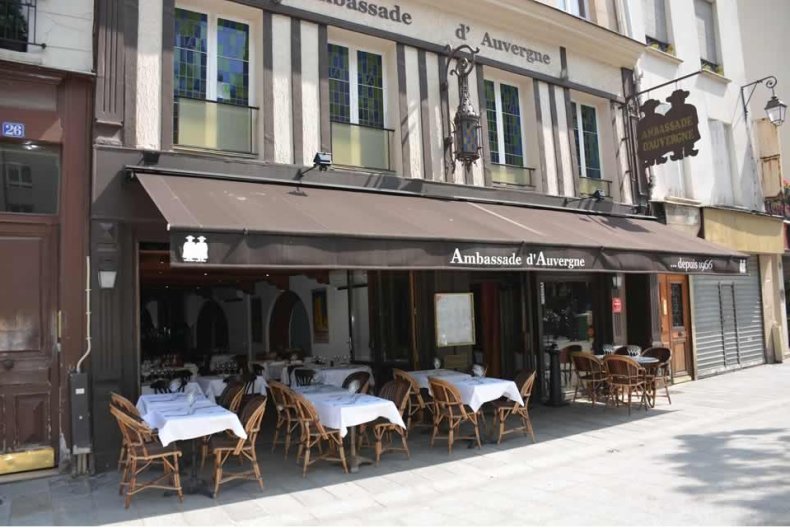 A solid staple in the Marais for rustic, high-quality Gallic fare from central France. From slow-cooked lamb shoulder to the requisite foie gras terrine to anything that comes with aligot – whipped potatoes mixed with garlic and cheese curds.
22 Rue du Grenier Saint-Lazare
Breton-style crepes are the thing to get at this café. The savory crepes here are made with buckwheat flour and Bordier butter. The ham and cheese galette is a classic. So is the smoked salmon with salmon roe. But the scallop variety will wow your palate. And don't forget to start off with some fresh oysters.
109 Rue Vieille du Temple
Chez L'Ami Louis
Nearly a century year old, this Le Marais culinary landmark is about as old-school Parisian as you can get. And about as divisive as you can get, as food writers have called it both the best and the worst restaurant on the planet. For this reason alone, it's worth trying to nab one of this bistro's dozen tables and see for yourself.
32 Rue du Vertbois
Chez Omar
Come for the couscous and stay for the roasted lamb at this legendary North African bistro. The line is long and not everyone thinks it's worth the wait but Omar is one of those famed Parisian bistros that everyone should try at least once in their lifetime.
47 Rue de Bretagne
There's a general consensus among Middle Eastern food lovers that this casual Marais eatery serves up the best falafel in Paris. Some even say in Europe. The falafels here are crispy on the outside and gooey on the inside and so good you'll be back for more. Don't believe us? Just ask Lenny Kravitz. He apparently loves it here. And the restaurant isn't shy about it: they have it plastered on the wall how much Mr. Kravitz loves eating here.
32 Rue des Rosiers
This classic Parisian bistro is also one of the best of its kind in the neighborhood. Start off with some foie gras and smoked duck breast before moving on to beef tartare with fries and ending with the succulent vanilla bourbon crème brûlée.
44 Rue Vieille du Temple
Best burger in Paris? Perhaps. Le Burger Joint goes the extra kilometer to give its diners an amazing burger experience. Case in point: it uses top-quality beef, bakes its own buns, and double-fries its fries to ensure they achieve next-level crispiness.
22 Rue Rambuteau