7 Best Steakhouses in New York City
New York City steakhouses are cathedrals for carnivores and these mansions of meat for worthy of a pilgrimage.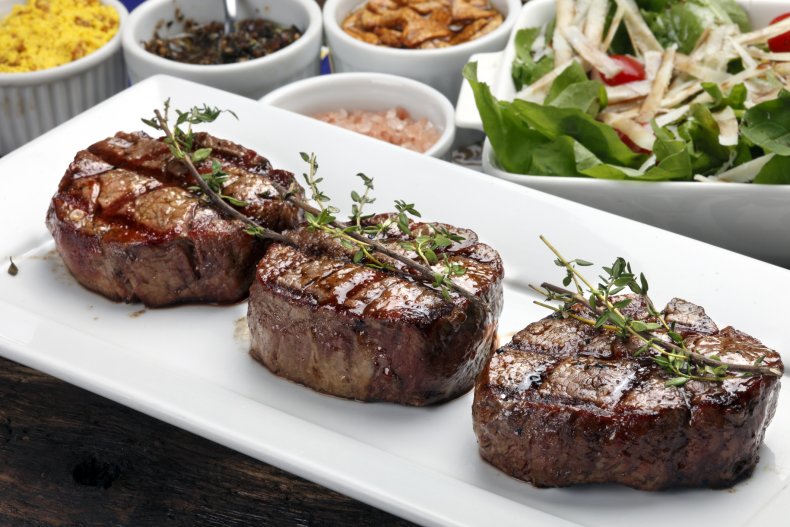 Few other cities in the world are synonymous with steak. But New York has a collection of sanctuaries of steak that go back into the 19th century. And since then new steakhouses have flipped on their grills to continue on the tradition. Local or visitor, a real Big Apple experience is planting yourself at one of these spots and digging in.
View a Google Maps list of the best steakhouses in New York.
This Financial District steakhouse has all the classics you would expect: an excellent porterhouse for two, an insanely tender rib eye, the usual steakhouse sides such as wild mushrooms, thick-cut bacon, and onion rings. But that's where the "classic" ends. The other half of the menu deviates from the usual steakhouse fare by offering Asian dumplings and Asian-inspired small plates. For a steakhouse, the xiao long bao, or Shanghai soup dumplings, should not be this good. They are. Even the fun-but-unorthodox Philly cheesesteak dumplings are excellent. You don't necessarily have to come for the steak here, but it's a good idea to come for both steak and Asian fare.
150 Nassau St.
This Midtown steakhouse began life as a Prohibition-era speakeasy in 1926. Today it's a solid choice for carnivores and the people who love them. They're not trying to reinvent the wheel, or the steak, here. F&J serves up very classic New York steakhouse fare to palate-pleasing levels. Tuna tartare, iceberg wedge, burrata and tomatoes, 20 different meaty entrees (including all the cuts you'd expect, plus a few seafood options) and sides like creamed spinach and onion rings.
320 W. 46th St.
Babe Ruth, Teddy Roosevelt, Will Rogers, and Albert Einstein, among legendary folk were regulars here. The interior is bedecked with pipes because said regulars would check them after they left until their next visit. Over the years—Keens has been open since the late 19th century—there were so many pipe-smoking regulars that the smoking instruments started filling up the walls. Now that smoking indoors is verboten, the pipes are just décor, relics of a lung-cancer-inducing time long gone. But all these people didn't just come here to smoke. They knew the steak was tiptop. Even better: the mutton chops. You might not find a better version anywhere in the city or its surroundings. So, thanks for mutton, Keens!
72 W. 36th St.
Quebecois chef Hugue Dufour and his American wife Sarah Obraitis seriously shook up the New York dining scene when they opened up M. Wells in an abandoned diner in Long Island City. The place, unfortunately, didn't last, but they still have this steakhouse located in an old auto body shop and we're all lucky for it. First-timers (and people with some extra cash to spare) should definitely opt for the Nebraska dry-aged côte de boeuf for two. For the daring diner, the chicken-fried beef heart is also excellent.
43-15 Crescent St., Long Island City
For decades—maybe even the better part of the 20th century—the fooderati have been debating if this shrine of steak is or is not the best steakhouse in the United States. The place originally opened up in 1887 to cater to Williamsburg's then large immigrant German community. It's no surprise then, that the interior looks like an old Teutonic pub, complete with half-timbered wood beams strewn across the walls and ceilings. The porterhouse (for two or three or however many people you're masticating with) is the thing to get here.
178 Broadway, Brooklyn
Would steak be your last meal, ever? In 1985, Paul "Big Paul" Castellano—head of the Gambino crime family—was approaching this Midtown steakhouse, his chops already salivating with the prospect of tucking into a massive juicy rib eye, when he was gunned down before he could get in the door. Paul had to settle for whatever he had for breakfast as his last meal. So walk fast when heading into Sparks to make sure you at least can feast on the luscious meat they cook up. It's not worth dying for but maybe taking a bullet in the leg.
210 E. 46th St.
The main dining room at this Williamsburg spot is bedecked in exposed brick and wood, the perfect environment in which to consume one of the city's best steaks. St. Anselm, a scattering of tables and a long counter, isn't always easy to get into, but it's worth the wait. Everything is cooked over an open fire, so you can watch your hunk of steak getting charred. And amazingly, the steak here is way more affordable than you'd expect. The amazing Butcher's Steak: just $25. The sirloin: $30. The incredible Piedmontese Axe Handle Rib Eye is decidedly more expensive but totally worth the splurge.
355 Metropolitan Ave., Brooklyn