7-Eleven Day: Free Slurpees Are Great, and They're Only 100 Calories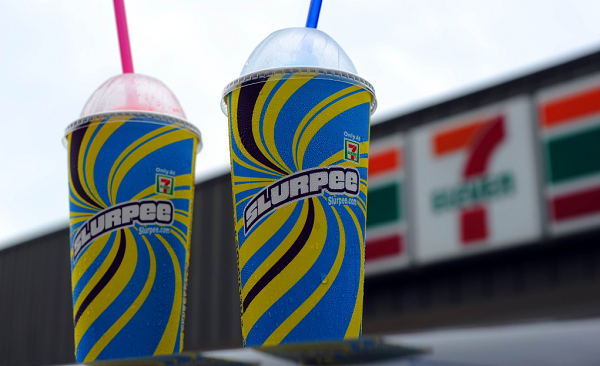 With wildfires and heat waves blazing up in several states across the U.S., 7-Eleven's free Slurpee giveaway couldn't have come at a better time. In honor of the convenience store's 90th birthday Tuesday, the company is letting customers get in on the celebration by offering free Slurpees.
Customers who visit a participating 7-Eleven during the event will be treated to a free Slurpee of their choice from 11 a.m. to 7 p.m. The birthday celebration marks the start of Slurpee Week, during which customers who purchase seven Slurpees through the 7-Eleven app will win 11 coupons for free Slurpees.
We know what you're thinking: All those free Slurpees can't be a good thing for waistlines, especially with bikini season officially in full effect.
Well, surprisingly, 7-Eleven Slurpee drinks aren't necessarily as unhealthy as expected if enjoyed as a rare treat. But if you're over-indulging in the cool, sweet treats and visiting multiple 7-Elevens for free beverages all day long, not only will you probably suffer a major toothache, but the 20-plus grams of sugar per Slurpee will most likely leave you as bloated as a pool floaty.
In the instance of the Fanta Wild Cherry Slurpee, which 7-Eleven said was their best-selling Slurpee, a small beverage—12 fluid ounces—is only about 100 calories. There are about 26 grams of total carbohydrates, 26 grams of sugar and 10 milligrams of sodium in the cherry-flavored drink.
While the ingredients may seem a little sketchy—the Fanta Wild Cherry Slurpee is made with high-fructose corn syrup, water, citric acid (huh?), quillaia extract, yucca extract, sodium benzoate to protect taste, natural and unidentified artificial flavors and Red 40—customers can at least enjoy the fact that drink is gluten-free.
7-Eleven's second highest-selling Slurpee, the Coca-Cola-flavored slush, is about 100 calories with similar ingredients—minus the Red 40, artificial flavors, citric acid and sodium benzoate, but with an added 23 milligrams of caffeine and 27 milligrams of phosphorus.
It's no big surprise that 7-Eleven would offer free Slurpees to the public on its special day. After all, the company has been giving away the frozen, tasty treats each year on its birthday since 2002. Not to mention, 7-Eleven sells on average some 14 million Slurpees a month, according to the company, and over 150 million Slurpees a year.
"7-Eleven Day is a celebration, not only of our birthday but more importantly, of our customers," 7-Eleven Marketing Vice President Laura Gordon said in a statement. "Ninety years is a big birthday, and our customers are the ones who got us here."