7 #FamilyRecipe TikToks That Will Send You Sprinting to the Kitchen
There's nothing like a home-cooked meal on the holidays. This year, you may be missing your own family favorites if you're separated due to COVID. TikTok is here to save the day by inspiring new recipe ideas that come from families everywhere.
If you're hoping to cook for Thanksgiving, but aren't sure what to make, look no further than TikTok's #familyrecipe thread. Users on the video app haven't held back when it comes to their secret, or widely-beloved traditional meals.
There's a side of TikTok full of incredible chefs with great cooking pointers. While they're certainly present on the #familyrecipe thread, most videos belong to everyday people with accessible recipes. With Thanksgiving just a few days away, here are some of the American holiday-fitting recipes that will look and taste amazing as an addition to your Thanksgiving table in 2020, or just as any weekday meal.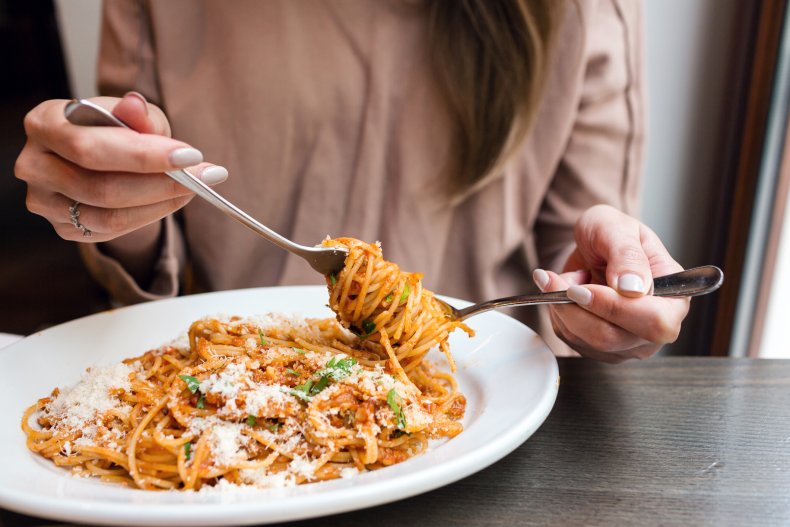 Green Bean Bundles
Green beans are a great holiday side, but they're a lot more fun to eat when they're dressed up. @Mrnelson06 shared a quick and easy family recipe, with just a few ingredients, to make the tastiest veggie bundles.
While these may serve as a great Thanksgiving compliment, they also could work as a veggie side dish to any other meal on your list this year.
Chocolate Biscuits and Gravy
If you're looking for a special breakfast, look no further than @srammage16's Chocolate Biscuits and Gravy. The Southern-inspired meal looks decadent and rich and is sure to bring you those "comfort food" cozy feelings.
While this one could work for a holiday morning treat, it's also a fun take on a classic dish that can and should be welcomed to the table at any time of year.
Everything but the Bagel Cheeseball
Chances are, you already have Trader Joe's Everything but the Bagel seasoning in your pantry after a huge influx in online pressure to buy it this year. There's yet another use for the versatile seasoning, this time, a classic cheeseball.
@Burlingamefarms showed off their cheeseball skills with a family recipe that was upgraded to include the Trader Joe's staple. It's the perfect appetizer and holiday treat, featuring cream cheese and cranberries.
Easy Garlic Pasta
If you're looking for an easy meal, or pasta side dish, for your dinner, @nutritionalsarah has you covered. This Instapot meal takes a little bit of preparation time, and 10 minutes cooking. The end result is a garlic, cheesy pasta with some chicken for protein.
While this may not fit with your Thanksgiving feast, it's one of TikTok's most celebrated #familyrecipes, so we just had to include it.
Apple Pie
Nothing says winter like an apple pie. @xoxofromchu just proved it's not impossible to bake a pie from scratch, even if you haven't before. The TikToker showed the process of her first apple pie and it looks delicious. You can follow along to create your own pie in no time.
Banana Bread
If you didn't overindulge on banana bread at the start of the COVID quarantine, @theemaegryan has a family recipe for you. Created by her grandmother, the TikToker's banana bread is simple and quick and looks undeniably delicious when pulled out of the oven.
Caesar Salad
Every big meal needs a side salad, and you can't go wrong with Caesar. The loved-by-all salad dressing got a personal upgrade by @cookiterica, one of TikTok's well-known food creators. The Keto specialist created a thick caesar sauce that can be used on salads, chicken, veggies and more with a lot of things you've probably got in the fridge already.