Three Dead, Including Gunman, After Shooting at Louisiana Movie Theater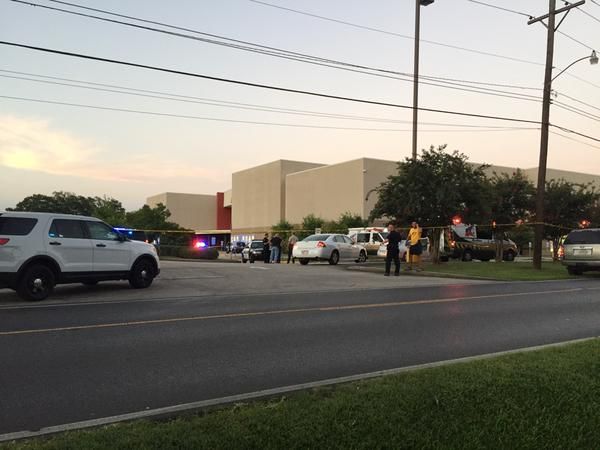 Updated | Nine people are injured and three are dead, including the gunman, after a shooting at a Lafayette, Louisiana, movie theater on Thursday evening. The shooting took place at the Grand Theatre's 7 p.m. showing of Trainwreck.
In one of several press conferences Thursday night and early Friday morning, Lafayette Police Chief Jim Craft confirmed that three people had been killed, including the gunman, who took his own life. Craft said the gunman was a white male in his 50s, identified as John Russell Houser. Authorities believe Houser has a criminal history, though it was dated. It included an arson.
Houser was not married, though Craft said he was previously married. Houser was described as an "out-of-state drifter." He was originally from Phenix City, Alabama. It remains unclear why he traveled to Lafayette, though authorities said Friday evening tht Houser may have been interesting in starting a business in the town. "We know he spoke with some people about maybe some business opportunities, perhaps opening a new business," the police chief said at a press conference.
Though he was estranged from much of his family, Houser "had an uncle that lived here that has been deceased for some 35 years," Craft said. Inside Houser's Lafayette motel room, authorities found alcohol. Drugs were not located. Houser had been staying at the motel room since the beginning of July.
Though Houser killed himself, authorities believe he planned to escape. "The gunman's original plan was to leave the theater alive," Governor Bobby Jindal said. "His car was parked at the exit. After he saw law enforcement, he shot and killed himself." Wigs, glasses and other disguises were found in Houser's hotel room. Houser had the ability to change his car license plate to escape, Craft added.
"At this very moment, investigators are checking out where he lived, who his associates are," Craft said. "All the necessary background checks are going on and we certainly don't want to compromise the integrity of that work."
Mayci Breaux, 21, died at the theater after being shot, she was from Franklin, Louisiana. Jillian Johnson, 33, died at the hospital following the shooting. She was from Lafayette. The women did not know one another. A motive was not identified. Houser shot randomly into the crowd with a handgun. Authorities do not believe Breaux and Johnston were targeted specifically.
The identities of the injured victims have not been released, but authorities said their ages ranged from late teens to 60s. Craft said the people injured in the shooting had been transported to three area hospitals and that their conditions ranged from non-life-threatening to critical. Two victims were released from the hospital just after midnight. Another victim went into surgery and their condition was described as serious. All victims are expected to make a full recovery.
Witnesses said one of the victims, a teacher, grabbed the fire alarm after being shot in leg. The alarm let the crowd know to evacuate, a move authorities said likely saved lives. "She had the presence of mind to pull the fire alarm, who knows how many lives were saved by that presence of mind," Jindal said.
One witness inside the screening told The Advertiser that she heard "a loud pop" and initially thought it was a firecracker. "[The gunman] wasn't saying anything. I didn't hear anybody screaming," Katie Domingue said.
During a press conference, Col. Mike Edmonson said authorities closed a second movie theater in Lafayette after the shooting "out of abundance of caution." "We have no reason to believe this individual acted beyond this location," Edmonson said. "We believe at this point the scene is secure but there is a lot of work ahead of us to go through this."
After the shooting, authorities found a vehicle belonging to the gunman in the theater's parking lot. Police used bomb-sniffing dogs and robots to investigate the vehicle and open its trunk. The dogs also found a backpack described by authorities as "suspicious" inside the theater.
"Troopers are working closely with the Lafayette Police Department as well as numerous other agencies to provide assistance and investigate the shooting incident at the Grande Theater," the Louisiana State Police Department said in a statement. The FBI also said a joint law enforcement investigation is ongoing.
Louisiana Governor Bobby Jindal traveled to Lafayette immediately following the shooting and was seen speaking with first responders. During a press conference, he praised the efforts of local authorities, calling the shooting a "seemingly random act of violence." He also asked those watching to pray for the victims.
On Friday, Jindal was asked about gun control in the wake of the Lafayette, Chattanooga and Charleston church shootings. He repeatedly declined to address gun control, saying it was too soon after the tragedy to discuss the matter. As Jindal is campaigning to be selected as the Republican presidential candidate in 2016, gun control will surely be one of the primary points discussion in upcoming debates.
The shooting comes the same week as jurors begin sentencing deliberations for James Holmes, the gunman who killed 12 people and injured 70 in a July 20, 2012 shooting at a showing of The Dark Knight Rises in Aurora, Colorado. Holmes was found guilty on 165 charges on July 17 and could be sentenced to death.
"My heart is broken and all my thoughts and prayers are with everyone in Louisiana," actress Amy Schumer, star of Trainwreck, tweeted after the shooting.
President Obama was briefed on the shooting while traveling on Thursday evening. "The President directed his team to keep him updated on the investigation and on the status of those injured in the shooting. The thoughts and prayers of everyone at the White House, including the President and First Lady, are with the community of Lafayette, Louisiana, especially the families of those who were killed," White House Press Secretary Josh Earnest said in a statement to reporters.