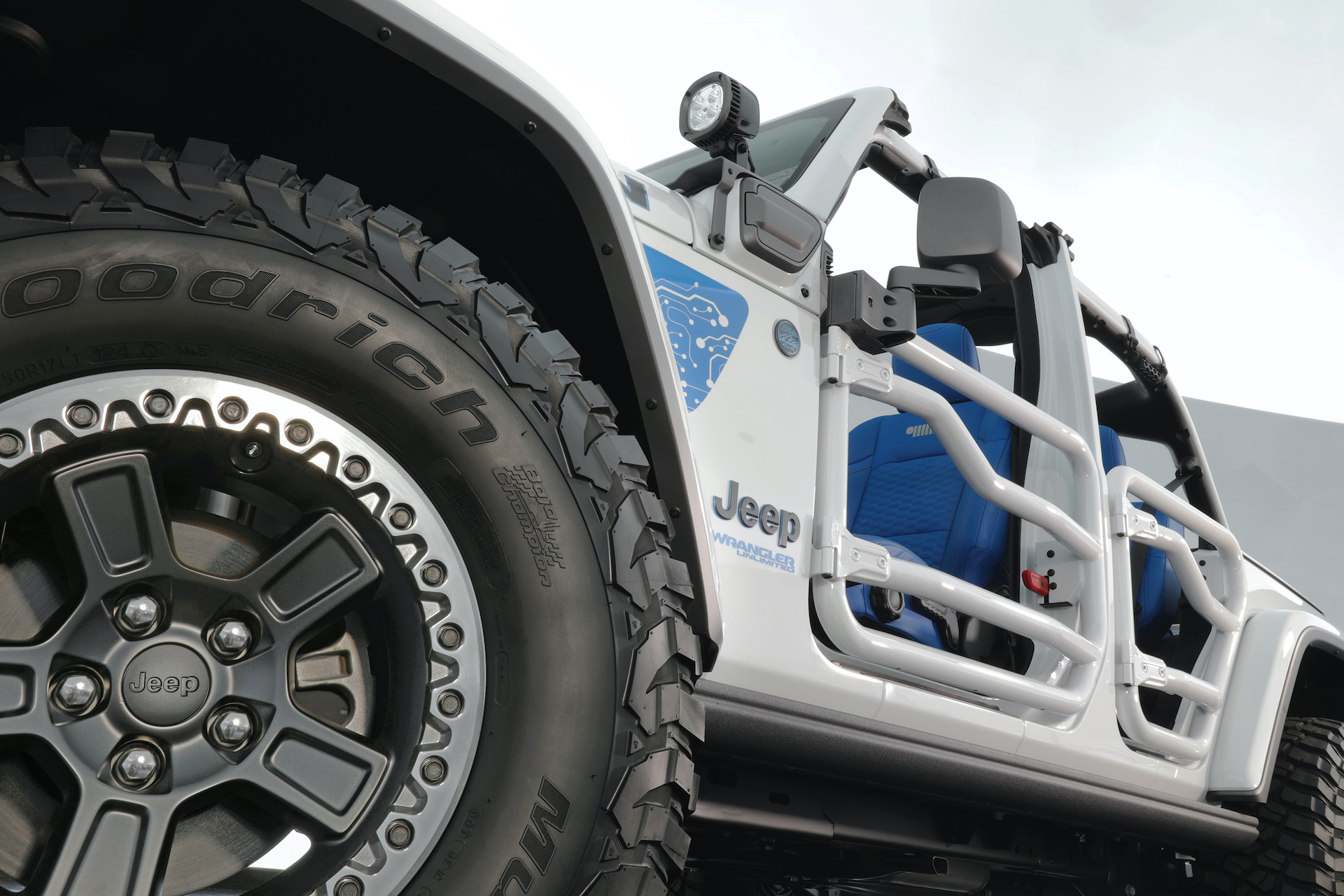 At the upcoming SEMA show, Mopar is debuting seven new custom concept Dodge, Jeep and Ram vehicles.
The Specialty Equipment Market Association event, held from November 2nd to 5th, is a trade show where automakers can show off the latest and greatest in aftermarket modifications.
"With its dedicated enthusiast audience, SEMA is the best place to showcase our full catalog of quality-tested, factory-backed performance parts and accessories,'' Mopar Service, Parts & Customer Care North America vice president Mark Bosanac said in a press release.
"These seven new custom vehicles demonstrate the passion, creativity and innovation of the Mopar team."
The vehicles include off-roading concepts, a transformed military ambulance and a throwback Dodge.
Jeep Wrangler 4xe concept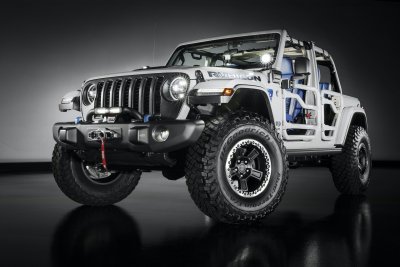 Mopar will show off the Jeep Wrangler 4xe concept, a design that is meant to show consumers how well off-roading and electrification can mesh. The plug-in hybrid was given a two-inch lift, sits on beadlock-capable wheels mounted on BF Goodrich KM3 37-inch tires and has a JPP Gorilla Glass windshield.
The interior is also customized, decked out in Mopar Blue Katzkin leather with tungsten stitching. The three-piece vinyl floor features four drain plugs. A custom trail-rail management system in the tailgate features multi-position cargo loops to secure your gear.
Jeep Wrangler Overlook concept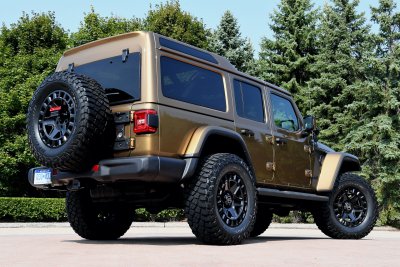 Bigger is better. The Jeep Wrangler Overlook concept extends the Wrangler Sahara by an 12 inches in length, turning it into a three-row off-roader. More interior headroom is gained with a five-inch custom modular roofline.
The two-inch lifted Overlook sits on 20-inch Black Rhino York wheels wrapped in 37-inch BFGoodrich KM3 mud-terrain tires.
Kaiser Jeep M725 concept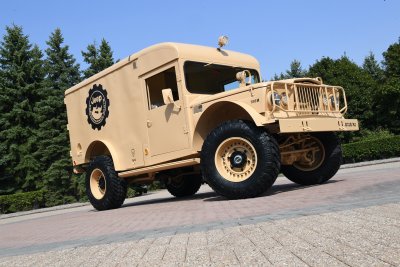 Built using a 1967 Kaiser Jeep M725 military ambulance, the Kaiser Jeep M725 concept represents what's possible for an off-road support vehicle.
Riding on 20-by-12-inch, eight-lug Black Rhino Armory wheels wrapped with 40-inch tires, the setup fits under widened fenders. The original frame is reinforced and the original leaf springs have been swapped out for a heavy-duty link/coil suspension system.
A Mopar 392 Crate HEMI V8 engine is paired with a vintage TorqueFlite 727 automatic transmission nets 485 horsepower and 475 pound-feet of torque.
Jeep Grand Cherokee L Breckenridge concept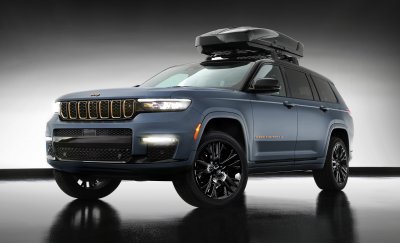 Making for a more premium off-road feel, the Jeep Grand Cherokee L Breckenridge concept is painted with a Magnetite matte/metallic and gloss-black scheme with satin bronze accents.
The custom-built three-row interior comes with Atmospheric Blue Palermo leather seats and door panels with blue quilting, and trim finished in premium satin walnut.
The car rides on split, five-spoke Mopar 21-inch wheels with a gloss black finish and
matching gloss-black faces, center caps and lug nuts.
Ram 1500 TRX RexRunner concept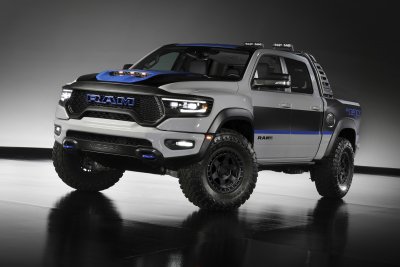 On the other side of the stand is a vehicle inspired by modern truck racing. Mopar's Ram 1500 TRX RexRunner concept runs on a supercharged 6.2-liter HEMI V8 engine that pushes out 702 horsepower and 650 pound-feet of torque.
To give the truck a race-inspired appearance, it sits on 37-inch Goodyear tires mounted to custom-designed 18-by-9-inch Black Rhino Chamber wheels.
The bed is also fully customized with a Mopar bed extender and a black, Mopar spray-in textured bedliner.
Adding to the sporty appearance is a pair of 5-inch black Mopar exhaust tips.
Ram 1500 Outdoorsman concept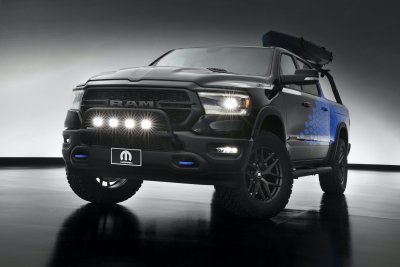 The Ram 1500 Outdoorsman concept represents the best of both worlds for the trail and the jobsite thanks to abundant storage possibilities.
It is designed to include a two-height position aluminum Mopar bed rack system that stretches to the full width of the truck bed.
On the floor of the bed, dual rolling panels on a modified Expertec bed-slide system are each rated for 2,000 pounds for loading and unloading equipment. Each sliding panel carries custom T-rack rails.
Additional ground clearance from a 2-inch Mopar lift kit gives room for split six-spoke, 20-by-9-inch Black Rhino wheels wrapped in 35-inch Continental tires.
Dodge Challenger Holy Guacamole concept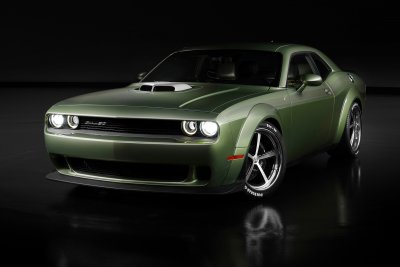 Muscle car fans will be interested in Mopar's Holy Guacamole treatment of the Dodge Challenger. With it, the company has merged a limited-production 2020 Challenger R/T Scat Pack Widebody 50th Anniversary edition with heritage design notes from the 1970s.
Painted in a color that Dodge designers call Rotten Avocado, the exterior features a custom-painted Gold School-colored Shaker hood scoop and tone-on-tone side striping. The hood has been customized to adequately cool the HEMI V8 engine.
The body sits on a staggered 20-inch Forgeline wheels and Mopar coil-over suspension lowering kit.
As a nod to the original 1970 Challenger, the interior features a wood panel trim with green and yellow plaid inserts.
The cars will be exhibited at Mopar's dedicated space inside the Las Vegas Convention Center during the SEMA show.