7 Sexy Valentine's Day Gifts For Him & Her
If you are lucky enough to find yourself coupled up this Valentine's Day, you may also be feeling a little couped up after being at home all these months. These sexy couples gifts are perfect for a Valentine's Day shared between you and your significant other. Whether you are looking for something for him or something for her, both partners will be more than satisfied.
From intimate massage oils, wines to transport you around the globe, and masculine candles made just for him; these sexy gift ideas are sure to help you get creative and stay cozy on February 14th and beyond.
The SalTerrae Trio is made for play. Explore intimate physical touch with these unique pleasure massage oils Passion, Allure and Desire. All three products are 100% food-grade - so they are meant to be lick-able and tastable. They are organic, sustainable, and hemp-infused for anti-inflammatory properties. All oils can be used with a partner, alone, or even for-non intimate purposes, such as massages and body oils.
Desire - Desire is infused with ylang-ylang and frankincense that evokes an intoxicating sensation. Desire nurtures heightened performance, enhances balance, and nourishes comfort in the body.
Allure - Allure is infused with a hint of spearmint and black pepper that evokes a warming and cooling sensation. Allure supports uplifting contentment, peacefulness, and an elevated sense of wellbeing.
Passion - Passion is infused with a hint of cinnamon that evokes a warming sensation. Passion encourages deeply confident, relaxing, and pleasurable experiences.
Oils can be purchased individually for $43.95 or as a playful trio for $125.95
Buy at SalTerrae.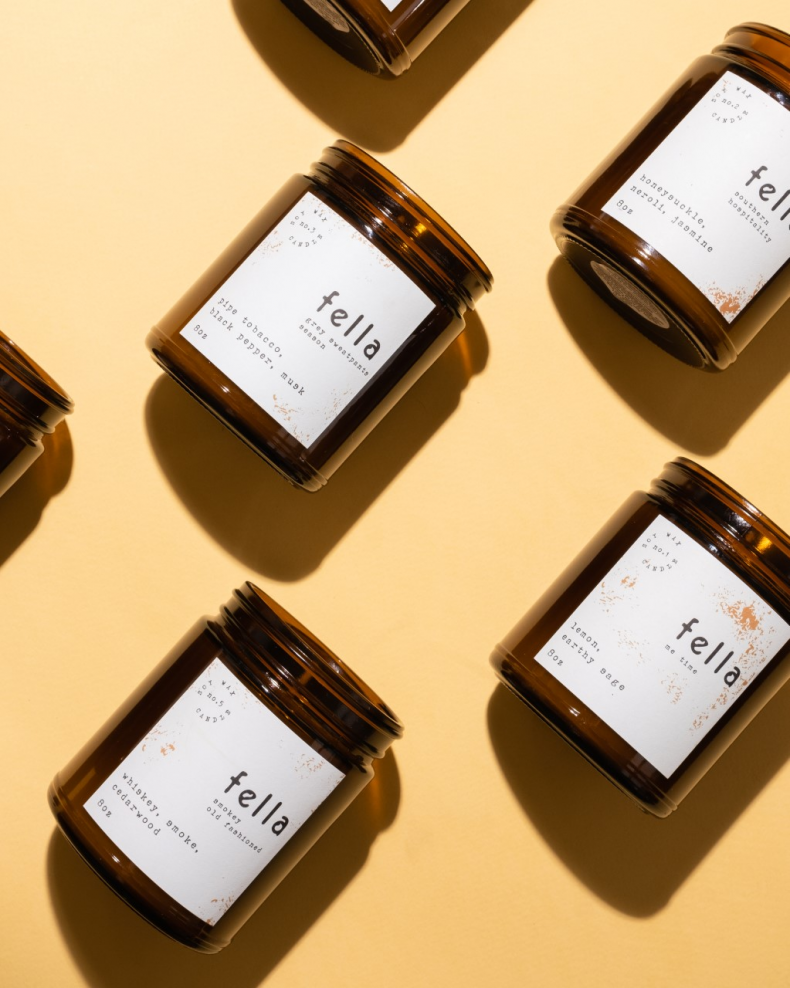 We're familiar with the scent of a woman but this Valentine's Day, why not fill your home with the scent of a beautiful man. Fella is a Chicago-based candle company adorning their candles with cheeky labels such as Grey Sweatpants Season and Cuffing Season. While that is sure to get a smirk from men and women alike, it is the perfect way to set the mood. Make no mistake, all 6 candle fragrances will let you know a beautiful man is in the room.
Me Time- Scent - Sage & Lemon
Southern Hospitality- Scent - Wild Honeysuckle, Neroli, and Jasmine
Grey Sweatpants Season- Scent- Pipe Tobacco, Black Pepper Musk
Cuffing Season Scent- Bonfire- Smoke, Hickory, and Clove
Smokey Old Fashioned- Scent - Smoke & Whiskey, Cedarwood
The Weekend- Scent- Pine & Leather - Leather, evergreen, and cypress
Made with 100% Soy Wax and cotton wick
Buy at tryfella.com.
This book is a fun way to keep things exciting and put the spice and adventure back into your relationship.
Amazon
It turns out some couples do want to have sex every day of the year. At least that's what the publishers at Nerve are telling us with this follow-up book to their original Position of the Day.
Each sexual position comes with an estimated caloric expenditure (for each person involved), a list of possible side effects (leg cramp, lawsuit), and equipment recommendations (hanging bar, stethoscope, cowboy hat).
Reader feedback is inconclusive about whether these positions are realistic or just inspirational. Whether it's a new position or purely many hours of laughs, you and your partner are sure to become closer.
Buy now at Amazon.
If traveling the globe was your love connection, Tussock Jumper Wines has the perfect solution this Valentine's Day. Through 24 different varietals from 11 different wine-producing regions, they encourage lovers to travel the world through wine, all on the comfort of your couch. Sourced from farms in regions like Argentina, Spain, Italy, South Africa, and New Zealand, these award-winning wines are bottled at the source to ensure freshness from grape to glass.
Buy on Drizly.
OhMiBod's Esca 2 is a versatile wearable vibrator. It's Bluetooth-enabled with
an app to control play and engage with your lover from across the room or the globe. The illuminating LED lights sync to the vibrations, providing visual feedback to your partner. Esca 2 comes with 4 powerful manual mode settings for an intensely intimate experience. Sync it to any Kiiroo product and let your partner drive pleasurable sensations for a truly interactive experience.
The Lovelife Share has earned the reputation of "Best couples' play vibrator" and is a perfect toy for couples to bring to the bedroom to enjoy together. This sensual couples vibrating ring takes sharing to the next level. Made with body-safe silicone, it features 7 powerful vibration patterns to spice up your Valentine's Day plans.
Buy at OhMiBod.
Newsweek may earn a commission from links on this page, but we only recommend products we back. We participate in various affiliate marketing programs, which means we may get paid commissions on editorially chosen products purchased through our links to retailer sites.
Correction: We removed the House of Wise recommendation because of a business relationship with the author which we were not previously aware of.