In 7 States That Are Reopening This Week, Coronavirus Deaths Are Still on the Rise
At least 11 states have plans to reopen this week but only four kicked off the week reporting zero new deaths from the new coronavirus.
Arizona, Montana, West Virginia and Nebraska reported no new deaths on Monday for respective totals of and 362, 16, 50 and 78 deaths. Starting on Monday, restaurants, bars and casinos in Montana had the ability to reopen and nonessential businesses in Arizona could serve customers via curbside pickup.
Montana schools could reopen on Thursday, although local districts had the ability to keep them closed, followed by Arizona restaurants at reduced capacity on Friday.
Montana's death toll rose to 16 on April 29 and the state has been reporting zero new deaths since. Deaths in West Virginia increased to 50 on May 2 and have held steady at that number since.
Some West Virginia businesses, including those that provide professional services, such as hair and nail salons and barbershops, and outdoor dining at restaurants in could also resume operations on Monday. Restaurants in Nebraska could open at 50 percent occupancy, and salons, massage and tattoo parlors could open back up for business if they abide by the 10-person rule.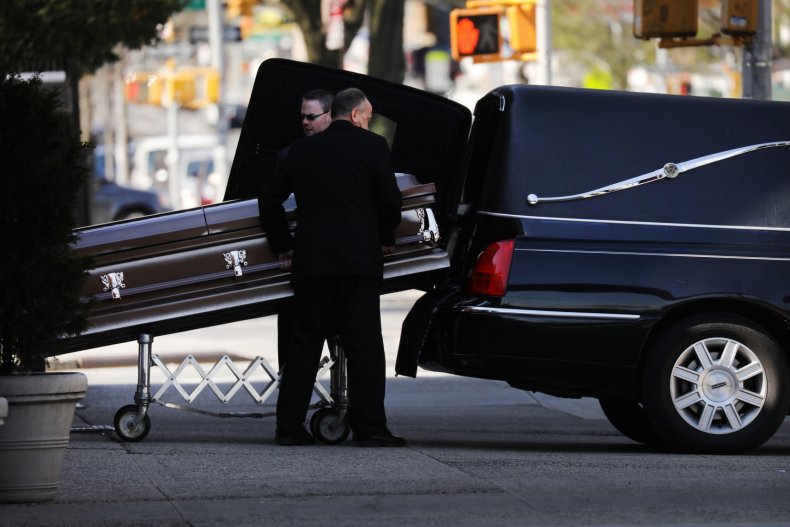 New deaths in Nebraska were steadily increasing since April 29, according to the state department of health and human services until they reached 78 on Sunday. Deaths remained at 78 on Monday.
Arizona hasn't experienced multiple consecutive days of no new deaths as Montana and West Virginia have, but is currently on a two-day downward trend.
Deaths are still increasing in Florida, Indiana, Kansas, Missouri, Arkansas, Pennsylvania and Minnesota, all states with plans to reopen this week. However, some of the states are seeing positive trends in the number of new deaths that are being reported.
Florida
Beginning on Monday, restaurants in Florida outside of those located in Miami-Dade, Broward and Palm Beach counties could reopen at 25 percent capacity. State parks will also reopen but gatherings of more than 10 people are prohibited.
Florida saw a sharp decline in deaths on April 29, followed by four days of alternating increases and decreases that culminated in a sharp decline in new deaths on Sunday, according to data compiled by the Miami Herald.
Indiana
All but three counties in Indiana–Marion, Lake and Cass–can allow retail and commercial businesses to reopen at 50 percent capacity. Although the state has seen three days of fewer deaths than have been reported since April 12, there hasn't been a steady decline. Following a drop from 39 to 19 on Friday, new deaths increased to 23 on Saturday and then dropped to five on Sunday, according to the Department of Health.
Kansas
Starting Monday, Kansans could gather in groups of 10 people and restaurants and stores could reopen for in-person business as long as there can be six feet of distance between groups of customers. On Friday and Saturday, Kansas reported only one new death each day, before increasing to three new deaths on Sunday and two new deaths on Monday, according to KWCH.
Missouri
Businesses in Missouri were allowed to reopen on Monday but patrons had to continue to engage in social distancing and remain six feet apart, according to a press release from Governor Michael Parson.
On April 29, Missouri only reported one new death, according to KMBC, down from 26 the day before. Following the report of one new death, Missouri saw alternating days of increases and decreases until Monday, when the report of five new deaths from the previous day's nine created a two-day downward trend.
Arkansas
Beginning on Monday, Arkansas gyms can reopen, followed by barbershops, salons and tattoos parlors on April 29. Arkansas' experiencing a two-day upward trend in daily confirmed deaths that started on Sunday with the increase of three new deaths from the day before. Then, on Monday, officials reported 80 deaths in the state, an increase of four new deaths from Sunday.
Pennsylvania
Twenty-four counties in Pennsylvania will be able to hold gatherings of up to 25 people and resume in-person retail transactions beginning on Friday.
Pennsylvania's seeing a two-day downward trend in new deaths that began on Sunday, according to the New York Times.
Minnesota
On Monday, Minnesota's nonessential retail businesses were permitted to reopen but were restricted to curbside pickup. Minnesota reported nine new deaths on Monday, down from 24 on Sunday. On Saturday, officials also reported 24 new deaths, down from 28 on Friday.