7 Ways the Apple Watch Series 7 Is Better and 1 Way It's Staying the Same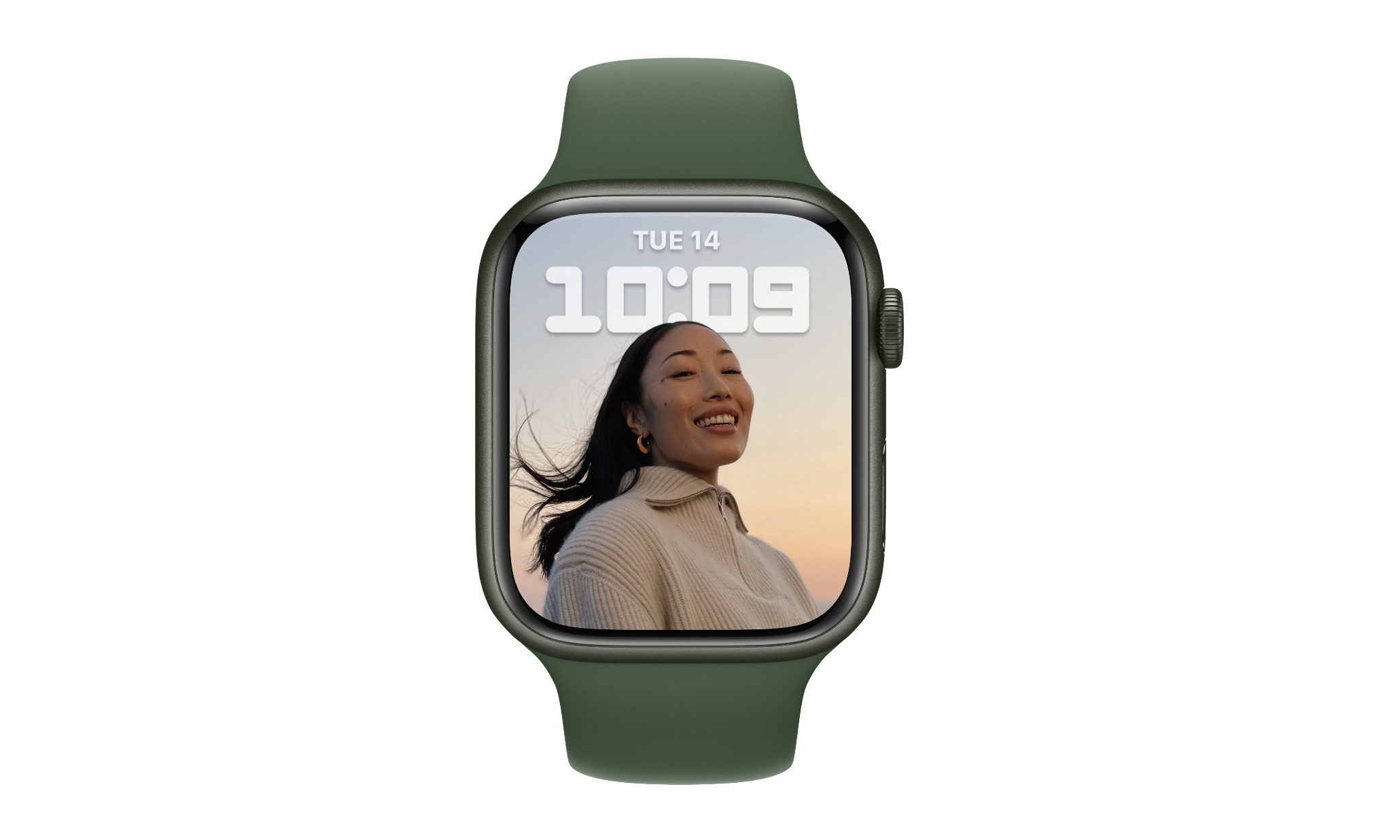 The Apple Watch Series 7 has officially been announced with a new refined look centered around a larger screen and many improvements. For those contemplating a move to Apple's smartwatch (or upgrading), are this year's updates enough to convince you to do so?
While the Apple Watch Series 7 doesn't have some of the rumored health sensors like blood pressure monitoring, temperature sensing or glucose monitoring, that doesn't mean it can't still help keep an eye on your health. For one, it now has more workouts around cycling, including understanding how e-bikes impact your health. Those rumored sensor features can still come in future models.
The new Apple Watch won't be released until later this fall, so you still have a little time to decide whether you're going to upgrade immediately. If you're on the fence, below is a detailed list of all the ways Apple Watch Series 7 is getting better than the Series 6, as well as the previous models. Importantly, the Apple Watch also stays the same in one key area around watch bands.
If the revised look, colors and features are already tempting, here's Apple's guide for unpairing an Apple Watch to make sure all your data is saved and moved over to the new smartwatch.
Bigger Display Size, Refined Look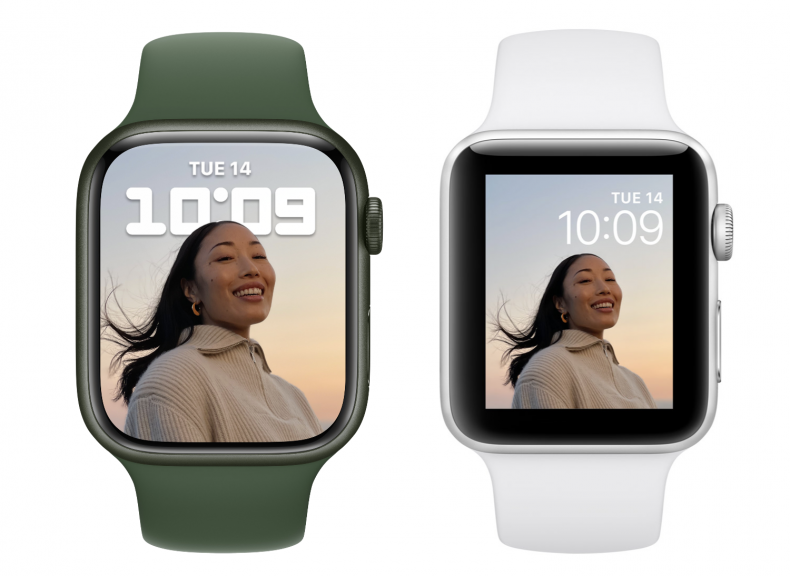 The Apple Watch Series 7 is not the radical design change that some people thought it might be, but it has continued to be tweaked and refined. Like previous releases, the new Apple smartwatch focuses on increasing the screen size to show more information.
Apple says the new Series 7 watch has 20 percent more screen area over Series 6. (The new model has 50 percent more screen area over the Series 3, which is still being sold.) This comes from pushing the viewable area all the way to the edge; at some angles looking like the watch face seeps off the edge. Although the casing doesn't look noticeably different, Apple says it is refined and has softer edges.
Importantly, despite the bigger viewing area, the Apple Watch remains nearly the same physical size on the wrist. It just gains more screen size.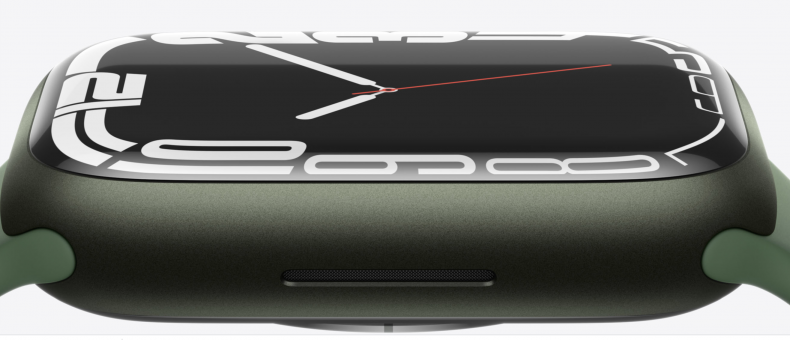 Brighter
A minor but helpful update comes to the always-on aspect of the watch. The Series 7 watch is now 70 percent brighter indoors when not active. That means when your wrist is down, and you glance over, the screen will be easier to read in all lighting conditions.
New Watch Faces
Since there is more surface area on the Series 7 Apple Watch, you have several new faces to choose from that take advantage of the screen size. There's a new analog watch face that showcases the edge of the display with numbers bumping up against the perimeter. There's also a new digital infograph face that can use two large widgets together for the first time.
New Colors

Apple Watch Series 7 has five new aluminum colors. Red, blue, green, Midnight and Starlight will be available in that material. There remain stainless steel and titanium material options as well, likely at higher price points.
Apple introduced some similar colors last year, but it looks like the Series 7 colors are a bit darker and more saturated than on the Series 6.
Faster Charging
The Apple Watch Series 7 has the same advertised battery life, but it gets a few updates to its battery charging. First, Series 7 will charge 33 percent faster and take the watch from zero to 80 percent charge in 45 minutes.
If you don't have that long, you can get up to eight hours of sleep tracking time from just eight minutes of charging time. The charging speed improvements come from an updated charging architecture and fast-charging USB-C cable. Apple previously sold a watch charger with USB-C, but now it will come in the box.
Updated Interface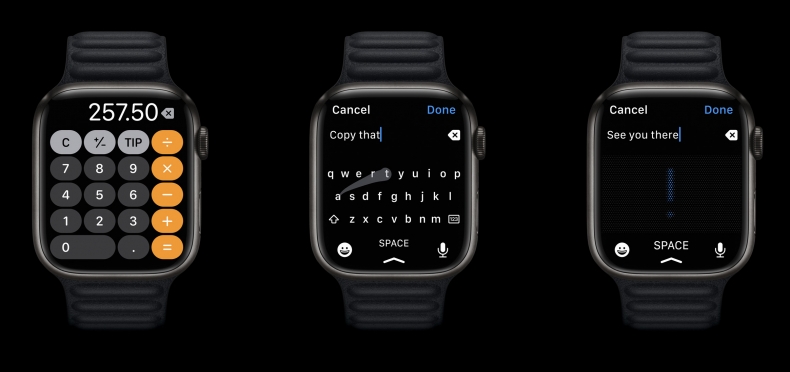 One of the subtler updates to Series 7 is likely the updated (meaning larger) buttons and text. Apple says it has redesigned buttons and text across all its apps and user interactions. The buttons on the calculator, as one example, are bigger for easier touch targets. It's not just bigger buttons, though; now there's an actual keyboard to type out messages, using only the watch.
According to Apple, more text has been fit onto the screen so that you will scroll less in apps like iMessage. In practice, it will have to be seen how useful these interface improvements are, utilizing the bigger screen. Few people ever want buttons and text to be smaller, though, so most people should welcome improvement.
Improved Durability
The bigger screen has been improved in other ways beyond raw size. Apple says the top crystal is 50 percent thicker and is more crack resistant than on Series 6.
Series 7 is also more dust resistant with an IP6X rating. Personally, this hasn't been an issue for me, but the more dust, dirt and environment the watch can keep out, the better for people taking their watch into dirtier circumstances. The new watch still has the same water resistance, up to 50 meters.
Same Band Compatibility
Despite getting an ever-so-slightly updated case and bigger screen size, all previous Apple Watch bands remain compatible with the Series 7 watch. Anyone who has invested lots of money over the years into fashionable watch bands can breathe a sigh of relief. Bands you originally brought for an early model will still snap in just fine.
There's no guarantee that previous Apple Watch bands will continue to be compatible with all models indefinitely, but this is a good sign that they will work well into the future. While a new rugged sports watch variant may introduce another type of band, the main line of Apple Watch models has a solid track record of keeping compatibility intact.
Newsweek may earn a commission from links on this page, but we only recommend products we back. We participate in various affiliate marketing programs, which means we may get paid commissions on editorially chosen products purchased through our links to retailer sites.