If there is one man who is going to outlive all of us, it's probably Keith Richards. The guitarist of the Rolling Stones was born on this day in 1943, and there's very little that Richards hasn't done as the personification of drugs, sex and rock 'n' roll. He's started a fire in the original Playboy Mansion, avoided major drug charges and managed to stay awake for over a week straight once while working on the album Some Girls.
Life, his 2010 memoir, which this writer highly recommends, is packed with wild stories about his love of music, touring the world with the Stones, his relationships with women, and several drug-laced misadventures. He's also given many candid interviews, sharing more information we ever knew we'd want. Impressively, Richards says he hasn't forgotten any of the incredible events throughout his 77 years.
What better way to celebrate Richards' birthday than sharing some legendary stories of the Stones guitarist?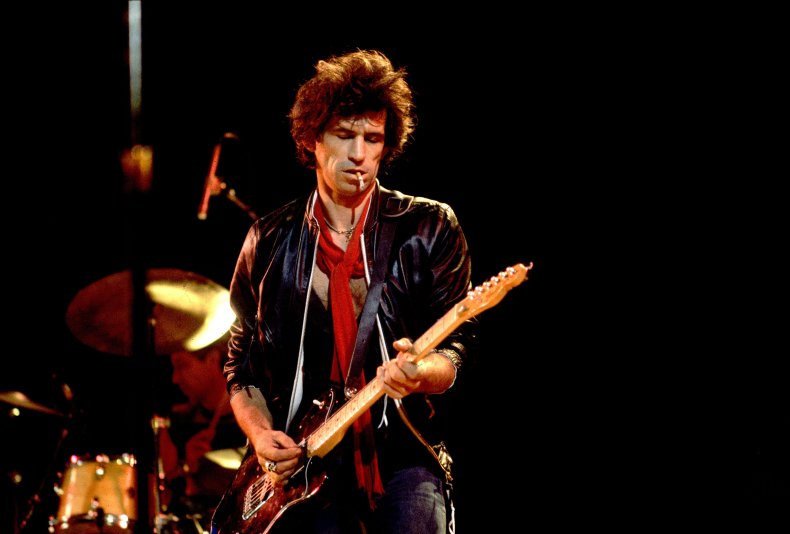 He Stayed Awake for Nine Days Straight
Richards boasted that he stayed awake for over a week in order to record "Before They Make Me Run," from the 1978 album Some Girls.
"Adrenaline is the most amazing thing we have," he claimed in 1992, in Rolling Stone. "Nine days without a wink," Richards continued. "I fell asleep standing up, eventually.… I was just putting another cassette back on the shelf, and I was feeling great, and I turned 'round and fell asleep. I fell against the edge of the speaker. Woke up in a pool of blood, wondering, Is that claret?"
He Set the Original Playboy Mansion on Fire
While touring in America in 1972, Richards and band musician Bobby Keys lit a bathroom in the Chicago Playboy Mansion on fire while doing drugs. Hugh Hefner used to split his time between this location and the Los Angeles house, and the Stones spent the night there while passing through. Luckily, no one was harmed.
"[Saxophonist] Bobby [Keys] and I played it a little far when we set fire to the bathroom," wrote Richards in Life. "Well, we didn't, the dope did. Not our fault. Bobby and I were just sitting in the john, comfortable, nice john, sitting on the floor, and we've got the doc's bag, and we're just smorgasbording."
Richards continued: "'I wonder what these do?' Bong. And at a certain point... talk about hazy, or foggy, Bobby says, 'It's smoky in here.' And I'm looking at Bobby, and can't see him. And the drapes are smoldering away; everything was just about to go off big-time... There was a thumping on the door, waiters and guys in black suits bringing buckets of water. They get the door open and we're sitting on the floor, our pupils very pinned. I said, 'We could have done that ourselves. How dare you burst in on our private affair?'"
He Was Pulled Over in a Car Filled With Drugs—and Got Away With It
At the start of Life, Richards recalls when he, Ronnie Wood and two friends were pulled over by the police in 1975 while the Stones were touring in the United States. Their car was filled with drugs, and they easily could have faced major consequences. "I had a denim cap with all these pockets in it that were filled with dope," he said. "Everything was filled with dope. In the car doors themselves, all you had to do was pop the panels, and there were plastic bags of coke and grass, peyote and mescaline. Oh my god, how are we going to get out of this?" They were arrested.
Ultimately, they were let free after calling in some favors and participating in some photo ops with the presiding judge. The police found nothing they could legally use against them, and there was no reason to charge them. Richards had to pay a $162 fine and was slapped with a misdemeanor for reckless driving. He also noted that 30 years later, the governor of Arkansas granted him a pardon for the misdemeanor.
As for the car? "We left it in this garage loaded with dope," Richards said. "I'd like to know what happened to that stuff. Maybe they never took the panels off. Maybe someone's still driving it around, still filled with s***."
The Redlands Raid and Mars Bar Orgy
In 1967, Richards' Redlands home was the site of one of the most infamous drug raids of the '60s. A tabloid had tipped off the cops, and 20 were sent to the scene of the alleged crime. Mick Jagger and his girlfriend Marianne Faithful were caught in the acid-laced commotion.
"I'd never been busted before, and I'm still on acid," Richards wrote in Life, realizing the policemen outside the house were there to look for drugs. "While we're gently bouncing down from the acid, they're trampling through the place, doing what they've got to do, and none of us are taking much notice of them. Obviously there was a shiver of the usuals, but there didn't seem to be much we could do about it at the moment, so we just let them walk about and look in ashtrays. Incredibly enough, what they did come up with was only a few roaches and what Mick and Robert Fraser had in their pockets, which was a minute amount of amphetamine, bought legally by Mick in Italy, and in Robert's case heroin tabs. Otherwise we just carried on."
Perhaps the most memorable story that emerged from the bust was that police interrupted an orgy, and a Mars bar was found on Faithful's person (you can use your imagination where). However, whether or not this part of the story is true, remains unclear. "How the Mars bar got into the story, I don't know," Richards recalled. "It shows you what's in people's minds."
He Jumped Out of a Burning Building Wearing Only a Tiny T-Shirt
In the 1970s, while spending the night at a house Los Angeles with Lil Wergilis, who Richards wrote in Life was "incredibly funny, very witty and a great lay" (and he noted that she "has been written about as Lil "Wenglass" or Lil Green—her married name"), a fire broke out in another room. The only way out was jumping through a window.
"Lil, so she said later, heard this distant bang and got up and opened the curtain a little and it was strangely bright outside. Not right. She opened the bathroom door and fire exploded into the room, and we had a few seconds to jump out of the window," Richards recalled. "I'm dressed in a short T-shirt only, and Lil is naked. And we're exposed—people are gathered, freaking out, trying to put the fire out—and this is a big story as soon as the press gets here."
Fortunately, Richards and Wergilis escaped unscathed, and how the fire started remains unclear. The next day, Richards stopped by to see the damage, and found "a large sign stuck in the blackened grass that read, 'thanks a lot, Keith.'"
He Snorted His Dad's Ashes
After Richards' father died in 2002, the rocker confessed to NME that paid tribute to his dad when asked the strangest thing he tried to snort.
"The strangest thing I've tried to snort? My father. I snorted my father. He was cremated and I couldn't resist grinding him up with a little bit of blow," he said in 2007. "My dad wouldn't have cared, he didn't give a s***. It went down pretty well, and I'm still alive." After the story ran, Richards backtracked and said he planted his ashes into a tree.
However, in 2015, he confirmed the original details that he indeed snorted the ashes. "I had him in a box in England," he told GQ. "I bought this little oak sapling, my idea being that he was gonna fertilize the tree, but when I pulled the top off of the box, wafts of Dad landed on the table. And my dad knows I'd always liked my cocaine, a snort here and there. So I just [mimes snorting cocaine off his finger] and had a line of dad."
Chuck Berry Once Punched Him in the Face
Richards recalled this encounter during a 2014 appearance on The Tonight Show Starring Jimmy Fallon. He said that he went into Chuck Berry's dressing room after a gig and grabbed his guitar. As a result of giving into temptation, he got a fist to the face.
"He went up to collect the money, I think," Richards recalled. "His guitar was laid out in its case like, 'Aw, c'mon, Keith,' you know, 'just a touch. Just let me give you an E chord,'" he mimed playing a guitar. "He walks in and goes, 'nobody touches my guitar!' and pang!" Richards threw his head back like he got socked in the face. "That's one of Chuck's biggest hits," the guitarist quipped.
Happy birthday, Keith!