70 Neil Young Deep Cuts to Listen to on His 70th Birthday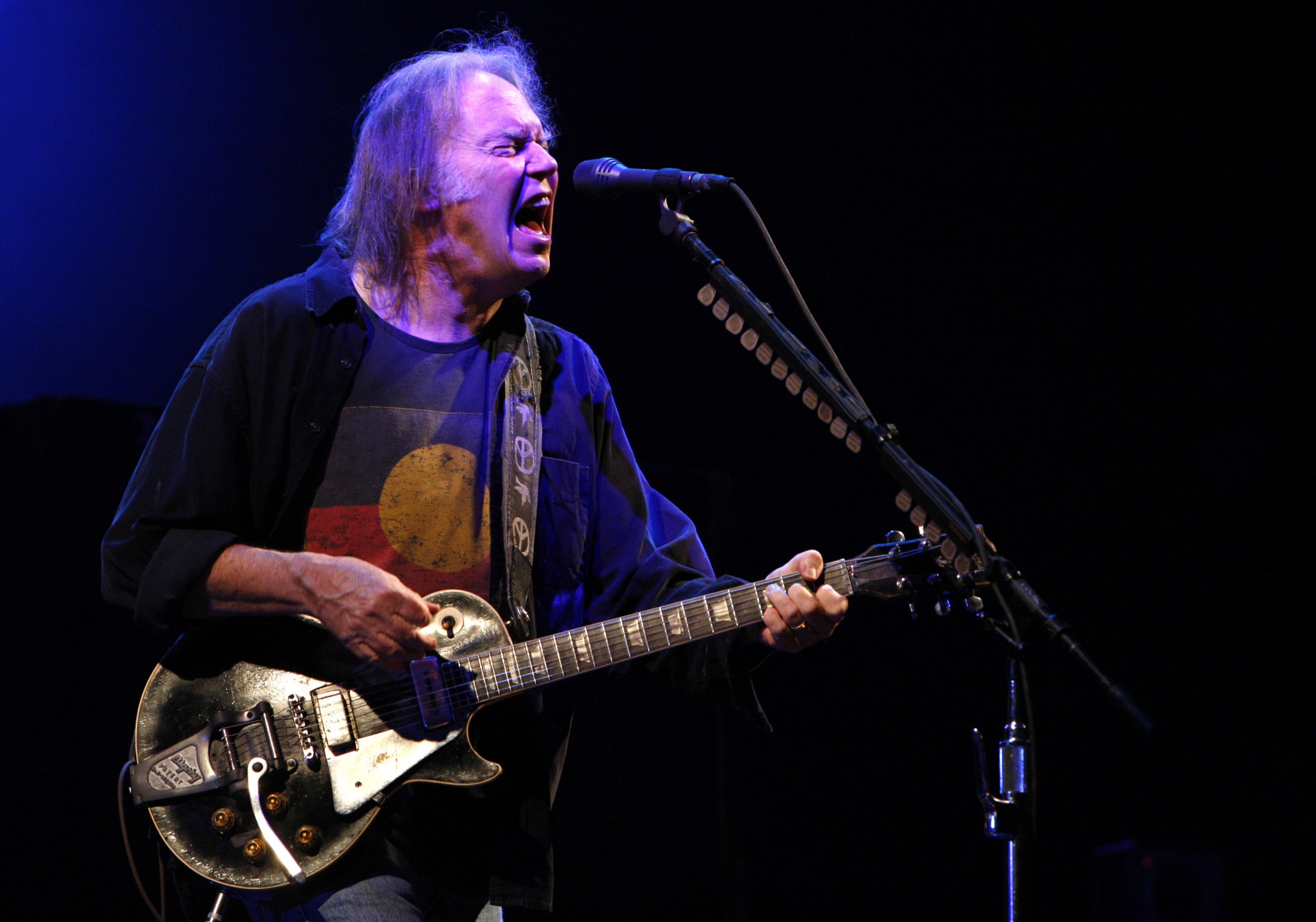 Neil Young is 70 years old today, and has half that many studio albums to his name.
They're not all great and some are outright bad, but even Young's most inexplicable and doomed projects (Everybody's Rockin', Fork in the Road) contain at least one gem. So we put together a list of 70 great and lesser-known tracks in honor of the artist's 70th birthday.
The playlist is arranged chronologically. We've included some live cuts and some cover songs, because both categories have been an integral part of Young's catalog since the start of his career. Here's to 70 more years.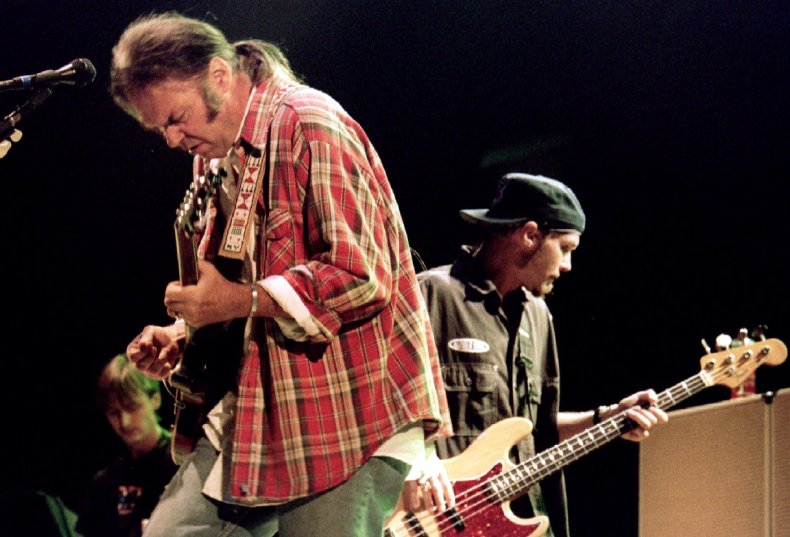 "EXPECTING TO FLY" (from Buffalo Springfield Again)
Revisit the second Buffalo Springfield record if you don't think Neil Young can do orchestral psychedelia.
"CRIPPLE CREEK FERRY" (from After the Gold Rush)
A whimsical, the Band-like ditty written to score a still-unmade film.
"BAD FOG OF LONELINESS" (from Live at Massey Hall 1971)
A sweet and sad early cut that never made it onto a studio album; it could not have been more appropriately titled.
"ALABAMA" (from Harvest)
"Southern Man," off After the Gold Rush, gets all the glory, though the Harvest follow-up is an equally vicious attack on the U.S. south: "What are you doing, Alabama? / You got the rest of the union to help you along / What's going wrong?"
"JOURNEY THROUGH THE PAST" (from Time Fades Away)
A whining vocal melody and lyrics that elicit nostalgia for Canada combine for Time Fades Away's best ballad.
"LA" (from Time Fades Away)
From Young's still-unreleased-on-CD Time Fades Away album comes this harsh-everyone's-mellow dig at Los Angeles: "L.A. / Uptight! / City in the smog."
"LAST DANCE" (from Time Fades Away)
It's nine minutes, but carries two noteworthy highlights: 1) A sarcastic Neil Young pleading "Wake up! It's time to go to school!" and 2) a very misplaced Graham Nash offering vocal reinforcement, required mostly because Young's voice is so strained by the booze.
"ON THE BEACH" (from On the Beach)
Before there was Sea Change there was On The Beach: Young at his weariest, with faint glimmers of hope. "Though my problems are meaningless," he wisely observes, "that don't make them go away."
"REVOLUTION BLUES" (from On the Beach)
Neil's best diss track: "Well, I hear that Laurel Canyon is full of famous stars / But I hate them worse then lepers, and I'll kill them in their cars."
"MOTION PICTURES" (from On the Beach)
A lightly tapped bongo: perfect accompaniment to Neil Young's gloomy lament.
"SPEAKIN' OUT" (from Tonight's the Night)
Blues, in the saddest sense of the genre: Young sounds strung out and bitter (this is a compliment).
"TIRED EYES" (from Tonight's the Night)
"Please take my advice," Young pleads, uselessly; around him, friends succumb to booze and addiction.
"MELLOW MY MIND" (from Tonight's the Night)
Pure defeat and exhaustion in this vocal performance—hear how his voice cracks at 2:18.
"DANGER BIRD" (from Zuma)
Young emerges from his Ditch Trilogy depression to pen this eerie slow-burner.
"BARSTOOL BLUES" (from Zuma)
Young nabs the vocal melody from Dylan's "It's All Over Now, Baby Blue" (and writes an even better song).
"FONTAINEBLEAU" (from Long May You Run)
Fuzzy and gorgeous—a highlight from Young's otherwise tepid 1976 collab with Stephen Stills.
"WILL TO LOVE" (from American Stars 'N Bars)
Neil: the godfather of grunge and, considering these cracks and hisses (the song was recorded in front of a burning fireplace), perhaps also the godfather of lo-fi.
"WINTERLONG" (from Decade)
See also: Pixies' great 1990 cover.
"LOTTA LOVE" (from Comes a Time)
Simple and affecting proof that Young could have resumed his folk-hero career just fine if he wanted, though thank God he got distracted by Crazy Horse (Rust Never Sleeps) and vocoders (Trans).
"THE LONER" (from Live Rust)
Crazy Horse tears apart the production choices David Briggs made on the 1968 studio version to give this track the live boost it deserves.
"LOST IN SPACE" (from Hawks & Doves)
There is a Munchkin-like vocal effect on the line "Out on the ocean floor," and it singlehandedly makes Hawks & Doves worth owning.
"LITTLE WING" (from Hawks & Doves)
Young begins his roughest decade with this pretty and unassuming cut (and no, it is definitely not a Hendrix cover).
"T-BONE" (from Re-ac-tor)
This strange stomper last longer than nine minutes and contains fewer than nine words: "Got mashed potatoes / Ain't got no T-Bone"—repeated ad nauseam.
"RAPID TRANSIT" (from Re-ac-tor)
Long before Weird Al popularized the gurgling-mid-song technique, Neil Young gave one of the funniest performances of his career: "Pbbbbblllllllll-public enemy!"
"SHOTS" (from Re-ac-tor)
Re-ac-tor's most "serious" track coaxes intensity from machine-gun effects and military-like drums.
"SAMPLE AND HOLD" (from Trans)
You could make a fine playlist of great '80s tracks that more or less predicted Internet dating: Kraftwerk's "Computer Love," Kate Bush's "Deeper Understanding" and Young's great "Sample and Hold."
"COMPUTER AGE" (from Trans)
Neil Young's first techno foray: still rocking enough to warrant a 1989 Sonic Youth cover.
"WE R IN CONTROL" (from Trans)
Young gets scarily dystopian, though the robot-voiced threats ("We're controlling you while you sleep!") don't seem so far-fetched in 2015.
"WONDERIN'" (from Everybody's Rockin')
This track had been floating around since at least 1970, but didn't see release until it got the doo-wop treatment on Everybody's Rockin'.
"PAYOLA BLUES" (from Everybody's Rockin')
In which Neil laments not hearing his music on the radio on a '50s-themed album designed to baffle radio.
"MISFITS" (from Old Ways)
The long-delayed Old Ways produced one keeper: this sparse, string-tinged ode to JFK and space exploration.
"HIPPIE DREAM" (from Landing on Water)
Young's always revisiting his past, though rarely through rose-colored glasses. Here, hippie nostalgia turns dark: "Another flower child goes to seed / In an ether-filled room of meat-hooks / It's so ugly!"
"PEOPLE ON THE STREET" (from Landing on Water)
I'll defend 1986's Landing on Water any day, and this synth-heavy rave-up, with all its momentum, is one reason why.
"DRIFTER" (from Landing on Water)
Mock Landing on Water's big-beat '80s production all you want—there's nothing quite like this song's eerie, chopped up guitar loop.
"CRYIN' EYES" (from Life)
The briefest and heaviest track on 1987's Life hints at Young's triumphant return to garage rock (Ragged Glory, Weld).
"TWILIGHT" (from This Note's For You)
Neil Young finds himself a big-band horn section; stumbles on this memorable blues melody.
"COCAINE EYES" (from Eldorado)
Young's return to rock after a shaky decade of experiments was first teased on the Eldorado EP, including this stormy opener.
"ON BROADWAY" (from Freedom)
Young's take on the old-timey Drifters hit: a charred and explosive reimagining.
"SOMEDAY" (from Freedom)
Hard to believe Springsteen didn't record this too-sentimental keyboard riff before Young nabbed it.
"FUCKIN' UP" (from Ragged Glory)
Vulgar and messy—Ragged Glory's two best traits.
"WHITE LINE" (from Ragged Glory)
Is it about cocaine or just friendship? Who cares.
"CRIME IN THE CITY" (from Weld)
The crime epic from the studio album Freedom gets the Crazy Horse live treatment.
"WELFARE MOTHERS" (from Weld)
The politicized punk anthem dates back to Rust Never Sleeps, but has never sounded scarier than on this 1991 recording, with its cacophonous climax.
"FARMER JOHN" (from Weld)
The Weld take on the Ragged Glory cut is careening and reckless in the best ways.
"ONE OF THESE DAYS" (from Harvest Moon)
On paper, the song is corny and hackneyed; on record, it's nostalgic and sweet.
"OLD KING" (from Harvest Moon)
Neil Young Loses Dog, Writes Song: "Old King sure meant a lot to me / But that hound dog is history."
"FROM HANK TO HENDRIX" (from Harvest Moon)
Young's relationship musings—"Can we get it together / Can we still stand side by side / Can we make it last like a musical ride?"—feel especially poignant after the artist's 2014 divorce.
"NATURAL BEAUTY" (from Harvest Moon)
If you're going to listen to a 10-and-a-half-minute song, and it's 3 in the morning, make it this one.
"TRANSFORMER MAN" (from Unplugged)
Neil Young peels back the vocal alterations applied to the song on the studio album Trans, and reveals how moving this ode to his disabled son really is.
"SLEEPS WITH ANGELS" (from Sleeps With Angels)
With the acoustic Harvest Moon/Unplugged pair out of his system, a 1994 reunion with Crazy Horse inspired some of Young's most menacing work.
"BLUE EDEN" (from Sleeps With Angels)
Brooding, sinister and strangely unlike any other Neil Young track on record.
"I'M THE OCEAN" (from Mirrorball)
Pearl Jam assists on this raw, four-chord stomper.
"FALLEN ANGEL" (from Mirrorball)
Neil Young's tender moments: most affecting when tucked in with an hour of roaring feedback.
"DOWNTOWN" (from Mirrorball)
Not the same song as "Come On Baby Let's Go Downtown"—just another blustery ode to the "psychedelic dream" of going, uh, downtown.
"SLIP AWAY" (from Broken Arrow)
Crazy Horse finds a groove so hypnotic you don't mind that the chords barely change.
"THIS TOWN" (from Broken Arrow)
Fuzzy, simmering and no—thank God—nothing to do with the Mark Leibovich book of the same name.
"RAZOR LOVE" (from Silver & Gold)
This and "Silver & Gold" are all you need from Young's sleepy 2000 outing.
"ALL ALONG THE WATCHTOWER" (from Road Rock, Vol. 1: Friends & Relatives)
Not that Dylan's song needed another cover, but this is a fiery rendition, and worth it for when Chrissie Hynde takes over the mic.
"MR. DISAPPOINTMENT" (from Are You Passionate?)
Critics recoiled at Young's 2001 soul music foray, but this groove is hard to hate.
"BE THE RAIN" (from Greendale)
Greendale is confounding—the album, the story and the movie—but this climax is won over by Young's eerie megaphone.
"LET'S IMPEACH THE PRESIDENT" (from Living With War)
It's not about Barack Obama—guess who it is about—but Living With War may well be the first album to mention the at-the-time junior Senator from Illinois by name.
"THE RESTLESS CONSUMER" (from Living With War)
Living With War's truest virtue is its fiery antiwar fury: "Don't need no more lies! / Don't need no more lies!"
"THE BELIEVER" (from Chrome Dreams II)
Neil Young can't do funk, but he can do acoustic, blue-eyed soul.
"THE WAY" (from Chrome Dreams II)
Piano, cheery female harmonies and hardly a guitar in sight.
"COUGH UP THE BUCKS" (from Fork in the Road)
At its best, Fork in the Road (a 2009, electric car-themed concept disc) is bewilderingly bizarre. Like this embittered, half-rap/half-rant.
"ANGRY WORLD" (from Le Noise)
Young's fruitful collaboration with Daniel Lanois pushed Young into new sonic territory. This bleak anthem is a prime example.
"RUMBLIN'" (from Le Noise)
Forty-five years into his career, Young still can bring out guitar tones we've never heard before.
"PSYCHEDELIC PILL" (from Psychedelic Pill)
Young and the Horse recycle the "Drive Back" riff with a flange effect and no one complains, because it's better than anything the band recorded for Americana (released the same year).
"NEEDLE OF DEATH" (from A Letter Home)
Bert Jansch's heroin lament is especially affecting in the hands of Neil Young, who coped with so much drug-fueled grief in his early career.
"IF I DON'T KNOW" (from The Monsanto Years)
"If the melodies stay pretty / And the songs are not too long / I'll try to find a way to get them back to you." These lines say it all.