Over 7,000 Pounds of Pepperoni-Stuffed Pizza Sandwiches Recalled Over Customer Complaints, Allergy Concerns
More than 7,000 pounds of Banquet brand pepperoni stuffed pizza from food distributor Astrochef LLC is being recalled due to labeling and allergen concerns.
The U.S. Department of Agriculture's Food Safety and Inspection Service (FSIS) announced a Class I recall in a statement on January 29, 2020, saying packages of the ready meal have been mislabeled.
According to FSIS, products that have been sold as pepperoni stuffed pizza sandwiches may contain meatball stuffed pizza sandwiches. The agency says the company had also failed to disclose the presence of soy (a known allergen) in the frozen pizzas affected by the recall.
The FSIS first became aware of the problem after customers phoned in to complain that the packages they bought contained the wrong product.
The product of concern is the 10-oz retail carton of "Banquet Mega Sandwiches Pepperoni Stuffed Pizza." The FSIS is asking consumers with Banquet-branded pepperoni stuffed pizzas produced on June 4, 2019 or July 3, 2019 to throw them away or return them to the place where they were purchased.
They can be identified by their lot code and best before date, which can be found on the packaging. The recalled products will either be marked with a lot code of "5659915510" and a best before date of "May/29/2020" or a lot code of "5659918410" and a best before date of "June/27/2020."
According to the FSIS, there have not been any reports of any adverse reactions from eating the product but anyone concerned about illness or injury should speak to a medical professional.
The recall has been categorized as a Class I recall, which means: "This is a health hazard situation where there is a reasonable probability that the use of the product will cause serious, adverse health consequences or death."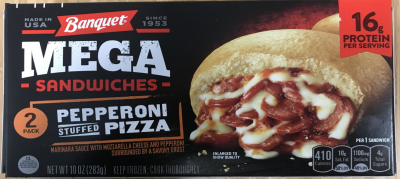 Allergic reactions to soybeans, like all allergens, can cause a wide range of symptoms, including vomiting, stomach cramps, shortness of breath and, in rare cases, anaphylaxis—a severe, sometimes life-threatening condition, that can send the body into shock.
According to the U.S. Food and Drug Administration (FDA), there are more than 160 foods that can trigger allergic reactions in people with allergies. However, just eight food types account for 90 percent of food-related reactions and must be identified by law. These include: milk, eggs, fish, crustacean shellfish, tree nuts, peanuts, wheat and soybeans.
A 2019 report from the U.S. Public Interest Research Group (PIRG), the number of food recalls has gone up over the last few years, increasing 10 percent between 2013 and 2018.
Meat and poultry products have been particularly affected, rising 83 percent within the same time frame. PIRG attribute the rise to the passage of the Food Safety Modernization Act (FSMA) in 2011.
The graphic below, provided by Statista, shows the number of food recalls in the U.S. between 2013 and 2019.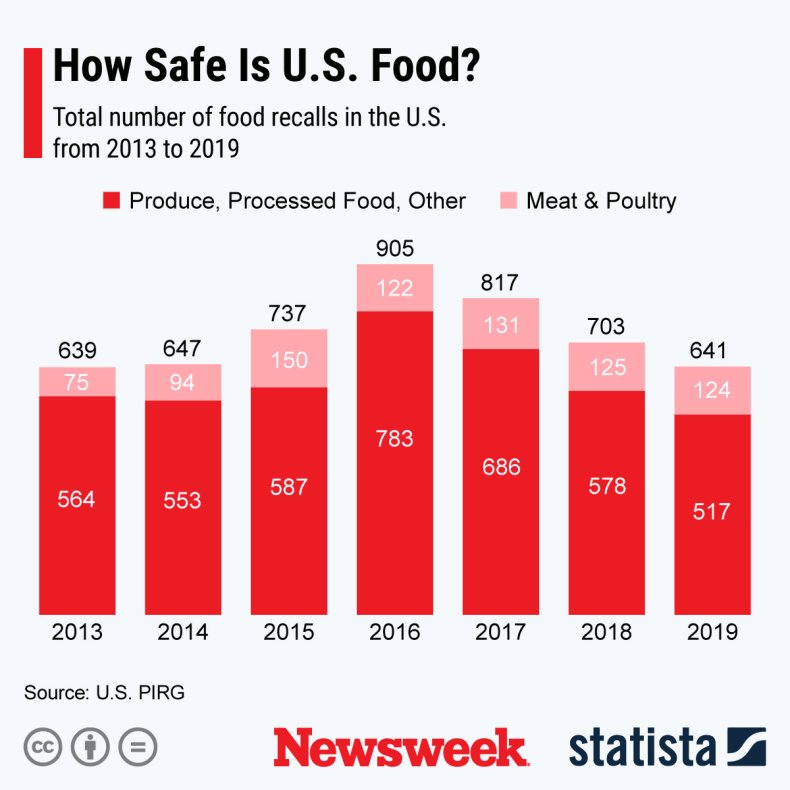 This article was updated to include an infographic.