Most Republican voters believe that President Donald Trump is more committed to the best interests of the U.S. than GOP members of Congress, according to polling research released Tuesday.
Trump has so far refused to concede the election to Democrat President-elect Joe Biden, the widely projected winner. Biden's transition teams were not allowed access to federal funding and classified information until Monday, almost three weeks after the election. Many Republicans still support Trump despite his electoral loss and believe he could launch a second presidential bid in the 2024 election.
According to a Tuesday poll by Morning Consult and Politico, 71 percent of Republican voters believe that Trump has the best interests of the U.S. at heart. The same could not be said of Republican members of Congress, with only 17 percent of those Republicans polled saying GOP lawmakers were committed to the country's best interests.
Economic issues were the top priorities for 48 percent of Republicans who voted for in Congressional or Senate elections, according to the poll data. Security issues, such as border security and foreign policy, came in a second with 16 percent of Republicans saying those were the top set of priorities.
A majority of Republicans believed that GOP members of Congress wanted to work together with Trump. While 72 percent of those polled said working with Trump was desired by Republican members of Congress, 17 percent said Republican Congress members did not want to work with Trump.
The poll was conducted between November 21-23 from a pool of 1,990 registered voters including 669 Republicans and carried a margin of error of plus or minus 2 percentage points. Newsweek reached out to the Biden transition team for comment.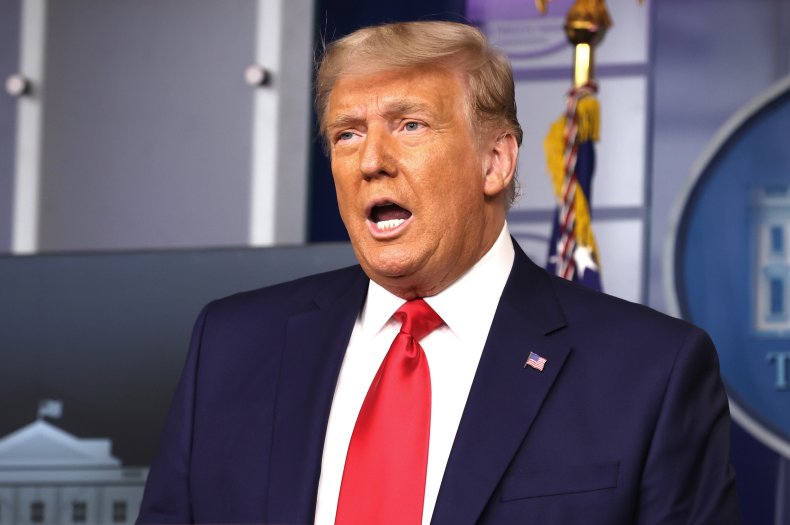 Trump has alleged that widespread voting manipulation caused Biden to appear to win the popular vote in the election. In a post-election address, Trump said that he had been hearing tales of fraud that were "absolute horror stories. And we can't let that happen to the United States of America."
Trump's legal team has filed litigation alleging fraud in several battleground states, although many of those cases have been dismissed for lack of evidence. On Monday, Tennessee Republican Senator Lamar Alexander urged Trump to move away from the legal battles and commit to a peaceful administrative transition.
"Since it seems apparent that Joe Biden will be the president-Elect," Alexander said in a statement, "my hope is that President Trump will take pride in his considerable accomplishments, put the country first and have a prompt and orderly transition to help the new administration succeed."
On Monday, General Services Administration chief Emily Murphy allowed Biden's transition teams to begin working with federal entities to prepare for his presidency, a move Trump indicated his support for without conceding the election.
Trump's apparent loss may not prevent him from remaining in the world of politics. Some observers believe that Trump could run for president again in 2024. During a November interview with Fox News Radio, South Carolina Senator Lindsey Graham said Trump should "consider running again."
"Grover Cleveland came back," Graham said. "Donald Trump should think about it if he falls short."