Almost three-fourths of the U.S. adult population sampled in a recent national survey showed support for President Joe Biden's response to the coronavirus pandemic, according to new survey data. The poll, conducted by Ipsos in partnership with ABC News, collected responses from 517 Americans on Friday and Saturday.
Results showed that 72 percent of respondents approve of the steps Biden's administration has taken to manage the ongoing implications of COVID-19, with the remaining 28 percent conversely noting disapproval in responses to the same question.
Biden's handling of the U.S. vaccine rollout earned support from a slightly wider margin of survey participants, with 75 percent saying they approve of his administration's effort on that front specifically.
Implementing an effective and equitable federal response to COVID-19 was among the presidential administration's top priorities when Biden took office this past January. The president originally established a goal to administer 100 million vaccine doses during his first 100 days in the White House, but surpassed the milestone more than a month ahead of schedule. Biden amended the target number last week, and now aims to administer 200 million shots cumulatively before the start of May.
Coronavirus vaccine distribution and administration ramped up significantly after Biden's inauguration, pushing the U.S. closer to achieving the herd immunity status necessary to resume a version of pre-pandemic lifestyle and employment conditions. Public health experts have estimated that 75 or 80 percent of the population must receive COVID-19 vaccines in order to reach herd immunity, an epidemiological term used to describe a scenario wherein enough people are protected from infection, and the likelihood of those without immunity falling ill are thereby reduced.
Upwards of 140 million people in the U.S. have received at least one dose of a COVID-19 vaccine as of Saturday, according to the latest data updated by the Centers for Disease Control and Prevention (CDC). The health agency's tally tracks vaccine delivery and administration data nationwide, and accounts for immunizations developed by Pfizer and BioNTech, Moderna and the National Institutes of Health, and Johnson & Johnson. All three vaccines have been authorized for emergency use by the U.S. Food and Drug Administration (FDA), with the former pair of shots requiring two doses, and the latter requiring one, to provide sufficient protection against COVID-19.
In addition to strides taken regarding vaccine administration, Biden's efforts to deliver relief to Americans still struggling financially as a result of the pandemic's economic impacts have also proven successful. The president signed the American Rescue Plan Act, a $1.9 trillion economic stimulus package, into law on March 11, after its passage in both congressional chambers. The package offered direct payments to millions of eligible Americans, extended higher unemployment benefits, and allocated large sums to bolster support for small businesses, education systems and vaccination programs.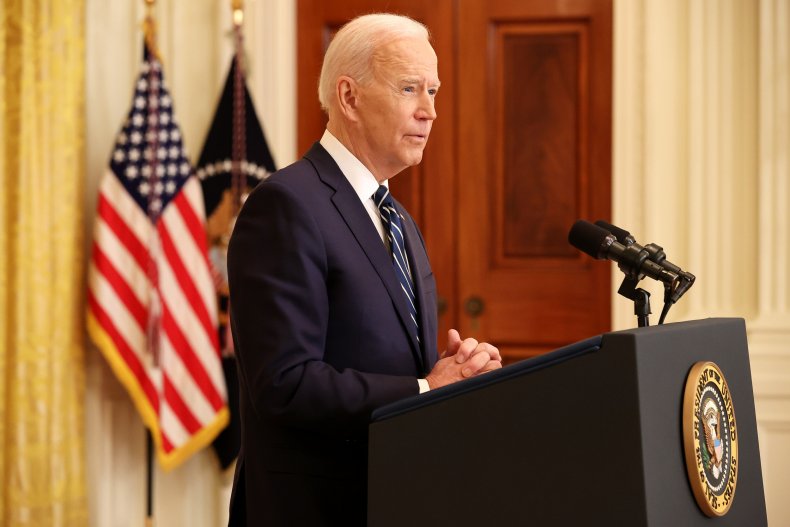 Newsweek, in partnership with NewsGuard, is dedicated to providing accurate and verifiable vaccine and health information. With NewsGuard's HealthGuard browser extension, users can verify if a website is a trustworthy source of health information. Visit the Newsweek VaxFacts website to learn more and to download the HealthGuard browser extension.