72% of Americans Want Coronavirus Stay-at-Home Orders to Remain in Place Until Health Officials Say It's Safe: Poll
An overwhelming majority of Americans have indicated that they want stay-at-home orders to remain in place until health officials and experts say it's safe to reopen the economy amid the coronavirus pandemic, according to a new study.
In the latest Reuters-Ipsos poll, released Tuesday, 72 percent of U.S. adults said quarantine measures should remain in place "until the doctors and public health officials say it is safe." The figure includes 88 percent of Democrats, 55 percent of Republicans and 70 percent of independents.
Forty-five percent of Republicans surveyed said they wanted the stay-at-home measures to end, a significant increase from the 24 percent seen in a similar poll released late March. The national poll, conducted online between April 15 to 21, surveyed 1,004 adults. The margin of sampling error is plus or minus 6 percentage points.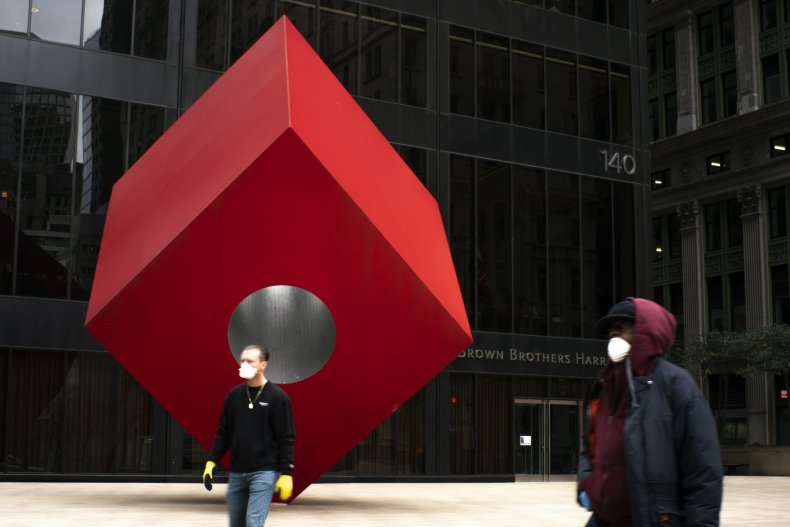 The results come after small protests broke out in several states—among them Ohio, Minnesota and Michigan—with demonstrators taking to public spaces to demand an end to the stay-at-home orders that have drastically slowed the spread of Covid-19, as well as the country's economy.
Democratic state governors—including Virginia's Ralph Northam, Kentucky's Andy Beshear and Michigan's Gretchen Whitmer—have condemned the protesters for opposing the orders that were put in place to keep them safe. Many of the protesters across the country ignored the White House's social distancing guidelines that advised against gatherings of 10 or more people to battle the novel virus' spread.
Health officials have warned that the U.S. may experience a second wave of the disease if social distancing measures and mitigation efforts are lifted prematurely. Some have also stressed the need for widespread testing and an effective contact-tracing program before the country can begin to reopen safely.
President Donald Trump sympathized with the protesters and declined to condemn their actions during Sunday's White House Coronavirus Task Force press briefing. Instead, Trump criticized the governors—who've had to balance public safety and calls from the president to shorten their lockdown orders—for allegedly taking restrictions too far.
"Some have gone too far, some governors have gone too far. Some of the things that happened are maybe not so appropriate," Trump said. "And I think in the end it's not going to matter because we're starting to open up our states, and I think they're going to open up very well."
Some protesters were seen wearing Make America Great Again apparel, holding pro-Trump signs and confederate flags as they called for coronavirus mitigation measures to be relaxed and wider freedoms amid the pandemic. Whitmer called the protest in her state of Michigan "essentially a political rally."
Newsweek reached out to the White House for comment.
As of April 21, more than 819,100 individuals had tested positive for the coronavirus in the U.S., with over 45,300 deaths caused by the new disease and 82,900 recoveries.