73 Percent of Republicans Feel Comfortable Voting During Pandemic, Versus 42 Percent of Dems, Poll Says
A newly released poll shows that a registered voter's comfort voting in-person during elections depends somewhat on their political affiliation. While 53 percent of registered voters overall said they'd feel "somewhat" or "very" comfortable voting in-person, that number went up to 73 percent among Republicans and down to 42 percent among Democrats.
The poll asked, "As the current level of coronavirus restrictions are lifted by government officials, would you be comfortable or uncomfortable going to polling places to vote?" Respondents could express their level of comfort or discomfort by choosing either "somewhat" or "very."
The poll was conducted by the Washington, D.C. newspaper The Hill and the market research company HarrisX.
The poll's results suggest that more Republicans than Democrats may publicly vote in the upcoming elections, even if officials continue to lift social distancing measures put in place to slow the ongoing coronavirus epidemic.
The results also underscore differences in how political affiliations affect people's individual attitudes towards COVID-19.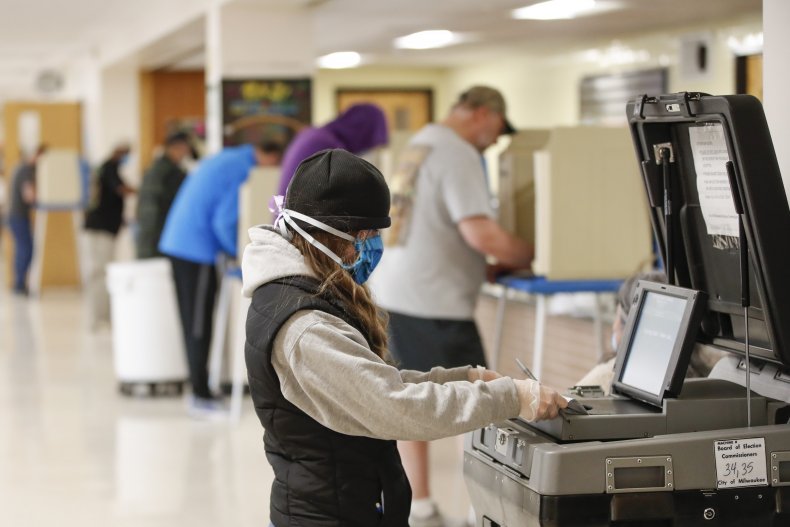 A May 7 Axios/Ipsos poll showed that Democrats think the actual number of coronavirus deaths is higher than what's being reported, and Republicans think it's lower.
Part of the Republican-Democrat divide on the virus may stem from the fact that the epidemic has so far mostly affected large metropolitan centers with large international airports and public transportation networks—areas known as Democratic strongholds. Comparatively, small towns and rural areas—regions that are typically more isolated, spread out and known for supporting Republicans—have been far less affected.
As a result, states with Republican governors were generally slower to impose shutdowns, stay-at-home orders and social distancing restrictions than states with Democratic governors.
Anticipating the impact of COVID-19 on coming elections, many states are expanding mail-in voting options, even as President Donald Trump has claimed that such an expansion will increase the likelihood of voter fraud. Past studies have shown no link between voting by mail and widespread voter fraud. As of now, 35 U.S. states currently offer mail-in ballots to any resident who wants them.
At an April 22 hearing of the U.S. Election Assistance Commission, Washington state Secretary of State Kim Wyman said that elections experts worry that states that want to expand mail-in voting may not have enough time or resources before November to obtain the envelopes, ballots, scanning machines and staffing needed to handle the increased demand.
Expansions of mail-in voting could create a delay in election results reporting, according to statements made by Ohio's Republican secretary of state Frank LaRose at a forum on voting hosted by the Bipartisan Policy Center.
Despite fears of COVID-19 and two Supreme Court decisions that forbade postponing and extending the window for mail-in voting in Wisconsin's April 7 election, the voter turnout remained high at approximately 34 percent—exceeding the voter turnout of nine of the last 11 years, according to NPR. Approximately 47 percent of the state's registered voters participated in the 2016 presidential elections.