73-Year-Old Former 911 Dispatcher Helps Police Catch Scammer: 'I Usually Hang Up'
A 73-year-old woman on Long Island aided New York police in arresting a man who allegedly tried to scam her on Thursday by posing as a bail bondsman. She previously worked as a 911 dispatcher.
The woman was first contacted by a man, claiming to be her grandson, who "stated that he was in jail and that she needed to contact his lawyer," the Nassau County Police Department wrote in a statement shared with Newsweek.
Then, the woman got a second call from a person claiming to be her grandson's lawyer, who said he needed $8,000 to post his bail.
She then got another call from a man who said he was a bail bondsman who was near her home to collect the money.
"The victim, suspecting this might be a scam, contacted police prior to the arrival of the defendant," police said.
The suspected scammer, Joshua Estrella Gomez, 28, showed up at the home and took an envelope from the woman. He was arrested and charged with attempted grand larceny 3rd Degree.
A video of the arrest that police sent Newsweek shows the suspect exiting the front of the woman's home and an officer running after him and tackling him to the ground. Another officer helps handcuff the man, and the woman enters the frame, watching after walking outside her front door.
In an interview with Fox News on Saturday, the woman, Jean Ebbert, who is a former 911 dispatcher, said she knew right away that the caller wasn't her grandson.
She said she took several phone calls over the course of three hours.
"Halfway through I was talking to my daughter and my son and they're like 'Ma, call the police, or maybe this is really going to happen,'" Ebbert said.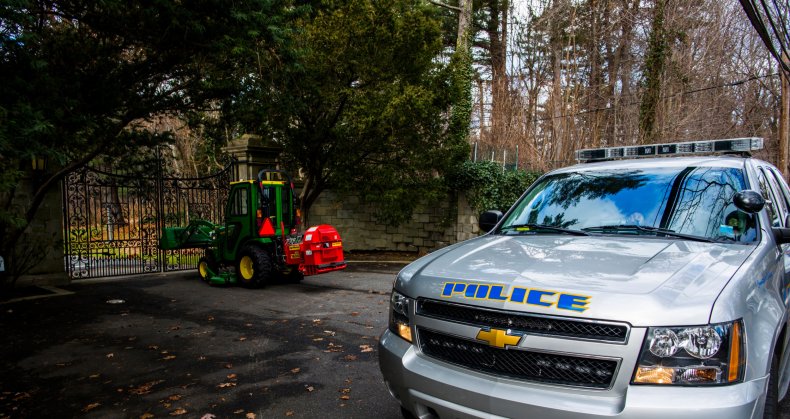 "And it's a good thing I did because an hour after the police got there—and they didn't think the guy would show up either—he shows up, looking for the money," she said.
At one point, Ebbert said, her son told her to hang up.
"And I'm thinking, 'You're 40-years-old, I'm 73, you're telling me to hang up?' And I didn't hang up. I usually hang up," she said.
According to local station WABC, Nassau Police Commissioner Patrick Ryder lauded her actions.
"She's smart enough to call out and reach out to the police department and say, 'I think I'm being taken advantage of,'" Ryder said.
He also encouraged the public to speak with vulnerable people about similar scams.
"These individuals sit at home and have nothing else to do but think of ways to take advantage of our elderly," Ryder said.