As there are now just 75 days left until the general election, polling averages show that Democratic nominee Joe Biden is in a better position to defeat President Donald Trump than any other Democratic candidate has been at this point in the past 24 years.
Nathaniel Rakich, election analyst for political site FiveThirtyEight, on Thursday shared a breakdown of polling averages 75 days out from the presidential election going back to the 1976 election of Jimmy Carter. Biden currently leads Trump by an average of 8.4 points. The last time a Democratic candidate had a comparable lead over their GOP opponent was in 1992, when President Bill Clinton was running for his first term with a lead of about 8.5 points two and a half months out from the election.
When Clinton ran for re-election in 1996—24 years ago—his lead 75 days before the election was just about 4.4 points. That's the second highest lead at this point in the election cycle within the past 24 years, after former Democratic presidential candidate Hillary Clinton's lead of about 5.3 points over Trump in 2016. Biden currently has a 3.1 point advantage over Clinton's 2016 lead.
The FiveThirtyEight polling average for Biden is slightly more favorable than the average compiled by Real Clear Politics, which currently shows the Democratic candidate ahead of Trump by about 7.6 percent. Meanwhile, a poll carried out by The Economist/YouGov this week from August 16 to 18 shows Biden ahead by 10 points, with the backing of 50 percent of voters compared to 40 percent who support the president.
But Trump and his campaign officials have repeatedly dismissed poor polling numbers for the incumbent president. They have argued that most polls are biased against Trump and other GOP lawmakers.
Campaign aides have also pointed to 2016, when most pollsters believed Clinton would win the presidential contest. Although the former Democratic candidate did win nearly 3 million more votes than Trump, she lost by a significant margin in the Electoral College after Trump pulled off a series of wins in key battleground states.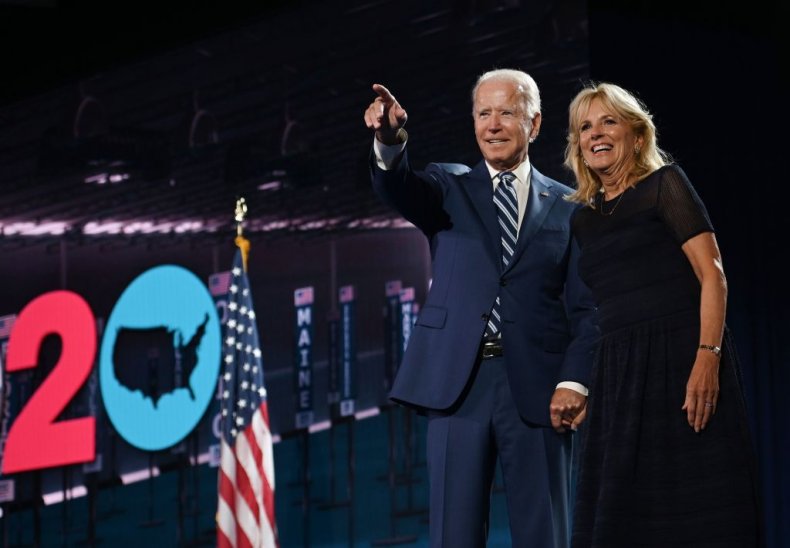 Currently, Biden appears to be the frontrunner in these swing states as well. Florida, Michigan, Pennsylvania and Wisconsin all voted for former President Barack Obama in 2008 and 2012. But they shifted red for Trump in 2016.
Democrats aim to regain these states on November 3, and recent polls suggest that Biden is ahead by an average of 5 points in Florida, 6.7 points in Michigan, 6.4 points in Pennsylvania and 6.5 points in Wisconsin, according to Real Clear Politics.