75 Pennsylvania Republicans Ask State to Dispute 2020 Elections in Congress
Dozens of Pennsylvania state legislators sent a letter Friday asking the state's congressional leaders to dispute Pennsylvania's 2020 election results before the U.S. Congress meets to count electoral votes on January 6.
Two other letters—one addressed to the state attorney general requesting the assignment of an independent prosecutor to review election proceedings and another addressed to the state inspector general asking for a full review of the Pennsylvania Department of State's handling of the election—were also signed by dozens of state lawmakers.
The letter addressed to congressional lawmakers, which was signed by 75 members of the Pennsylvania General Assembly, has since been removed from the Pennsylvania Republican Caucus' website after some members said their signatures were added in error.
In the letter initially addressed to congressional lawmakers on Friday, members of the Pennsylvania General Assembly pointed to changes election officials made to ballot collecting and counting processes, which they said conflicted with state election code revisions agreed upon in 2019. One change the letter took issue with was a decision to extend the time that election officials could receive mail-in ballots, a change that was implemented in response to the influx of mail-in ballots received due to the coronavirus pandemic. The letter also alleges that poll watchers were blocked from "meaningfully observing" the ballot-counting process.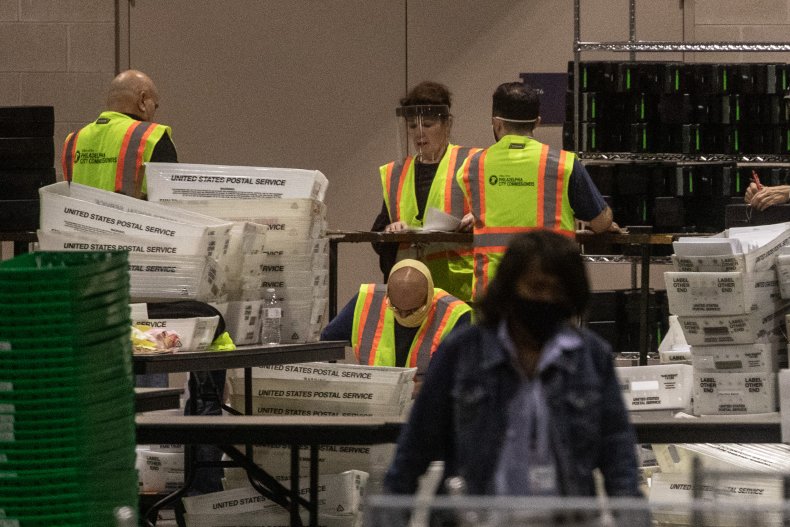 In a news release issued by the Pennsylvania House Republican Caucus, House Majority Leader Kerry Benninghoff acknowledged that state House Republicans could not intervene with the election results directly but encouraged the state's congressional representatives to do so.
"While we constitutionally cannot act as a Legislature to fix these problems at this time, there is action that can be taken to ensure the integrity of our election is upheld and the voice of Pennsylvanians is heard," Benninghoff said in the release. "I hope that the law enforcement entities and our members of Congress take these letters with the seriousness and concern they deserve to ensure the rule of law is followed and the people of Pennsylvania truly have access to free, fair and secure elections."
Speaker of the Pennsylvania House Bryan Cutler also spoke in the release against what he said was an "activist court" that "created confusion and delays" for voters as a result of the changes surrounding the November 3 election. "These letters are a continuation of actions the Legislature has taken for months to restore our election law, and the public's trust in our election process," Cutler said.
On Friday afternoon, a reporter with Pennsylvania Capital-Star reported that at least five signees said their names were added to the letter addressed to congressional leaders by mistake. One of the state representatives, Chris Quinn, confirmed to Newsweek that his signature was not supposed to appear on the letter.
"There was a clerical error in Harrisburg," Quinn told Newsweek. "They made a mistake and they have since pulled the letter."
Pennsylvania Secretary of State Kathy Boockvar formally certified the state's presidential election results on November 24. The certification means Pennsylvania's 20 electoral votes will go to President-elect Joe Biden. Media outlets called the national race for Biden on November 7 and the General Services Administration officially recognized him as president-elect on November 23.
President Donald Trump has yet to concede the election. Instead, his campaign filed lawsuits in battleground states across the country, several of which alleged that votes were cast or counted illegally in Pennsylvania.