75% of Republicans Believe Voter Fraud Benefited Biden Amid Trump's Refusal to Concede: Poll
Poll findings released on Wednesday show that an overwhelming majority of Republicans believe widespread election fraud benefited President-elect Joe Biden over incumbent President Donald Trump.
Although the final results are still contingent upon the counting of certain ballots in some areas, many major media outlets have declared Biden the winner of the election. Biden has already announced members of his transition teams and White House staff. Trump, however, claimed that he actually won the election and has alleged widespread voter fraud. Trump's allegations, although unsubstantiated, have resonated with some Republicans.
In a poll published Wednesday by Vox and Data for Progress, 57 percent of Republicans polled said they strongly agreed that voter fraud helped Biden in the election. Those Republicans who somewhat agreed that fraud helped Biden numbered 18 percent. In total, 75 percent of Republicans polled agreed to some degree that Biden's victory was aided by election manipulation.
Trump's refusal to concede to Biden could have an effect on the election results, according to 44 percent of the Republicans polled, which would allow Trump to remain in office. However, 41 percent of Republicans surveyed believed that Trump's actions cannot change the results of the election, giving Biden the presidency.
Newsweek reached out to the Biden transition team for comment.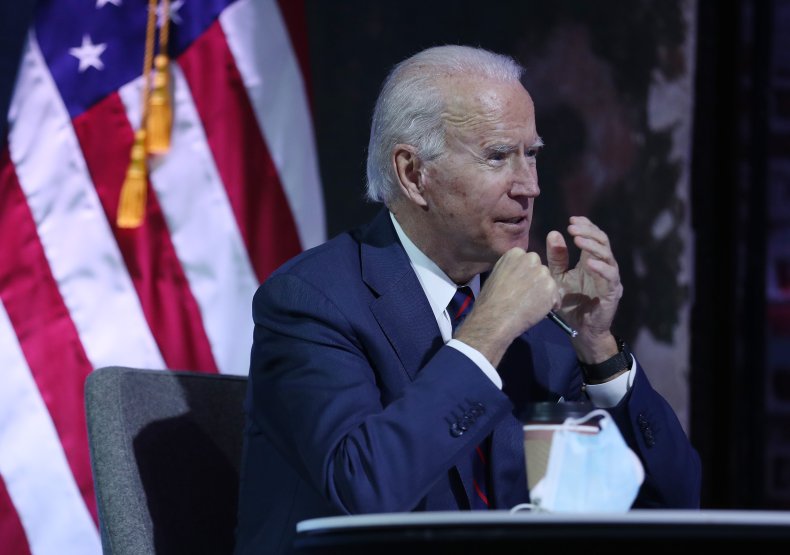 The Vox/Data for Progress poll was conducted online on November 16 from a pool of 1,160 likely voters and carried a margin of error of plus or minus 2.9 percentage points. Weighting for the poll factored in age, gender, education, race and voting history.
On Sunday, Trump made his opinion about the presidential race clear. "I WON THE ELECTION!" Trump tweeted. Twitter flagged the post with a disclaimer that "Multiple sources called this election differently."
Trump's refusal to concede has affected the expected transfer of power to a Biden administration in January. Biden said Wednesday that his transition teams are not being given all the information they need to move forward, particularly in regards to the COVID-19 pandemic.
"There's a whole of things that are just—we don't have available to us," Biden said during a virtual meeting with health care workers, "which unless made available soon, we're going to be behind by weeks for months."
Trump's administration has also not allowed Biden's teams access to federal office space and resources. Intelligence briefings, traditionally given to the President-elect, have also been withheld forcing Biden to rely on national security experts from outside the White House for information.
Trump has not given public remarks since Friday when he appeared in the Rose Garden to discuss the development of a coronavirus. While reiterating that his administration would not place the U.S. in another lockdown, Trump seemed to early acknowledge Biden's projected win.
"Hopefully, the, the—whatever happens in the future, who knows which administration will be," Trump said. "I guess time will tell, but I can tell you this administration will not go into a lockdown."
Trump left the briefing without taking questions from reporters.