Recently, I was invited to a 75th birthday party celebrating the French accessories brand S.T. Dupont—in particular, the Dupont lighter, first produced in 1941, during the German occupation of France. Dupont sold its goods to Al Capone, Audrey Hepburn and the Duke and Duchess of Windsor, among many others. In the 1950s, the French state began using the firm to make official gifts for dignitaries and their spouses: Both Queen Elizabeth and first lady Bess Truman were given a Dupont necessaire de voyage, a dressing-table set in its own valise: exquisite, if not quite right for those who travel light.
RELATED: How one entrepreneur is reinventing the coffee pod
During World War II's strict rationing, Dupont wanted to manufacture a labor-intensive product that kept its workers employed but did not use too many raw materials. On January 6, 1941, it applied for a patent for a lighter; the design enabled the owner to change the flint without unscrewing anything, an innovation that gave birth to the now-famous spring-loaded flint mechanism. In 1952, business took off after the launch of a gas lighter with a "miraculous" adjustable flame.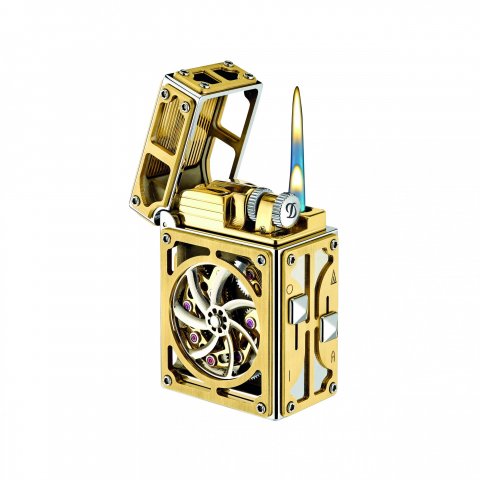 France was then well into Les Trente Glorieuses, a period of economic growth that lasted until the oil shock of the 1970s. It also was the golden age of smoking. Dupont lighters were guilloché engraved, plated in silver or gold, covered in lacquer, and otherwise decorated to suit the tastes of affluent smokers. Ads promoted their elegance—"the best dressed flame in the world"—and their precision—"built like a chronometer, designed like a jewel." Like a Cartier Tank watch or a piece of Yves Saint Laurent clothing, a Dupont lighter symbolized what it meant to be elegant, stylish and French.
In 1976, Dupont unveiled a new lighter that, on account of the lid's dimensions, made a ringing sound when you flicked it open. Customers so loved what Dupont saw as an error that the manufacturers left it in. I once watched as a man lined up a dozen or so Duponts in a store, then played the lids like a peal of bells, selecting the one he wanted on the basis of its timbre.
Of course, the primary purpose of a lighter is igniting tobacco, and since the 1980s cigarette smoking has been on the wane. Dupont has coped by improving its lighters' technical sophistication: Since the turn of this century, the house has specialized in a blowtorch-hot, blue-flame lighter. This is favored by a new generation of cigar smokers, who want to enjoy cigars in high winds at the top of mountains, on yachts and in other inhospitable environments. The more elaborate Dupont lighter have become collectors' items, culminating in last year's Arc de Triomphe Jeroboam table lighter, a mighty chunk of silver-patinated white bronze shaped like the Parisian landmark. At $27,650, only eight were made. Seventy-five years after the first Dupont, the launch of the Arc de Triomphe was an excellent way to celebrate a birthday. It was also handy for lighting the candles on the birthday cake.