76-Year-Old Man Heading 'World's Largest Family' with 39 Wives, 94 Children Dies
The head of an Indian religious sect that practices polygamy died on Sunday, leaving behind what may be the world's largest family. Various reports dispute the exact size of 76-year-old Ziona Chana's family, but Reuters puts the numbers at 39 wives and 94 children.
Zoramthanga, the chief minister of Ziona's home state of Mizoram in India, confirmed his passing on Twitter. The official, who only goes by one name, wrote (in part) that Ziona's home village "has become a major tourist attraction in the state because of the family."
Ziona Chana was also known as Zionnghaka and Pu Ziona. He was the leader of Chana Pawl, a polygamy-practicing Christian sect. The religious group was formed by his father Chana in 1942, and Reuters reports it has hundreds of families in its membership. The news agency also wrote that Ziona married his first wife when he was 17, and he once said he married 10 wives in a single year.
The World Record Academy and London World Records have both listed Ziona's family as the biggest in the world. Before his death, his family totaled 134 members, along with 33 grandchildren. However, a polygamous Mormon sect leader in Canada, Winston Blackmore, has 27 "spiritual" wives—including some he's admitted were underage when he wed them—and around 150 children.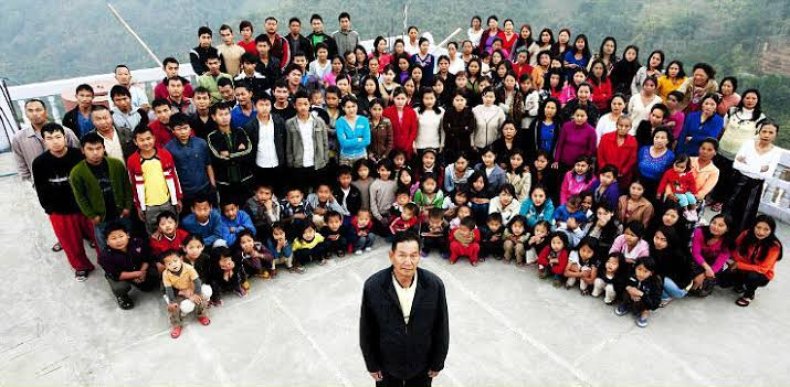 In 2017, Blackmore was found guilty of polygamy and later sentenced to house arrest. Polygamy is illegal in Canada, as it is in India. However, Ziona's sect was allowed to practice it in Mizoram, because state authorities determined that men having multiple wives was considered part of the group's customs.
Ziona and his large family lived in a sprawling, four-story pink building with around 100 rooms in Baktawng Tlangnuam, a village in Mizoram that shares borders with Bangladesh and Myanmar. The building is referred to by his family as the "New Generation Home," according to the Hindustan Times, and it has a dormitory shared by the wives near what was Ziona's private room.
Indian media outlets report Ziona died on Sunday due to complications related to diabetes and high blood pressure. Kumar Abhishek, the deputy commissioner of Serchhip district, told Anadolu Agency, "He was taken to a private hospital in another district and as per the reports received, he passed away today (Sunday)."
His family was featured twice on Ripley's Believe or Not! lists. They also appeared in an advertisement of a leading dishwashing brand, according to the Hindustan Times.
Ziona told Reuters in a 2011 interview he wanted his large family to grow even larger. He said, "I am ready to expand my family and willing to go to any extent to marry."
"I have so many people to care for and look after, and I consider myself a lucky man," he added.