76 Years After D-Day, Normandy Veteran Survives 'Near-Death' Experience With Coronavirus
Seventy-six years after he was treated for war wounds in a school cafeteria-turned-hospital, Normandy veteran Robert Levine was treated for a new coronavirus in a hospital cafeteria-turned-COVID ward.
At 19 years old, Levine, a private in the Army, landed on Utah Beach in Normandy on June 10, four days after D-Day. Moving inland, his unit faced heavy German opposition when they reached Hill 122 near Forest de Mont-Castre. On July 10, he was injured when a grenade exploded nearby and taken as a prisoner of war.
In a makeshift field hospital in a farmhouse, a German doctor by the name of Edgar Woll noticed an "H" on his dog tags and inquired about its significance. "H" stood for Hebrew.
"I said to myself, 'There goes my 20th birthday.' I never expected to survive," Levine told Newsweek. "The dog tag exposed us for what we were."
When he woke up, Woll, the dog tag and his leg were gone, but he was alive. In throwing away the dog tag so no one would know the American Army private was Jewish, Woll "saved me," according to Levine.
The injured private was moved from the farmhouse to a school-turned-German POW hospital in Rennes, France, where he remained until liberation in August 1944. Since the hospital was near a railroad and in a major city, Levine found himself a target of Allied bombs. One night, a shell went over his bed and hit the wall. For the second time in just weeks, the 19-year-old thought that was the end for him, but he survived.
Then 76 years later, Levine found himself back in a cafeteria fighting a different kind of battle.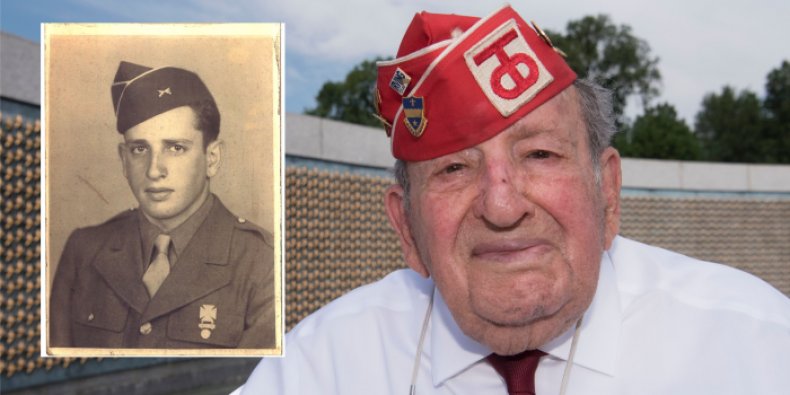 On May 8, the soon-to-be 95-year-old was taken to Hackensack University Medical Center in New Jersey in near cardiac arrest. After being admitted, he tested positive for COVID-19, the disease caused by a new coronavirus, and was placed in the COVID-19 ward, which was a converted cafeteria.
"I had a horrendous night and somehow I came back," Levine said. "I am a survivor, I guess. That's how I got my favorite word–perspective–you had to be there to appreciate it."
Growing up, his daughter Jane told Newsweek that she knew her father was wounded in World War II and that he was an amputee–but he never talked about his experience because it "wasn't dinner table conversation." It wasn't until 1982, when her father went back to Normandy for the first time, that her father's journey "connecting with his past, connecting with his pain and making peace," began.
When he woke up in the farmhouse in 1944, Levine found a note in his pocket explaining what the German doctor did and why and his name and address. Thirty-eight years later, he returned to France. Woll had passed away, but Levine was able to meet the doctor's family. To this day, the families remain close.
Since then, Jane said her father started telling his story "all the time," and his openness even inspired someone else to speak up about their experience. Levine joined an American POW group, and during a lunch where Woll's granddaughter joined him, she addressed attendees. Afterward, a Jewish veteran approached them and explained that he was treated very well by the German soldiers but was afraid to tell his story.
"They weren't prepared to hear such a story. And so he was telling me that after she spoke, he wanted to tell his story and I was happy to hear that," Levine said.
More than 16 million men and women from America served their country in World War II and millions were young people just like Levine. Returning home, many experienced trauma and, similarly to Levine, hid the memories of the war away in the recesses of their mind and didn't share the experience out loud. With so many veterans dying without telling their stories, Jane said she considers her father fortunate to be able to share his and drew similarities between his brush with death in 1944 and 2020.
"They were both near-death experiences. One was a war with an enemy you could see and one was this hidden enemy of the virus," Jane said. "In both cases, he really survived because of people who were there to support him, hospital staff and first responders."