77 Percent of Americans Want Republicans to Move Past Trump: Poll
The vast majority of Americans believe the Republican Party should move on and stop viewing President Donald Trump as its leader after he leaves the White House later this week, a new poll shows.
Trump's favorability with Americans has dropped dramatically in the wake of his supporters violently storming the U.S. Capitol in a bid to overturn the presidential election results on January 6, leaving five people dead. The mob attacked the building after Trump urged them at a rally to "fight like hell" to prevent President-elect Joe Biden from taking office.
New polling by CNN shows that 77 percent of Americans want Republicans to move past Trump as he departs from Washington, D.C., while just 19 percent think the GOP should continue to treat the president as its leader. Even Republicans appear to be split, with just 47 percent saying they should continue to view Trump as their party's leader while 48 percent say they should move on to someone else.
When it comes to independent voters who lean Republican, a significant majority (62 percent) believe the GOP should move past Trump.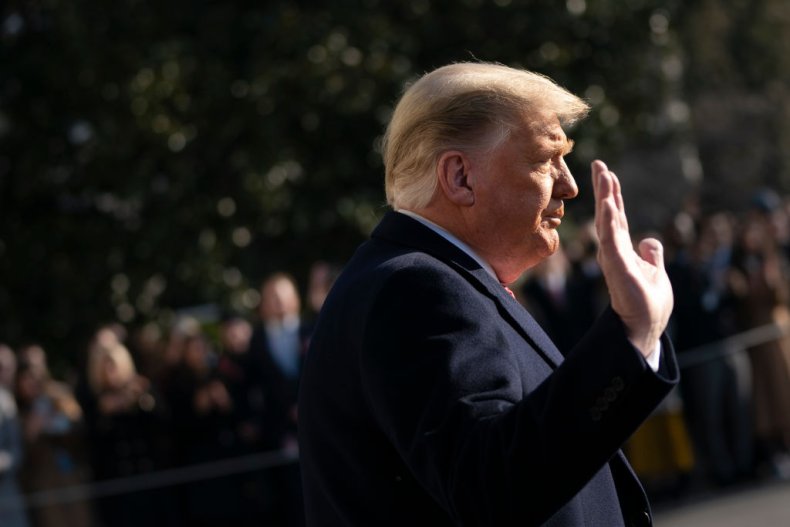 Overall, the GOP has seen a dip in favorability since October just before the presidential election. While 41 percent of Americans viewed the Republican Party favorably in October, less than a third (32 percent) said the same in responding to the new CNN poll. Notably, favorable views of the GOP from Republican voters declined by double-digits, from 92 percent in October to just 76 percent now. Meanwhile, Democrats saw a slight improvement, with 49 percent of respondents viewing them favorably now compared to 46 percent in October.
The poll was conducted from January 9 to 14, surveying more than 1,000 Americans with a margin of error of plus or minus 3.7 percentage points
Since Biden was projected as the winner of the presidential election back in November, Trump and his loyalist supporters have engaged in a vast misinformation campaign to convince Americans that the results were fraudulent. There is no evidence to back these claims. More than 50 lawsuits filed by Trump and his supporters to challenge the results have failed in state and federal courts. Even judges appointed by the president and other Republicans have pointed out in their rulings that lawyers have not presented evidence to support the extraordinary allegations.
On November 12, the Cybersecurity and Infrastructure Security Agency at the Department of Homeland Security asserted in a statement that the election "was the most secure in American history." Former U.S. Attorney General William Barr, who was widely viewed as one of Trump's most loyal and effective Cabinet members, said in early December that there was "no evidence" of fraud that would change the election outcome. Barr resigned a few weeks later.
But Trump continued to push the unfounded claims, urging his supporters to come to Washington, D.C. on January 6 for "wild" demonstrations against the certification of Biden's Electoral College win in Congress. At a rally that morning, Trump told supporters to march to the Capitol and to "fight harder," while his personal attorney Rudy Giuliani said he wanted to see "trial by combat." The pro-Trump mob then descended on the Capitol, storming the building and threatening to harm lawmakers, including Vice President Mike Pence.
The House of Representatives moved quickly to impeach Trump a second time for inciting the insurrection. Although most Republicans in Congress refused to support the impeachment, 10 GOP lawmakers backed the Democratic-led effort—making Trump the only president in U.S. history to be impeached twice.