77% of White Voters Approve of Police, Just 26% of Black Americans Agree
While approximately 68 percent of American voters approve of the job the police are doing, according to a new Hill-HarrisX poll, that percentage drops down to 26 when only Black voters are counted. Comparatively, 77 percent of white voters approve of how police are doing their jobs, revealing a racial divide when it comes to how police are perceived.
An online poll of 951 registered voters conducted between June 22 and 23 asked respondents whether they approved or disapproved of the jobs of different workers. These groups included the police, healthcare workers, local politicians, journalists and national politicians.
Overall, healthcare workers had a 94 percent approval rating amongst all voters, local politicians received 62 percent, journalists got 59 percent and national politicians got 56 percent.
Voter approval of police, however, differed depending on age, race and political affiliation.
While between 70 and 90 percent of voters over the age of 35 approved of police, only 40 percent of voters under the age of 35 fely the same way. Hispanic voters approved of the job police are doing by a margin of 77 percent.
The poll was conducted by the Washington, D.C. newspaper The Hill and the market research company HarrisX.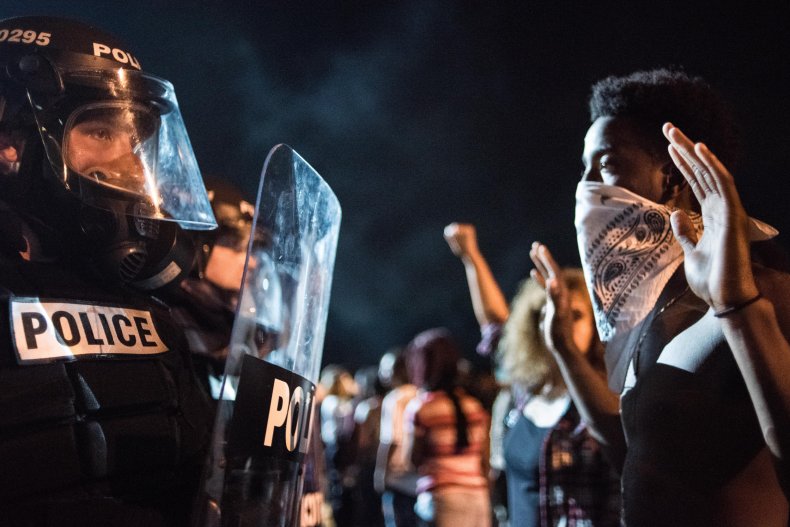 The Hill-HarrisX poll comes at a time when tens of thousands of Americans have marched against anti-Black police brutality following the death of George Floyd, a 46-year-old Black Minneapolis resident killed by a white police officer who knelt on his neck for nearly nine minutes.
Other surveys have shown shifts in American opinion amid the ongoing protests, particularly on how citizens view the Black Lives Matter (BLM) movement and the removal of Confederate statues.
YouGov, a British international Internet-based market research firm, interviewed 2,009 U.S. adults between June 23-26, 2020. Their survey showed a similar difference in opinions based on race and political affiliation.
For example, while 84 percent of Black U.S. residents said they agree with the ideas of the BLM, only 53 percent of white U.S. residents said they felt the same way.
While 87 percent of Democrats agreed with the ideas of BLM, only 58 percent of Republicans did as well.
According to its website, the BLM movement seeks to unite Black communities worldwide to oppose state-sanctioned violence and anti-Black racism while also create creating healing, empathetic communities free from prejudice.
When it comes to removing Confederate statues, 74 percent of Democrats agreed with doing so, but 86 percent of Republicans thought they should remain.
Between 52 and 57 percent of people from ages 19 to 44 thought such statues should be removed, but only 34 to 40 percent of people from ages 45 to over 65 felt the same.