'I'm 77 and Learning to Ice Skate With Leukemia and Prostate Cancer'
I've never paid any serious attention to professional ice skating, even though I skated as a hobby on and off in my 60s. Although I like to be active, I'm not really an observer of sports. Taking a long walk and thinking about physics is my idea of a great day.
When I got my PhD in astrophysics in '72, the expansion of the universe was still being debated. It was a period of great discovery. Over the years, I worked on the origin of the universe, the creation of the elements, supernovae, neutron stars, gamma-ray bursts and cosmic rays. I eventually moved into applied physics and started my own business, but I think people still like the label "astrophysicist."
Around three years ago, at the age of 74, I began taking ice skating lessons twice a week with Teri, my coach. The difference between skating as a hobby and having a coach is that a coach tells you what you should be working on. For example, ice skaters are not supposed to push themselves along with the toe pick, the idea is to get the force to propel you from the side of the blade, but you can slip into pushing with the pick if you're not thinking—it's very easy to fool yourself that you're doing it OK. But what is lovely about ice skating is that it's a very long path with so many things to learn along the way. It's a discovery at every step and Teri is the perfect teacher.
Unfortunately, about a year before I started lessons I had developed a rash that, after a biopsy, turned out to be cutaneous t-cell lymphoma. It is a very rare type of cancer, and in my case, it was very mild. But because of that diagnosis, I underwent a number of different tests which showed that my white blood cell count was not what it should be. Two and a half years ago, I was diagnosed with chronic lymphocytic leukemia (CLL). I began treatment with drugs, but subsequent scans of my lymph nodes showed that some were growing instead of shrinking. A biopsy in 2020 then revealed that I have stage four prostate cancer.
I take medication for my leukemia and do hormone therapy for my prostate cancer. I have, essentially, no side effects. I'm in awe of modern medicine. And, research into treatment for prostate cancer is quite an active field, so when doctors give me a prognosis of three years, I both believe it and I don't. I believe it in my head, but I don't believe it in my heart.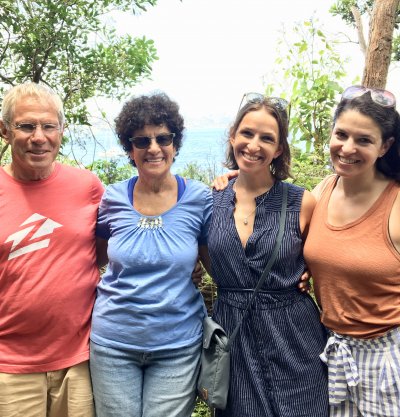 What these illnesses have really done is to strengthen my relationship with my children. They are part of this process. Thanks to video calls, my daughters, Rebekah and Nina, and my wife Bette are able to be in every meeting with my doctors, so it feels like all four of us are going through this adjustment period together. Sometimes death feels more imminent than at other times, particularly when you received a diagnosis like mine. For a time, it's upsetting, but after a while I'm back in the category that we are all in. And, I don't have any desire to sit around and be sick, I just go on with my life.
So in September, when Teri asked if I wanted to take part in a performance at our rink and suggested a duet—because it's easier than going out there by yourself—I said yes. We skate at a lovely rink in Santa Fe that holds exhibitions once a year and sometimes they like the seniors—although they call us "adults"!—to perform what they have learned.
Terri's daughter Shayna, who is a very high level skater, choreographed our piece and I picked out the song. It has been a lot of work for me, though we only practice twice a week and there are kids who go five days a week, for hours a day. I'm just amazed when I see these young people on the ice. I love to watch them.
I do joke that at some point I'll get to be more relaxed about life, but it hasn't happened yet. During the night before the performance I was lying in bed going over the moves in my head and on the day, December 9, I was far from cool. But I loved it. Teri is so much fun to skate with; we were joking and having a good time throughout.
My image of how it was going to be was a bit closer to what you see on TV during the Olympics, so afterwards I looked at the video and said: "Oh my god, I look like a 77-year-old guy skating!" At first I was very disappointed, in truth. Then Rebekah posted my performance on Twitter and it was sweet to see how touched others were by it. Every comment on the video was nice. Some people were a little concerned about whether I was being too risky, but they were still kind. I don't know what anyone would have said to be negative though? Perhaps: "He didn't cross his legs enough!"
I had been hoping that rather than being a heartwarming moment, it would have been an athletically amazing achievement, but it's nice to hear I have been a positive influence on others. What impresses me most, however, is Rebekah said in her post: that she feels that I've inspired her. As a parent, you want to be a positive influence. She's supported me in this and I've always tried to support her in her many activities.
When I had my last ice skating lesson a few days ago, Teri and I joked about the video going viral on Twitter and that retired U.S. figure skater and Olympic gold medallist Scott Hamilton had shared it. But basically we're back to where we were; I'm still trying to get on my outside edges and carve the ice and I still have high hopes for learning various moves. For now, I'm just pushing ahead.
Richard Epstein is an astrophysicist and ice skater living in Santa Fe, New Mexico. You can follow his daughter Rebekah on Twitter @rebekah_bastian and @owntrail.

All views expressed in this article are the author's own.
As told to Jenny Haward.