78 Percent of People Who Lost Jobs Because of Coronavirus Believe They'll Return, New Poll Shows
Seventy-eight percent of U.S. adults who have lost their job because of the coronavirus outbreak believe they will return to work after the pandemic ends, according to a new poll.
The poll, which was conducted by the Associated Press-NORC Center for Public Affairs Research, surveyed 1,057 U.S. adults from April 16 to April 20. The margin of error was plus or minus 4 percentage points.
The poll's 78 percent figure comes as the nation's unemployment rate continues to rise during the pandemic. According to the U.S. Department of Labor, first-time claims for unemployment benefits hit 4.4 million in the week ending April 18. The poll also shows that 46 percent of U.S. adults say their household has experienced some type of financial loss, which resulted from reduced hours, layoffs or unpaid leave.
The loss of jobs can be related to the different lockdown and social distancing measures that states have imposed in an effort to slow the virus's spread. These preventive measures include closing down nonessential businesses, forcing restaurants to offer only takeout and banning large public gatherings.
Despite these actions and widespread unemployment, a majority of Americans, 61 percent, believe that stay-at-home and other preventive measures in their state are about right. By comparison, only 12 percent said their respective state's measures went too far, and 26 percent said the actions weren't enough.
While the poll shows Americans' optimism that their jobs will return, it also reveals differing views on the state of the economy.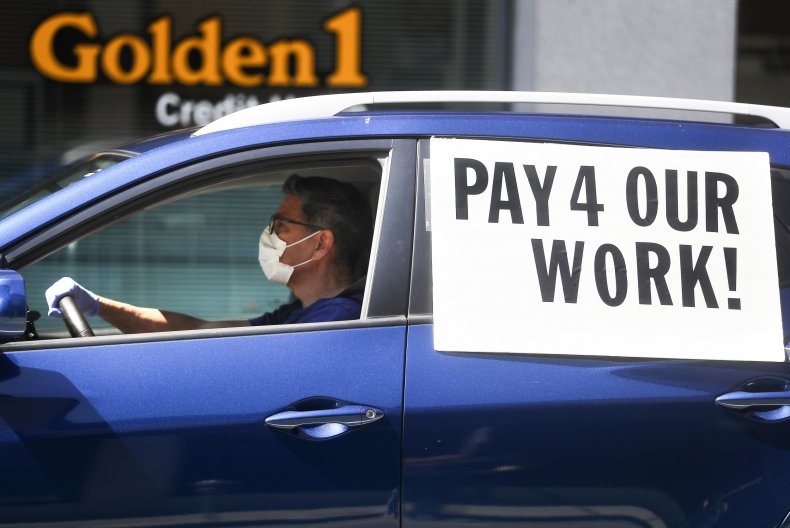 According to the poll, 71 percent describe the economy as poor, an 11-point increase from just last week, when 60 percent said the same. On the other hand, the poll shows that 64 percent of adults say their financial situation is good, a figure that has remain unchanged since the coronavirus outbreak began.
The poll also shows that the country is divided on the state of the economy over the next year. According to the survey, 45 percent of U.S. adults say it will improve, while 37 percent believe it will worsen and 17 percent believe it will stay the same.
The new coronavirus, which causes the respiratory disease COVID-19, continues to ravage the U.S., the pandemic's epicenter. According to a Johns Hopkins University tracker, the U.S. has over 869,000 confirmed cases and at least 49,963 deaths.