78-Year-Old Woman Graduates From College With Degree After Six Years
Earning a college degree is an impressive feat for any student in higher education. But for one 78-year-old graduate, finally earning her bachelor's degree after several decades of putting off her schooling has been all the more special.
Vivian Cunningham, 78, was among the 553 students graduating in the Class of 2021 at Samford University in Birmingham, Alabama on Saturday. According to a statement from the university, she spent a total of six years earning her bachelor's degree in Liberal Studies.
"There were some times I wanted to give up," she said in a statement to Samford University News. Despite the challenges over the better part of a decade when she thought to herself, "I'm not going back — I'm just tired," she "just [kept] on going."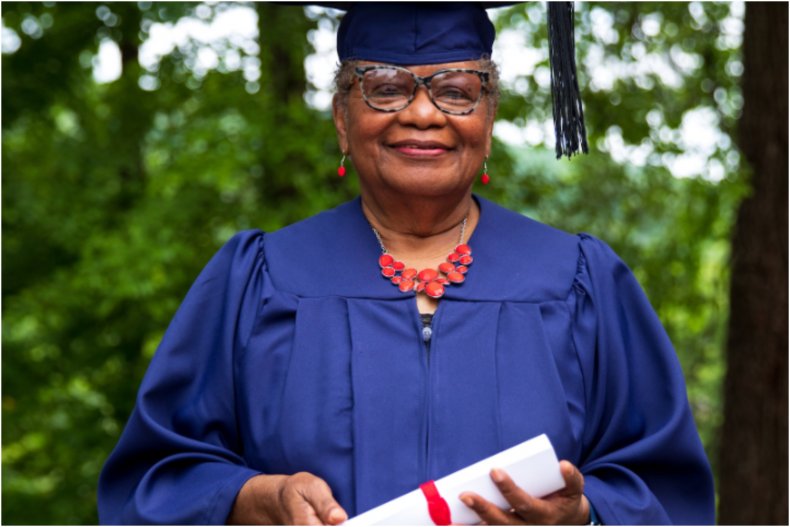 According to Samford University News, Cunningham grew up in Titusville with aspirations to become a seamstress like her grandmother and great-grandmother before her. She mastered the art of sewing in trade school and even worked as a seamstress professionally in Atlanta for a period of time.
However, by the time she had children of her own and became a single mom, she returned to Titusville in the 1960s and took up custodial night work at the Alabama Power Company.
"I saw how she struggled. Working at night. Couldn't find babysitters to keep my sister and myself," her son Don said in a statement to WBRC.
"It was hard. But she would always find a way to feed us, clothe us and us not knowing how difficult [it was]," he added.
After putting in 13 years with the company, she told the outlet that when she transitioned to day shifts, she first learned about the Alabama Power Company's tuition reimbursement program. It would allow her to go back to school to earn a degree with financial assistance from the company.
While working full-time in the mailroom, Cunningham earned her associate degree in Paralegal Studies from Virginia College, Samford University News reported. When she retired in 1992, she decided to continue working towards a bachelor's degree with the Birmingham college, which offered night school classes.
"I had to get my daughter to teach me some of the technical skills, like videos and things like that," Vivian joked with WBRC about her decision to pursue her Bachelor of Arts degree.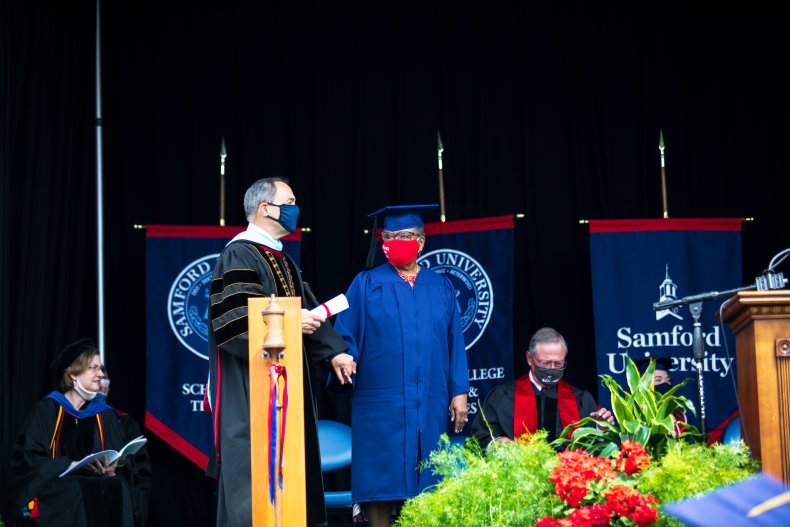 WBRC reported that, after a total of 15 years of earning college credits, six of which were spent earning her bachelor's degree, she got to walk across the stage at Seibert Stadium in Homewood on Mother's Day weekend.
When asked about how it felt to hear her classmates cheer for her while walking on the stage, Cunningham told Storyful, "I was amazed. I really felt great ... I was just elated."
Don and his sister Tarra Barnes expressed to Samford University News how proud they are of their mother's impressive accomplishments.
"I get emotional because of what she's been through," Don told the outlet.
Barnes even credited her mother with her own decision to pursue her doctorate: "She was my inspiration and motivation for pursuing a Ph.D. If she can complete her bachelor's degree at 78 years old, then why wouldn't I continue my higher educational journey?"
"I wholeheartedly appreciate her strength and influence on my life and I am extremely proud of her!" she added.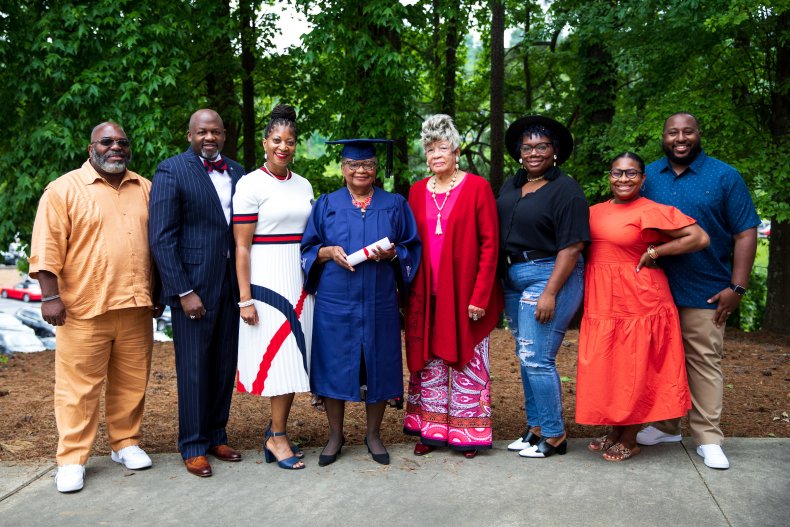 Cunningham has no intention of slowing down anytime soon. She is tentatively planning to pursue her master's degree, albeit after a well-deserved break from obtaining her bachelor's.
"I might go for the master's degree," she told Samford University News. "I don't want to stop. I love to read, I love to sew, I love to watch movies. I don't want to just sit because I'm retired. I want the knowledge."