79-Year-Old Great-Grandma Among Those Involved in Ukraine Combat Training
Among the Ukrainians learning combat training in preparation for a potential Russian invasion is a 79-year-old great-grandmother.
Valentyna Konstantynovska has begun civilian combat training held by the Ukrainian National Guard. As tensions reach a boiling point between western countries and Russia regarding an invasion of Ukraine, she said that the training will help her protect what's most important to her.
"I'm ready to shoot. If something happens, I will defend my home, my city, my children," she told ITV News. "I will do this because I think I'm ready for it. I don't want to lose my country, my city."
Konstantynovska was not the only civilian to attend the training. Some even came with their children, including Yelena Piddubna.
"Why have we come with my son? We want to be aware of everything, and I want him to know how to do everything," she told ITV News.
Ukraine will continue plans to join NATO despite Russia's continuous pushback. In an interview with BBC Breakfast, Ukrainian Ambassador to the United Kingdom Vadym Prystaiko said that the need to join NATO is Ukraine's way of reclaiming its land.
"They've been coming for us for centuries and centuries and centuries," he said. "We won't allow our state to disappear again. It has happened a couple of times in history."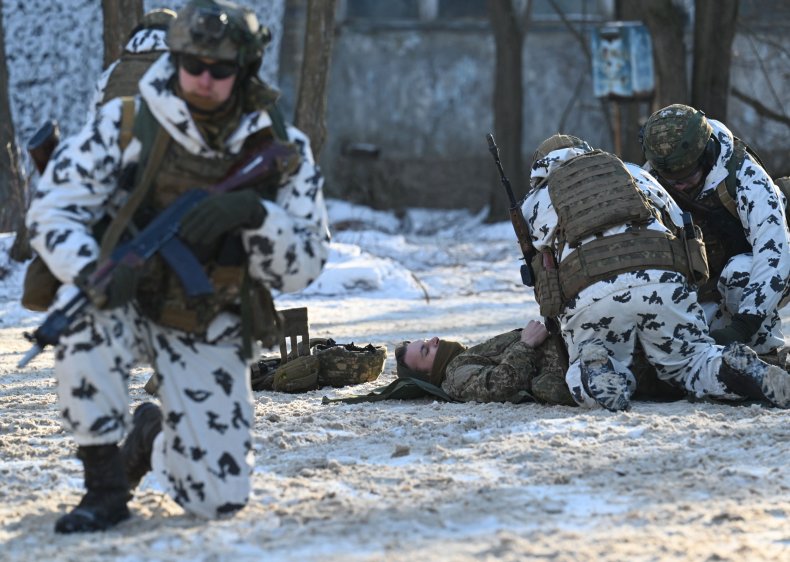 Some nations are preparing to take in Ukrainian refugees if an invasion occurs. Poland, Hungary and Slovakia reportedly plan to accept refugees, although the three have not publicly confirmed plans.
"According to the existing studies and analysis, I can say that even a limited Russian military attack on Ukrainian territory would mean tens of thousands of refugees crossing our border," Slovakia's Defense Minister Jaroslav Nad said. "From the European continent's perspective, the current situation is the most dangerous since World War II."
Polish Deputy Foreign Minister Marcin Przydacz also offered little insight on such plans in a recent radio interview. However, he did say that the worst-case scenario in a potential refugee crisis is possible.
Russia has continuously denied it plans to invade Ukraine, although their history provide background as to why such a move could be in the cards. Russia annexed the Crimean Peninsula in 2014, sparking a conflict that resulted in more than 10,300 deaths, according to the Council on Foreign Relations.
Update 2/14/22, 11:47 a.m. ET: This article was updated with additional information.