The 8 Best Air Fryers for Chicken Wings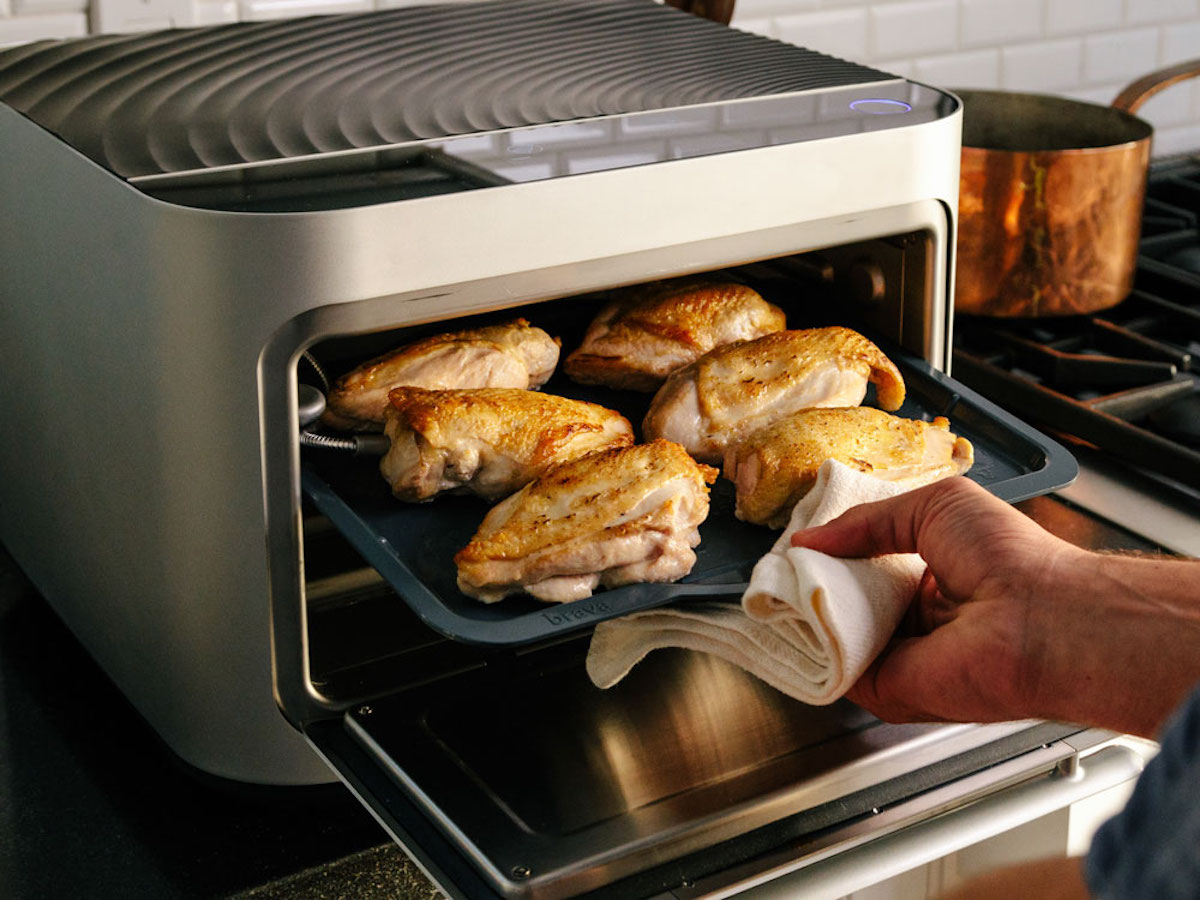 Air fryers are all the rage right now. They're the hot new way—literally—to cook food fast so that your meal is nice and crispy. And there's nothing quite like the air-fried taste of food "fried" in the air fryer. Even just reheating food in the air fryer is a game changer.
Of course, not all air fryers are created equal ,and we don't recommend just finding any old air fryer on the internet and clicking "add to cart." Research is a must. But we also know not everyone has time for that, so we did the work for you. From budget-friendly fryers to splurges, each one of these eight best air fryers of 2021 are known to cook chicken wings to absolute perfection.
8 Best Air Fryers for Chicken Wings
Brava Oven Starter Set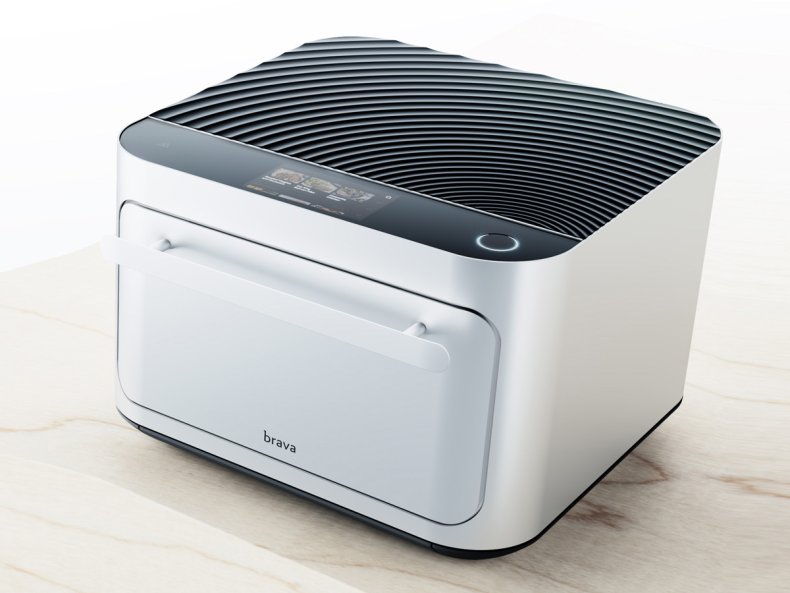 The Brava Oven has three purchasing options—the Brava Oven Starter Set, Bake and Breakfast, and the really souped-up Chef's Choice. The Brava Oven Starter Set is the one we recommend here because it's definitely the cheapest of the three Brava options (though it's the most expensive on this list). The good news is you have the possibility to finance it for about $45 per month. And the even better news? It's so worth the money. The Brava Oven comes with an app that allows you to control the oven from your smartphone and recipes that you can save in the app, then pull up on the air fryer itself. It also features a camera—yes, a camera—so you can access an interior view of your food as it cooks. (It's like a security camera for your chicken wings.) The Brava isn't just an air fryer, either—it's part air fryer, of course, but at its core, it's more like an Easy Bake Oven for adults! It cooks with light, making it an eco-friendly option that actually works anywhere from two to four times faster than your standard convection or toaster oven. Also, there's no need to preheat. This baby climbs to 500 degrees Fahrenheit in one impressive second.
Oh, and because we ranked the Brava based on its ability to air fry chicken wings, here are some of our favorite Brava recipes for them to get you started: Korean Fried Chicken Wings, Buffalo Chicken Wings and traditional chicken wings.
Buy at Brava.
Beautiful 6-Quart Touchscreen Air Fryer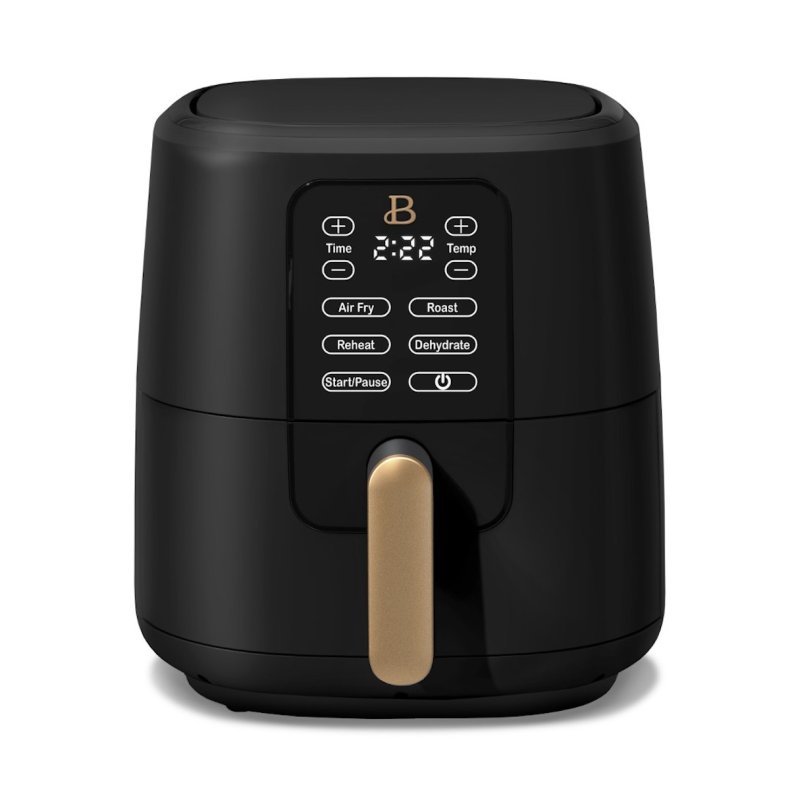 If you didn't know Drew Barrymore launched a kitchenware collection, let us introduce you to her affordable line called Beautiful. Prepare to be obsessed! There are lots of cute items in the line, but the Beautiful 6-Quart Touchscreen Air Fryer is pretty—like, really pretty. But beyond aesthetics, this touch screen air fryer preheats food with a 1,700-watt system up to 50 percent faster than traditional ovens. With little-to-no oil necessary, you can deliciously air fry, roast, reheat or dehydrate for perfectly crispy chicken wings. With 4.6 stars out of a possible five and 112 ratings on Walmart.com, it's safe to say reviewers love it. One Walmart.com reviewer even wrote, "This is my first air fryer. I was very impressed how it cooked chicken and fries so crispy. Very easy to use. Happy I finally got this Beautiful fryer."
Buy at Walmart.
Instant Vortex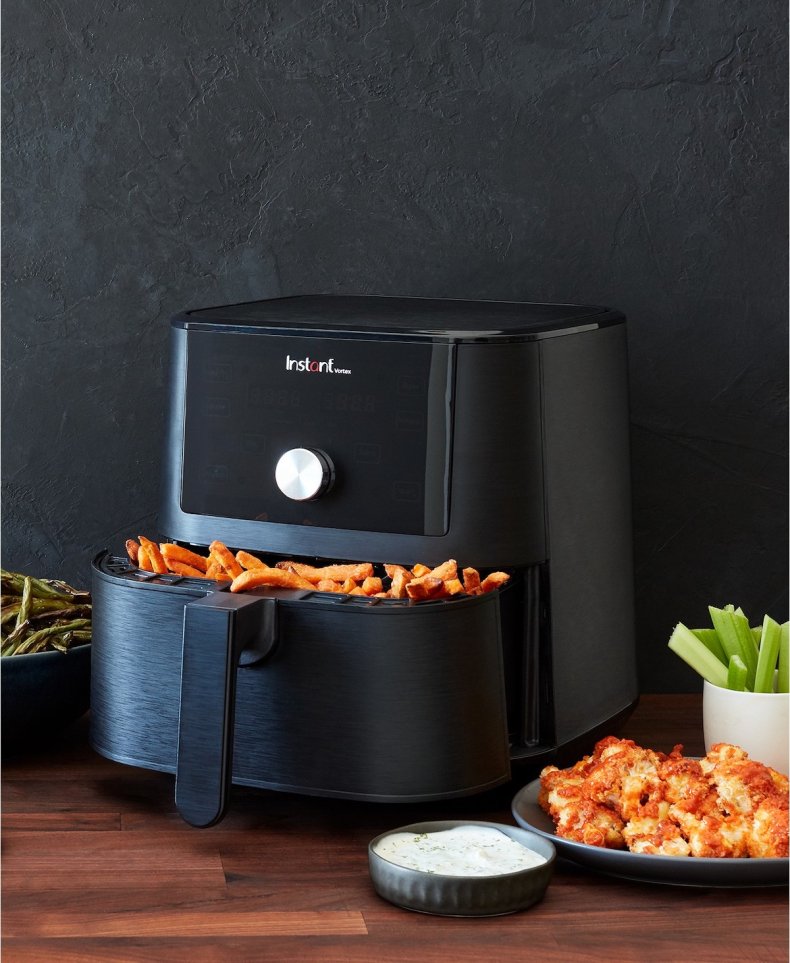 The square basket in the Instant Vortex air fryer means a larger cooking surface so that your chicken wings (and your french fries and your Buffalo cauliflower and everything else) can turn out as crispy as possible—like restaurant quality crispy. It features four built-in Smart Programs to air fry, roast, bake and reheat for that quintessential deep-fried flavor but with a healthier twist. The Instant Vortex's air fry basket is big enough to fit a 4-pound chicken (or a 2-pound bag of fries). One Macys.com reviewer summed it up perfectly: "Cooks food great & no mess. Will try different meats in it. The chicken wings were good."
Buy at Macy's.
Ninja Foodi 6-in-1 2-Basket Air Fryer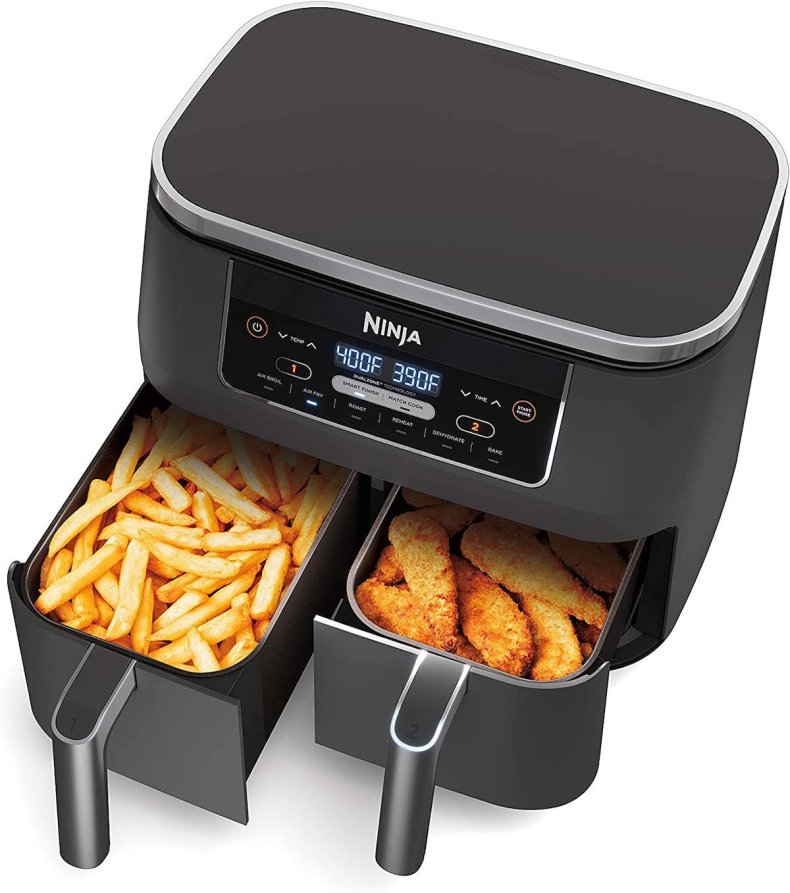 Two separate air frying baskets, holding 4 quarts each, make the Ninja Foodi 6-in-1 2-Basket Air Fryer a step above the rest. It allows you to cook two separate foods at once, two different ways, both at the same time. You'll love this air fryer's rapid heaters, which allow its temperature to range from 105 degrees to 450 degrees Fahrenheit. In fact, the air fryer has garnered 3,811 ratings and 4.8 out of five stars. One Amazon.com reviewer wrote, "This is a game changer in the kitchen, chicken wings restaurant quality, ribs fantastic, steak no problem. French fries either fresh or frozen amazing. Love love love it."
Buy at Amazon.
Cosori Air Fryer Max XL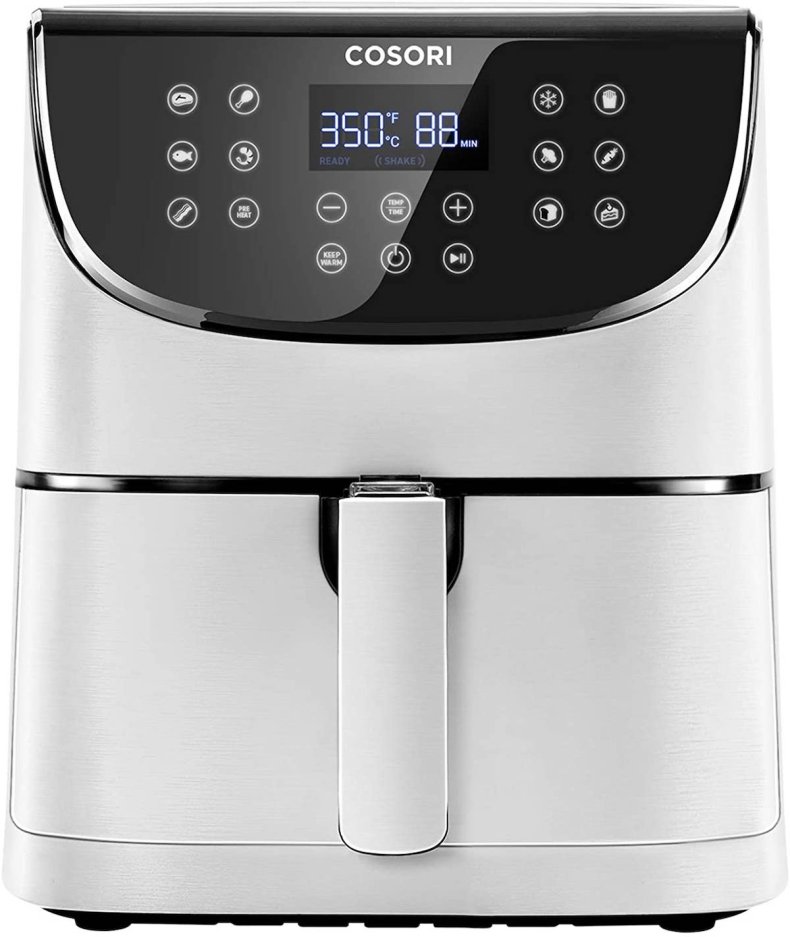 One of the highest rated air fryers for chicken wings on Amazon is the Cosori Air Fryer Max XL. After all, this 3.7-quart square air fryer has amassed a whopping 49,121 ratings and an overall 4.7 stars out of five. And of those many, many reviews? About 800 of them are a perfect five stars! Here's what users love about it: It has a control panel with preprogrammed settings, but it also has preheat and manual options, to boot. Whether you need the help in the kitchen or want to go rogue with your own recipe, the Cosori Air Fryer Max XL appeals to all kinds of cooks. One of those five-star reviewers wrote, "I've had this about a week. I've made cake, sweet potato fries, wings, and chicken thighs. I love how amazingly crisp and juicy everything is! The presets are extremely accurate and is a great size for 4 good size thighs or 12 wings."
Buy at Amazon.
PowerXL Air Fryer Pro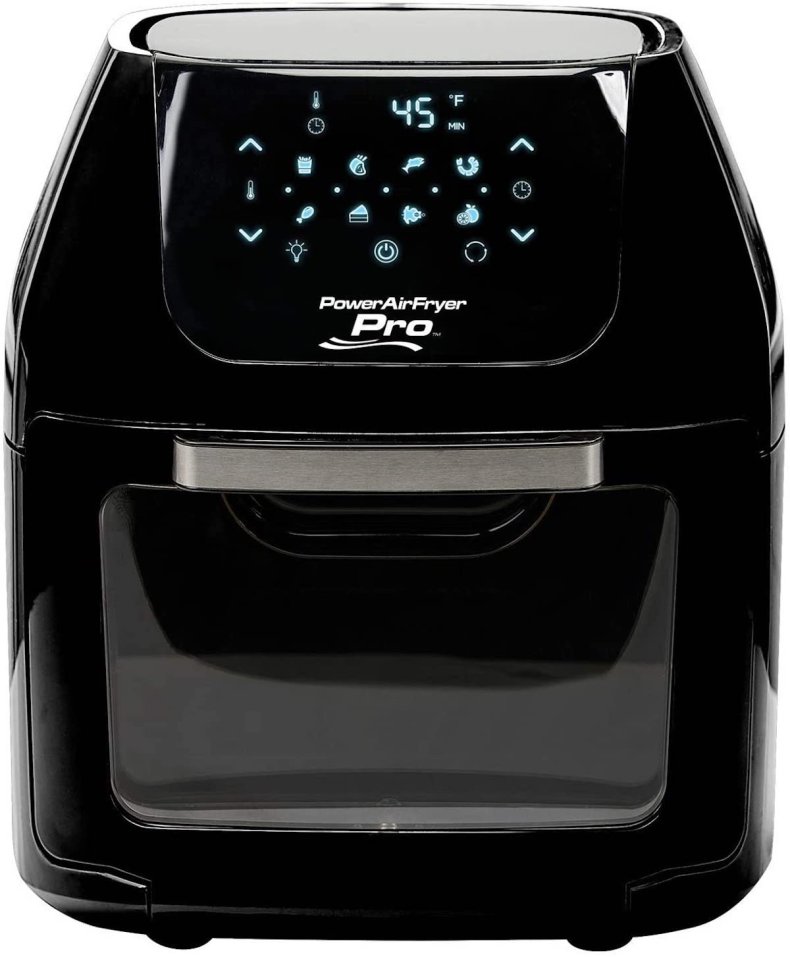 With both a rotating basket and individual racks for your air-frying pleasure, the PowerXL Air Fryer Pro produces evenly golden chicken wings worthy of Instagram. We do recommend using the racks for chicken wings and rotating the racks while cooking. That's how you get the most even air frying for your wings! This air fryer ranks pretty mess-free compared to others, thanks to its dishwasher safe drip tray. The doors come off as well for easy and convenient cleaning after each air fry. It also features eight digital preset programs with one-touch digital control. You can roast, air fry, bake, steam, grill and sauté, too! And if you're in the mood for a rotisserie chicken—rather than, you know, individual wings—the PowerXL Air Fryer Pro can do that, too, easily. Roast an entire chicken in just about an hour.
Buy at Amazon.
Dash Compact 2-Quart Air Fryer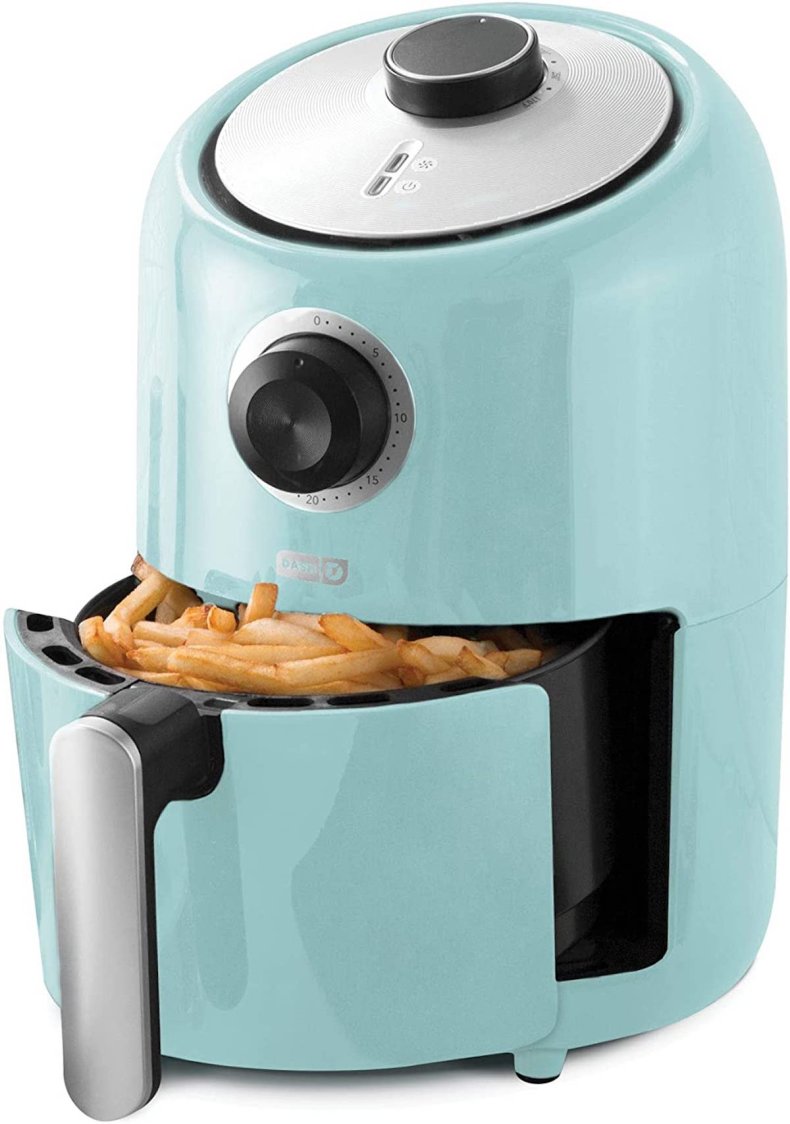 If you only need to feed one or two mouths, the Dash Compact Air Fryer makes delicious and crispy chicken wings, but in smaller portions, thanks to its 1.7 liter tray. It may be tiny, but don't underestimate this little air fryer that could. It can fit as many as one dozen chicken wings, and though it doesn't have a ton of different temperature settings, since it's small, you can almost always get away with heating it on high—400 degrees. With 4.5 out of a possible five stars on Amazon, the Dash Compact Air Fryer has also garnered an impressive following online. In fact, it has more than 12,000 reviews! While most of the positive reviews call out just how well the Dash Compact Air Fryer cooks chicken (that's chicken of all kinds!), this Amazon.com reviewer put it perfectly: "Great for frying chicken! I love fried food but not good for you... Anyway I fried two large chicken thighs with no breading, the chicken skin was super crispy and all the grease was in the bottom of the cooker. It is small but I'm single so perfect for me."
Buy at Amazon.
Newsweek may earn a commission from links on this page, but we only recommend products we back. We participate in various affiliate marketing programs, which means we may get paid commissions on editorially chosen products purchased through our links to retailer sites.