The 8 Best Beach and Camp Chairs for Summer 2021
Whether you're heading to the beach or off to the mountains for camping, a good chair is critical to a great experience. So, what makes a good beach chair or camp chair? It needs to be comfortable for considerable periods of time. It needs to be durable and able to support a lot of body types. And, it should be fairly portable and easy to move around. This thing will likely get packed into a car with lots of equipment and chairs, so it can't be unwieldy. It also can't be so heavy that it's difficult to haul from a parking lot to the designated sitting spot, especially when carrying other gear.
Some of these chairs have been tested and tried personally, while others have been researched and considered through online reviews. There's also a mix of different needs addressed here while trying to keep an eye on price when possible. As summer approaches and restrictions are lifting, it's time to get out of the house and to sit somewhere outside.
Cliq Chair—$89.99
REI Co-op Camp Low Chair—$49.95
Coleman Camp Chair With Side Table—$63.80
Cascade Mountain Tech Camping Chair—$39.98
Helinox Sunset Chair—$149.95
Lafuma Pop Up XL Camp Chair—$110
Yeti Trailhead Camp Chair—$299
Rio Beach Backpack Chair—$43.32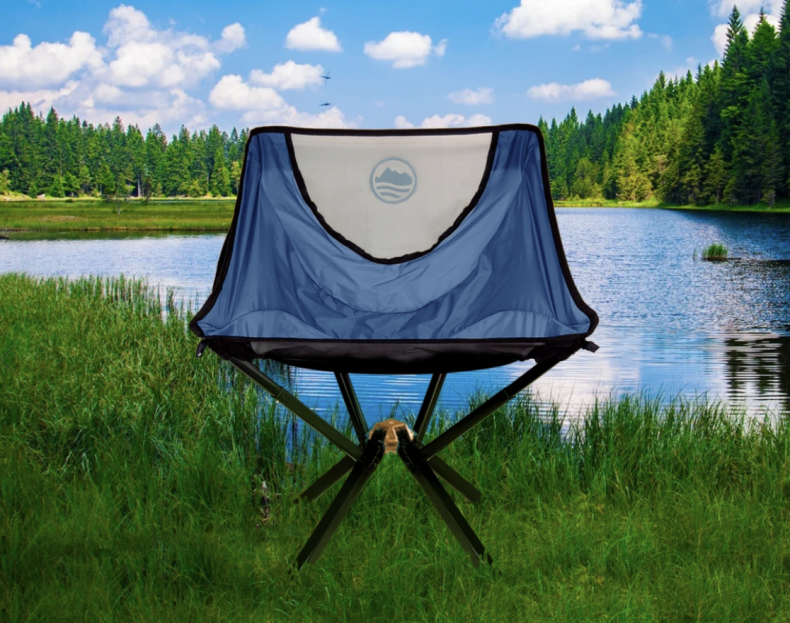 This chair from Cliq is compact, lightweight and sets up within seconds. It's not the most affordable option, but because of all its other characteristics, it might be a contender for the best camp or beach chair on the market. I've had a chance to try it out, and it really does deliver on all its promises.
There are plenty of lightweight, compact chairs available and popular for backpackers, but the difference here is that Cliq doesn't require assembling the chair's frame. From folding to expanding, the process is akin to any other collapsible camp chair's. It doesn't require a bag—it simply wraps with a Velcro strap to keep it closed and tightly bound.
The Cliq uses twice stitched ripstop ballistic nylon, double seams and rustproof aircraft-grade aluminum to help ensure a long, durable life. It can support 300 pounds of weight, and its rubber feet should work just fine on dirt, sand and grass.
Buy at Cliq.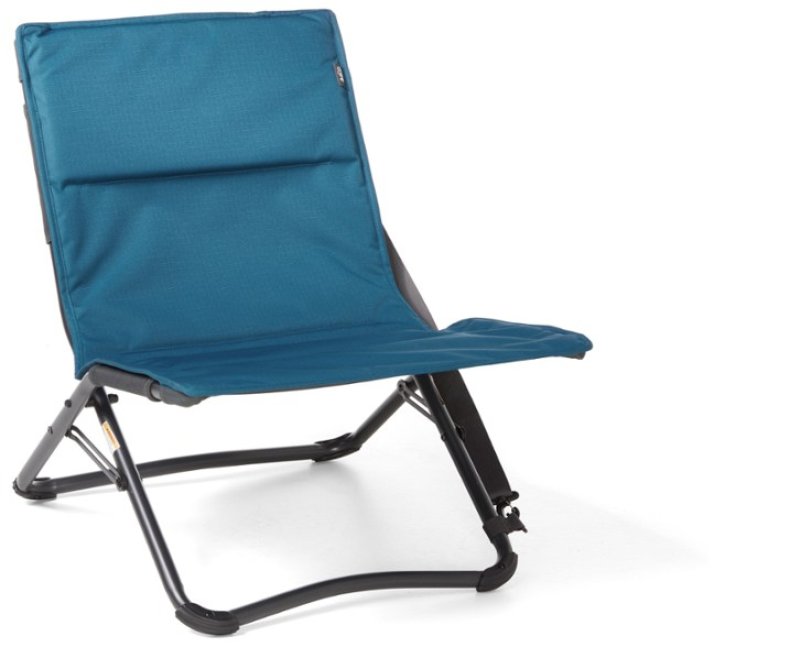 REI not only sells camp chairs by others, but it also makes its own. The REI Co-op has several different types, but this Camp Low chair is particularly good. It has a simple, single-fold design, and its light padding makes it more comfortable than others with thin nylon. Its $49.95 price point is also reasonable for its sturdy feel.
While this Camp Low chair isn't the most portable, it's still easy enough to carry to and from the car. It includes a clip-on adjustable strap for over-the-arm carrying. It also features a curved metal support beam along the top of the headrest that doubles as a carry handle. I like this low-profile chair for lawn use, but, of course it works well for camping and trips to the ocean, as well.
Buy at REI.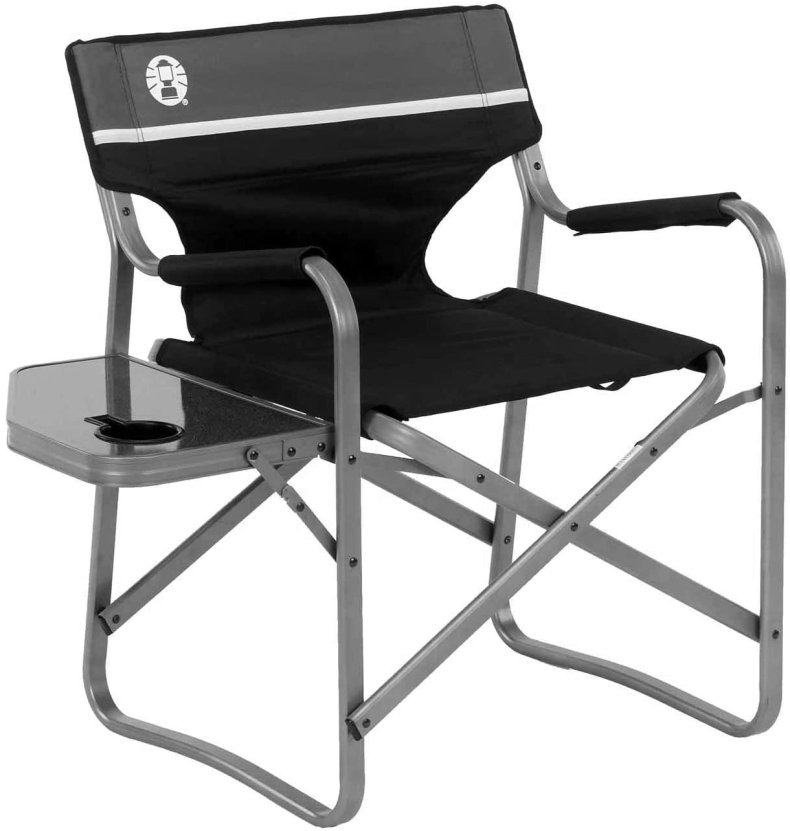 Coleman is a staple in camping gear, and its chairs are no exception. This particular one with a side table is now an example of a classic camp chair. Its square-looking frame folds flat with minimal effort, and its wide seat accommodates plenty of body types.
The side table adds bulk, but it also adds enough utility to justify its inclusion. Instead of needing to pack along another small end table, this one blends right into the chair when folded. This Coleman Camp Chair should be durable for years of adventure outings and, being a popular outdoor brand, has had plenty of testing.
Buy at Amazon.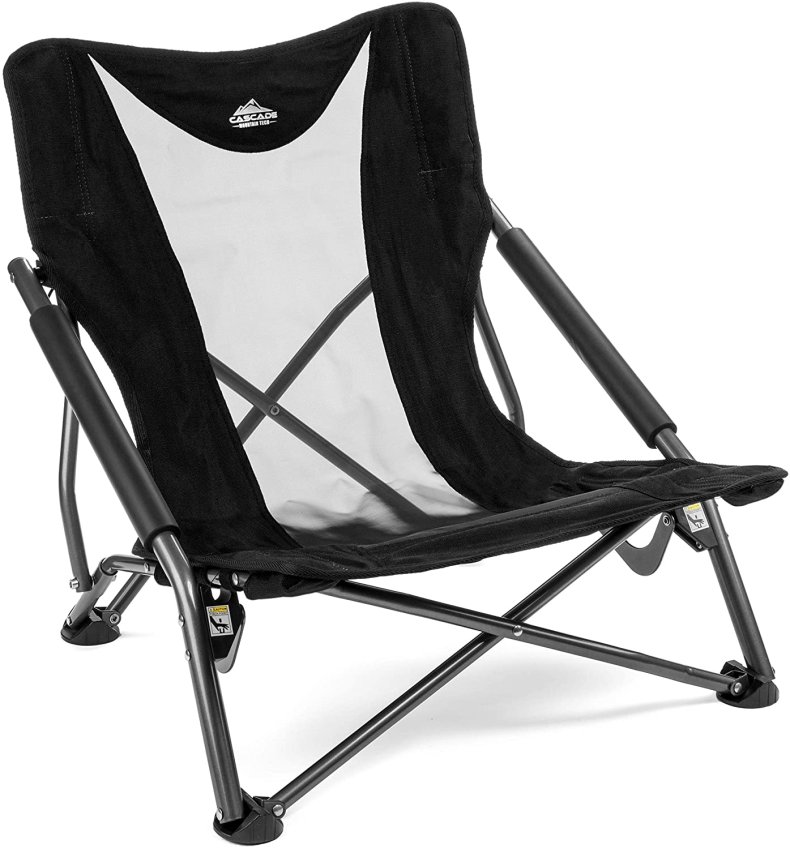 This folding chair option is really for budget-conscious buyers. This camping chair from Cascade Mountain is a low-profile seat that folds up small enough to fit in car trunks with tight space. It's also light enough to carry with ease in its included bag.
The chair supports weight up to 250 pounds and sits 9 inches off the ground. With its low profile, this chair could be a little more difficult to get in and out of. It does have a wide stable base and a backrest that should support a relaxed posture for a lot of people. It has a 4.5 out of five star rating on Amazon, with more than 2,300 reviews.
Buy at Amazon.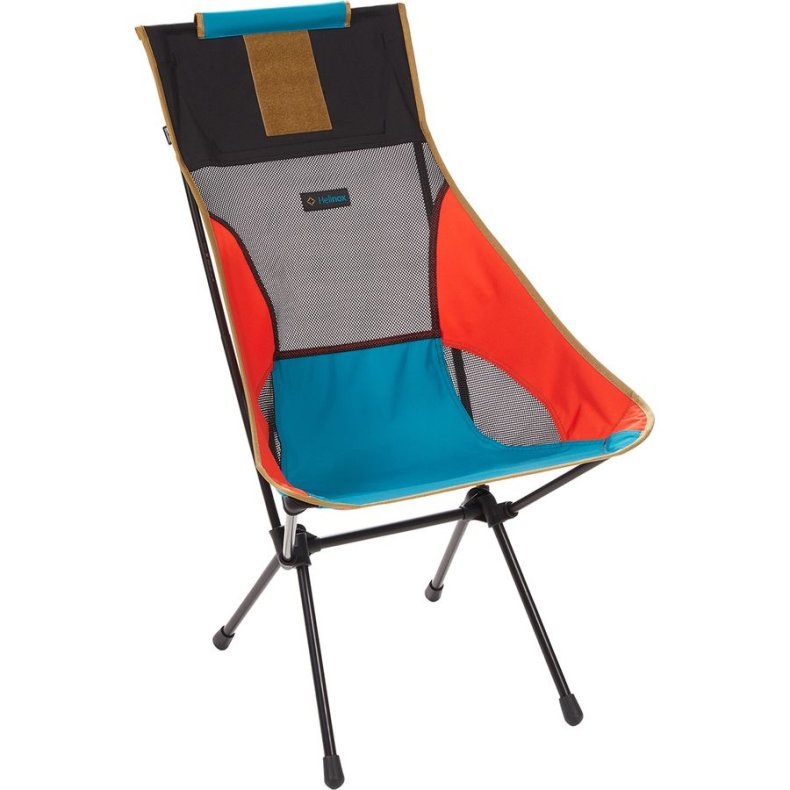 The Helinox Sunset Chair ticks off a lot of the boxes for what makes for a great camp chair, but it also has an eye on the future. It's packable and comfortable, plus it's rated to hold more than 300 pounds. That's all great for the present, but its modular design and plentiful accessories means the chair can evolve into the future. There's a Rocking Feet accessory to convert it to a rocking chair. There's an attachable sunshade for bright and sunny days. There's even a cup holder or seat warmer that can each be added to the mix, as well.
The Helinox chair starts around $150, meaning this multifaceted seat won't come cheap. If your priority is more in versatility than price, then you're in luck. This could be your perfect, customized chair, depending on if its available accessories are what you're looking for.
Buy at Backcountry.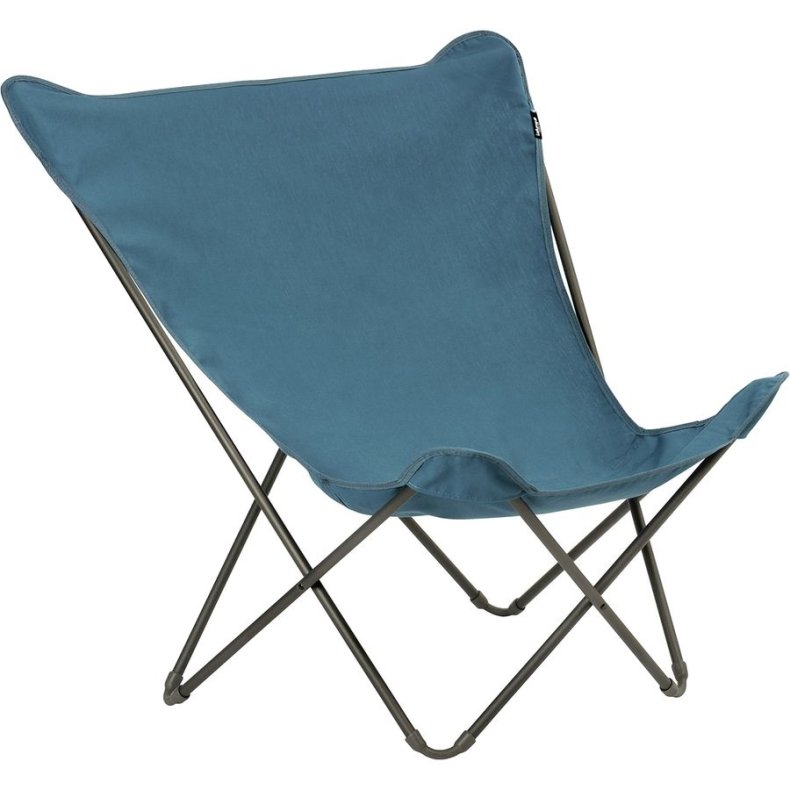 If a folded chair that's skinny and long works best for your transportation needs, then you're in luck. The Lafuma Pop Up XL Camp Chair is a tall and thin silhouette when packed up for travel. When it's unfolded, it's wide and plentiful. The Pop Up XL chair is more of a lounge chair than other camping-specific ones, so it one could fit aesthetically on a porch or patio, as well.
It has the ability to support 243 pounds, and an 11-inch seat height and a steel frame for extended use. The large backrest is intended for long comfortable sessions of relaxing on vacation.
Buy at Backcountry.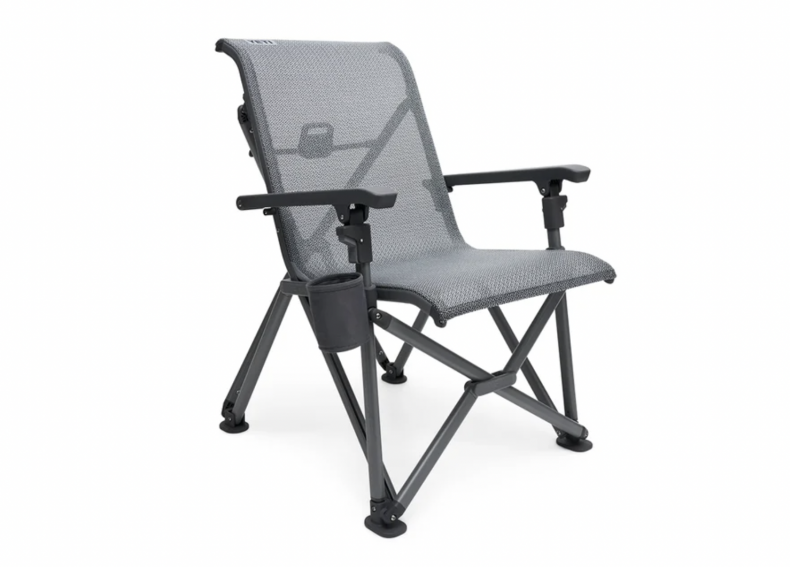 There's no way around it: The Yeti Trailhead Camp Chair is expensive. At $300, the camp chair is aimed at professional sitters, not amateurs. In all seriousness, the Trailhead is focused on durability and strength. It is over-engineered to support up to 500 pounds and has FlexGrid fabric that won't fade under the sun's rays. The material is also designed not to stretch out over time. The feet are even extrawide to provide stability over different types of terrain. Again, this a serious chair aimed at people who put their seats through lots of wear and are tired of buying chair after chair each year.
Buy at Yeti.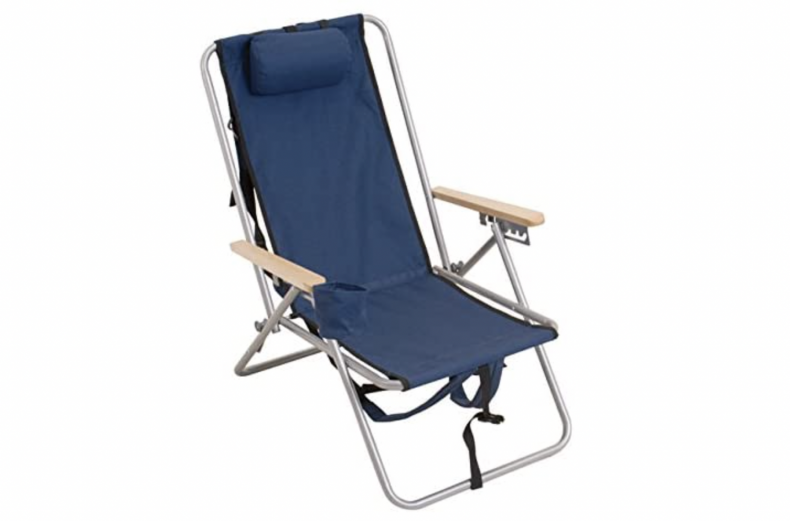 The Rio Beach Backpack Chair is another economical option for those people who just don't need anything to last a decade or more. This chair is geared toward those times you might need to haul a bunch of gear or park farther away from your destination. The chair has backpack straps, meaning you won't actually have to carry it but can just throw it on your back to keep your hands free.
Buy at Amazon.
Newsweek may earn a commission from links on this page, but we only recommend products we back. We participate in various affiliate marketing programs, which means we may get paid commissions on editorially chosen products purchased through our links to retailer sites.