The 8 Best Cheap, Affordable Sunglasses Actually Worth Buying
Sunglasses are meant to be an accessory of convenience—shielding our eyes from the harmful rays of the sun and allowing us to see better—but when the cost of shades is super high, it kind of defeats the purpose. After all, sunglasses randomly go missing, they fall off your head and get stepped on, sat on, you name it. If they're going to be that disposable, they might as well not cost an arm and a leg.
Then again, finding cheap sunglasses that are actually worth buying is easier said than done. You want a reasonable price, but don't want a worthless piece of plastic, either. Ideally, sunglasses should last for longer than just one season, be no more than $100 max, and still be aesthetically pleasing.
Does that sound like too much to ask? We promise: Cheap sunglasses that aren't cheaply made really do exist.
Solana Eco-Friendly Glasses
The appeal of Péla Vision sunglasses goes beyond style and price (though both are still factors). Marketed as the world's first eco-friendly pair of shades, Péla makes classic, fashion-forward styles out of material that's 100 percent biodegradable. Meaning that at the end of its life (as in, when they break or you're done with them for whatever reason), they can be composted and turned into soil. Not just the frames, either—the lenses, too. Cheers to that!
Eco-friendliness aside, Péla Vision's sustainable material doesn't mean sacrificing quality or paying a luxury tax. These Matte Black cat-eye frames may be entirely biodegradable, but they're also durable and feel just as strong as other well-made, high-priced sunnies. Colors also include Latte, Rose Tortoise, and Frost.
Buy at PélaVision.com.
Sungait Vintage Round Sunglasses
Available on Amazon, these best-selling shades feel and look high-end but only cost $16. You just can't beat the price with this fan-favorite dupe of Ray-Ban's Erika Classic, especially when Ray-Bans are priced at nearly 10 times as much.
Again, there's no sacrificing quality here, which is why the Sungait Vintage Round Sunglasses have amassed more than 9,000 reviews on Amazon and average a near-five-star rating, too. Buyers love how they're both lightweight and well-built, and can be customized to include either polarized or nonpolarized lenses. With or without the polarization feature, the lenses offer UV400 protection—because when it comes to our eyeballs, safety first then comes fashion.
Buy on Amazon.
Knockaround Mount Evans Aviator
Aviators are known for costing a couple hundred bucks, so this take on the classic sunglasses silhouette from Knockaround is a style icon's godsend. Super affordable at just $30 and reminiscent of some of the most expensive aviator styles out there, the Mount Evans Aviators from Knockaround feature subtle tortoise detailing, FDA-approved polarized lenses, and slim frames. While they still fit into that beloved aviator category, these Knockarounds are more square than they are rounded (think nail shape when you get a manicure), which, though muted, adds a bit of uniqueness.
Buy at Knockaround.
Under Armor Igniter Sunglasses
Dad on a soccer field, cheering on his mini Mia Hamms in training—that's what you'll look like sporting these reasonably priced Igniter Sunglasses from Under Armor. A fan-favorite brand among the athletic crowd, Under Armor really nailed the price point ($100 even) and the quality that wearers of these glasses want. After all, these shades are nearly indestructible: They're made from titanium frames and polycarbonate lenses, so you don't have to gasp every time they fall or get scratched. They also feature polarized glare reduction, come in three different sizes and seven different colors, and have a rubber no-slip nose pad for the most comfortable fit.
Buy at Amazon.
Vans Street Ready Glasses
Want to bring the fashun? But without the heavy price point that it most often comes with? Stray away from traditional Wayfarer and aviator silhouettes, and knock it out of the park with a youthful take on the ever-classic cat eye.
Featuring the subtlest of cat-eye shapes and funky colored coral translucent frames, the Vans Street Ready Glasses can be found at PacSun, ASOS, and Tillys for under $15.
Buy at Tillys.
Sojos Small Round Polarized Sunglasses
These vintage-feeling polarized sunglasses are just small enough to give off contemporary John Lennon vibes. And we're here for it. Featuring stainless steel frames and trendy mirrored lenses with high-definition UV400 TAC polarization, which filters out sunlight reflected glare and protects from eye damage, the Sojos Small Round Polarized Sunglasses are an affordable option for that in, retro style. The green mirrored lenses are pictured here, but these Sojos are also available in pink, blue, and silver mirrored lenses, too. All for less than what it costs to fill your gas tank!
Buy at Amazon.
Flamingos on a Booze Cruise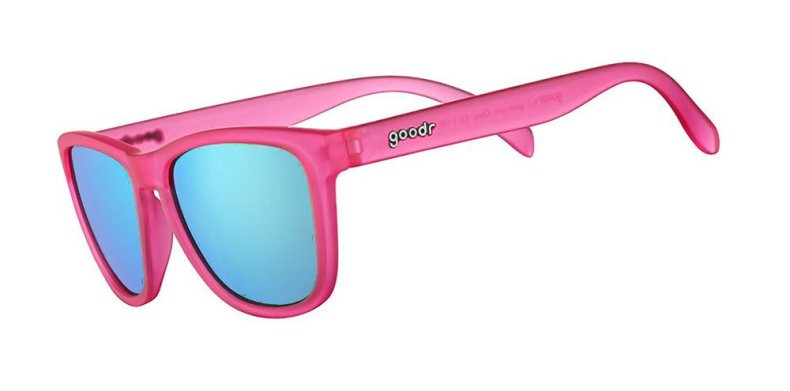 The first thing you're going to notice about the Flamingos on a Booze Cruise glasses is that flaming pink color. If it's bold and beautiful you like and it's affordable, well-made statement sunnies you want, these are definitely it. But put aside their vibrant appearance for a second and focus on the desirable price (just $25) and their performance. We hear you: What does "performance" mean when it comes to sunglasses? Well, these polarized, mirrored lenses are made with your workout in mind—though it's totally acceptable to wear them on the beach while drinking margaritas. They're designed to fit well—so you can run, bike, and even lift weights while wearing them.
Buy at Goodr.
Amber Coast Sydney Polarized Glasses
Stay golden! If gold is your preferred hue of choice, you're going to go googly-eyed over this affordable option from Blenders Eyewear. Just $48, these sunnies have a rating of 100 percent UV protection, are designed for unisex wear (so you can share them with your significant other), and feature polarized amber lenses that pair nicely with their glossy, see-through frames. These frames fit better on medium to large-size faces, but one of the main things we love about them (besides their price, color, and style) is that they're designed to look good on everyone.
Buy at Blenders Eyewear.
Newsweek may earn a commission from links on this page, but we only recommend products we back. We participate in various affiliate marketing programs, which means we may get paid commissions on editorially chosen products purchased through our links to retailer sites.