The 8 Best Cheap Kayaks of 2021 That Work for Any Budget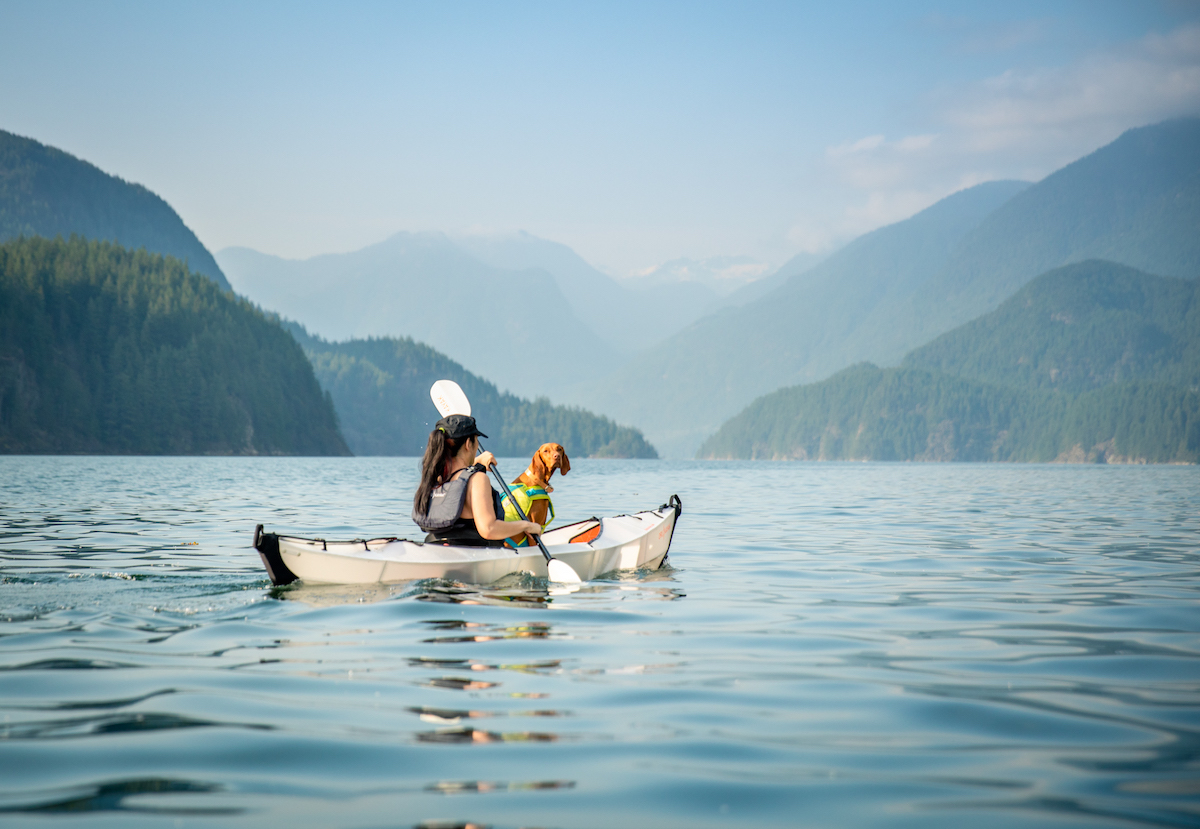 Grab your paddle! Summer is the perfect time of year to become obsessed with kayaking—though, depending on where you live, life in the kayak is beautiful during just about any season. Once you hit the water, it's hard to get rid of the kayaking bug (speaking from experience, for sure), and you may find yourself wanting to fill your weekends with this water activity, no matter the weather. But renting a craft every week can get expensive, so in order to spend as much time out on the water, it's definitely worth investing in your own.
Of course, there's no looking past the fact that kayaks are expensive. Luckily, there are some cheap kayak options out there that are reasonable, affordable and still pretty good quality—these are our top picks.
Best Cheap Kayaks
Intex Challenger K1 Inflatable Kayak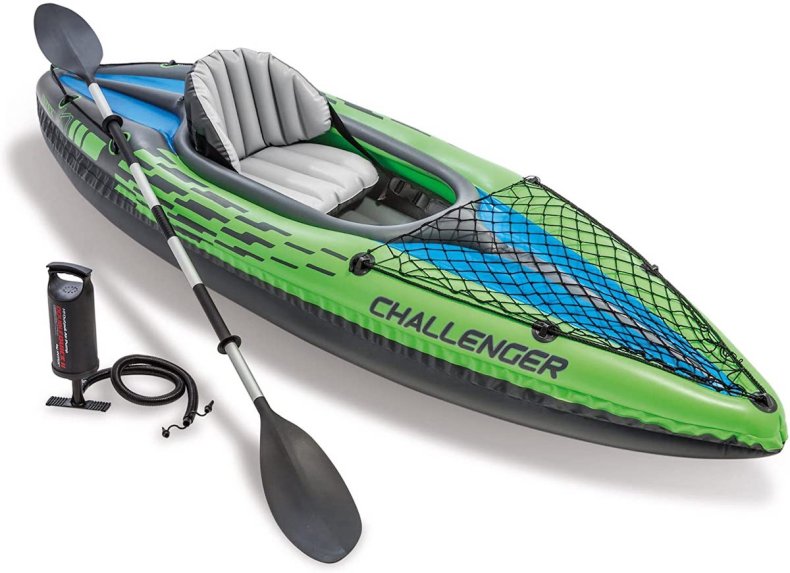 If you're looking for the absolute cheapest kayak option, it's undoubtedly an inflatable craft. Intex is a brand known for its inflatables—when it comes to pool toys, too!—so if you're going the inflatable route, the Intex Challenger K1 Kayak comes highly recommended. This style is about $70 cheaper than its sister, the Challenger K2, and though it is inflatable, it's also durable, thanks to welded material and an 84-inch aluminum oar. The cargo net in the front is also designed for storage, but you may still want to invest in a waterproof bag for your phone, wallet and other important items.
Buy at Amazon.
Lifetime 90818 Angler Fishing Kayak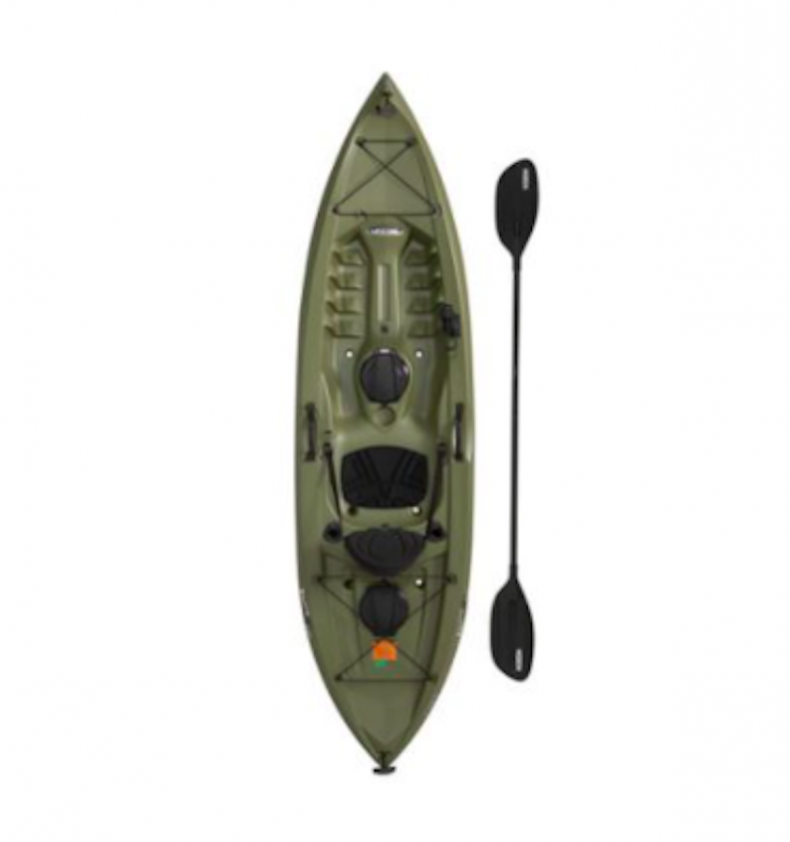 Looking for a fishing kayak? The Lifetime 90818 Angler Fishing Kayak at Tractor Supply Co. is not only available for delivery (so you don't have to walk out of the store dropping and dragging your brand-new watercraft), but it also has a stable flat bottom, deep tracking channels and chine rails for stability. The craft is also UV-protected, designed to be impact-resistant and, of course, because it's a fishing kayak, features two flush-mounted fishing rod holders and multiple footrest positions so you can get comfy while luring in the bounty.
Buy at Tractor Supply Co.
Pelican Bandit NXT 100 Kayak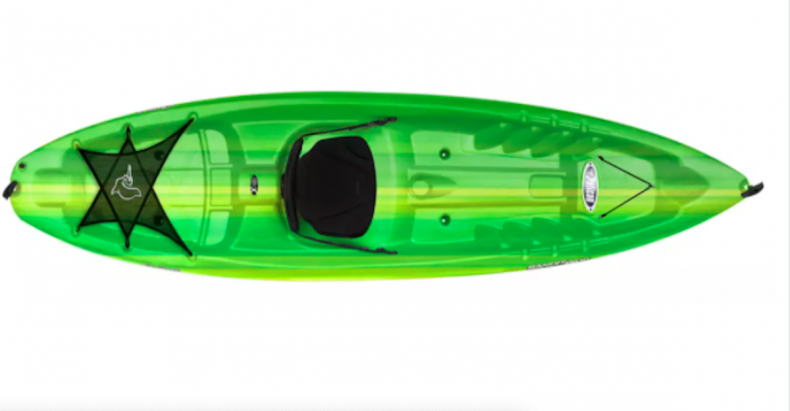 Available in green, pink, orange or blue, the Pelican Bandit NXT 100 Kayak is one of the best, most durable kayak models under $400. This sit-on-top recreational kayak is 10 feet long, designed for beginners and surprisingly comfortable: It has an adjustable padded backrest, molded footrests and a molded seat. It also features carry handles that make it easy to transport to and from the launch site, a large storage tank and bungee cord, and a dual-position bottle holder. Despite all these awesome and convenient amenities, the Pelican Bandit NXT 100 Kayak doesn't come with a paddle, so, unfortunately, you'll have to buy that piece separately.
Buy at Dick's Sporting Goods.
L.L. Bean Manatee Kayak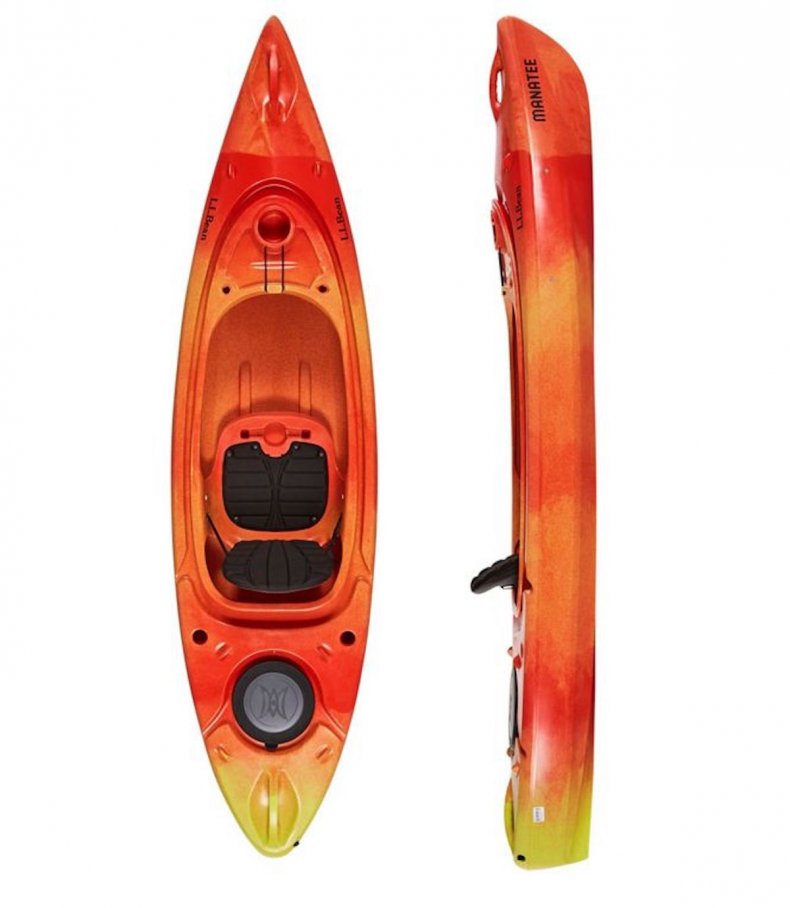 The Manatee Kayak is one of the best-selling kayaks at L.L. Bean for good reason. At $399, it fits right into that sweet spot between what's cheap and what's expensive, so even if you wanted to buy a duo, two kayaks still come to just under $1,000! But despite the affordable price, what you'll love about the Manatee is its seemingly luxe features that you typically see in costlier designs: padded seats, adjustable food rests and a capacity for 300 pounds total.
Perception Tribe 9.5 Sit-On Kayak

You'll love more than just the tie-dye-esque design of the Perception Tribe 9.5. This sit-on kayak has an adjustable, framed seat back (for ultimate comfort), is made in the U.S. and is specifically designed for paddlers who identify as beginner to intermediate. Because comfort is key, it also features integrated footrests and molded knee and thigh areas, as well. You'll find the storage in the center and a built-in drink holder, too, as well as bow and stern toggle handles for simple transport.
Buy at Amazon.
Pelican Maxim 100X Sit-In Recreational Kayak

The Pelican Maxim 100X Sit-In Recreational Kayak is on the more expensive end of the spectrum but is outfitted with high-quality features that make it well worth the money. It is lightweight, features a storage hatch and a bungee cord, a storage platform with a mesh deck cover and also comes with a cockpit table and bottle holder. The seat is designed for maximum comfort, too, because we all know how badly your neck can hurt after a few hours of paddling. The kayak includes a padded seat cushion, adjustable padded backrest, molded footrests and secure foot bracing.
Buy at Amazon.
Ocean Kayak Malibu Two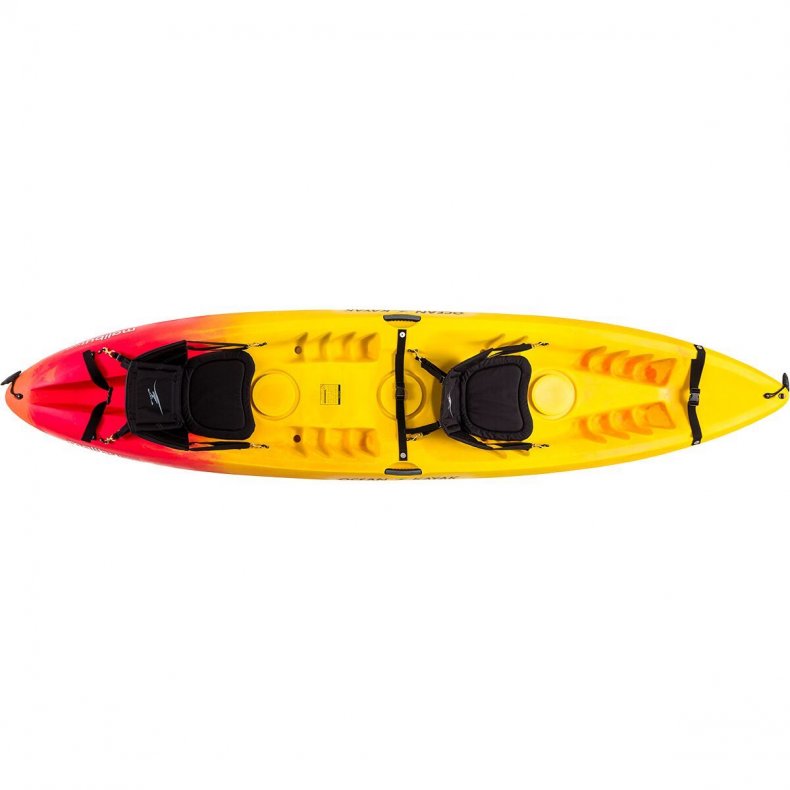 If you've got your sights set on a two-person craft, the Ocean Kayak Malibu Two is it. At just $799.99, you're really getting the most bang for your buck, since two paddlers can use it at once. Despite the extra space designated for the second paddler, you don't sacrifice weight with this model. It's still lightweight enough to lift to and from the launch site and actually, there's even enough extra space to also accommodate a third paddler—as long as it's a small child or a water-inclined pet! Other highlights include overlapping foot wells, a screw-in drain plug and molded-in side carry handles at both the bow and stern.
Buy at Backcountry.
Oru Kayak Inlet Folding Kayak

It would be totally remiss to create a list of the best affordable kayaks under $1,000 and not include the Oru Kayak Inlet. If you've seen these signature white, orange and black kayaks before—or even heard about them—then you know what the hype is about. The Oru Kayak Inlet is the only kayak on this list that's more convenient to carry than an inflatable kayak—and it's a heck of a lot sturdier. Because it folds up into a carrying case, it's pretty lightweight and super portable, but unlike some other already assembled kayaks, you will have to dedicate about 10 to 15 minutes or so to putting the kayak together before each launch. Don't worry—you'll get used to it! Plus, you can't beat the convenience of a foldable, portable kayak. After all, not every launch site is easy to get to from a car, so it's a lot easier to carry the Inlet than most others.
Buy at Oru Kayak.

Newsweek may earn a commission from links on this page, but we only recommend products we back. We participate in various affiliate marketing programs, which means we may get paid commissions on editorially chosen products purchased through our links to retailer sites.