Halloween is a week away, and for some, the idea of a DIY costume may be too overwhelming to fathom with so little time. There are hundreds of costume ideas you can pull off, even last minute, for yourself, your family, your kids or your friends.
When searching for a last-minute Halloween costume you can create at home, look no further than lifestyle blogs who have tried it out themselves. Here are some of the best 2019 do-it-yourself costumes Newsweek could find. Just click on the heads for more detailed information.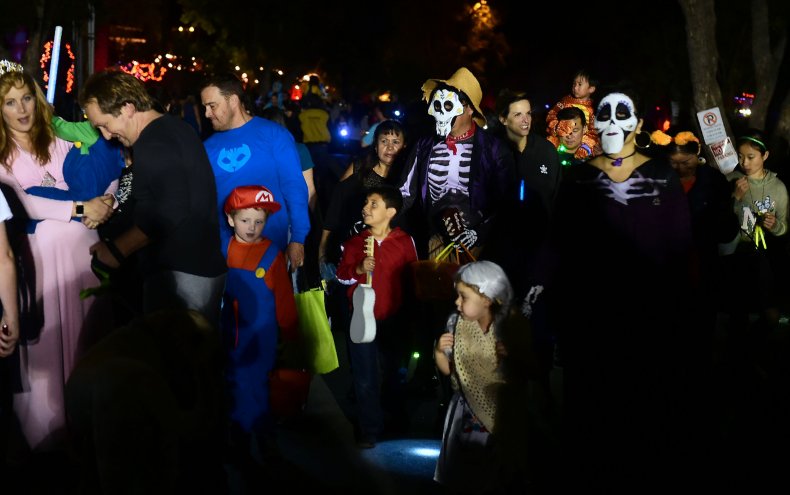 Some crafty readers may remember making fleece, tie blankets. This concept is remarkably similar. There's no sewing involved: just tying some knots and pinning, or hot gluing, some felt for a spooky ghoul face. While this DIY is aimed at kid's costumes, it can be replicated in an adult size.
A great way to start a DIY is to look at the clothing you already own. If you have green pants or a green sweatshirt, you're halfway to becoming a prickly cactus. This costume is more than easy. All it requires is hot gluing some pipe cleaners to green basics. If you want to make the costume fancier, there are also directions on how to inspire the perfect cactus flower.
Want to start a heated debate about the correct pizza toppings, and look cute doing it? This costume only requires some brief hat assembly. The rest of the look is up to you. Anything yellow will work to give the most authentic look.
Frozen II will be here soon, but you can celebrate before its November release date. This homemade Olaf costume is simple and cute, and can be created in any size. Kids will love how comfortable it is, and adults will appreciate how simple it is to assemble.
The beauty of this bat costume is you'll likely already have most of the materials in your closet. All you need is a batwing cape, which can easily be made following the steps listed, and some additional materials to make bat ears. Don't feel like assembling the headband? You can buy one at your local costume shop, or try to use your hair instead.
If you're looking for an excuse to wear a lot of black, this is it. Sometimes, we all feel like Wednesday Addams, and Halloween is a great excuse to embody the gloom. Wear all black with Wednesday's signature white collar. The only other accessories you need are some hair braids.
This gender-neutral, any age–appropriate costume may be the easiest of all. To fit in with classic movie robbers, you'll just need a striped shirt. The rest is up to you.
This costume is not only practical but incredibly cozy. While impressive, the costume is sure to keep your child warm, even on a cold trick-or-treating night. The unicorn costume requires a bit of additional assembly but is made with easy-to-find materials.