Ahead of Brandon Bernard's Execution, Federal Government Reveals 8 Executioners Caught COVID After Last One
Ahead of Brandon Bernard's execution, a new court filing has revealed that at least eight executioners tested positive for coronavirus after the last federal execution.
The information came in a declaration filed this week in response to a lawsuit from two prisoners housed at the Federal Correctional Complex in Terre Haute, Indiana.
Although neither are on death row, they are suing Attorney General Bill Barr in a bid to halt the five federal executions scheduled to take place before President Donald Trump leaves office in January, arguing they risk becoming coronavirus "super-spreader" events.
In a filing at the weekend, the Justice Department's attorney admitted in a footnote that "some" members of the execution team that put Orlando Hall to death on November 19 had since tested positive for COVID-19.
Now, Rick Winter, the regional counsel for the Bureau of Prisons (BOP), has revealed that eight members of the 40-person execution team tested positive after Hall's execution—and that five of them will be taking part in this week's federal executions.
Winter said that only six members of the execution team were tested for the virus at Terre Haute prior to Hall's execution and all six received negative results.
Six team members who tested positive after the execution did so with a week of returning home, Winter noted in a declaration. Two more tested positive more than a week after returning home.
Five of them will travel to Indiana this week after following the Centers for Disease Control and Prevention guidelines on isolating, Winter said. One could return to work according to the guidelines, but is not doing so "for personal reasons."
The two who tested positive more recently do not plan to travel to Indiana for this week's executions, Winter said.
Winter's declaration does not say how many of the other 32 execution team members were tested for the virus, but the federal government's filing at the weekend noted that testing for execution team members is not mandatory. It also noted that the execution team who travel from out-of-state do not quarantine on arrival to Indiana a few days before a scheduled execution, but begin their tasks immediately.
Winter did address claims by Yusef Ahmed Nur, a professor at Indiana University Kokomo who served as Hall's spiritual adviser before his execution.
Nur, in a declaration to the court, said he tested positive for coronavirus on November 27. He also noted that he had been in the execution chamber near unmasked executioners.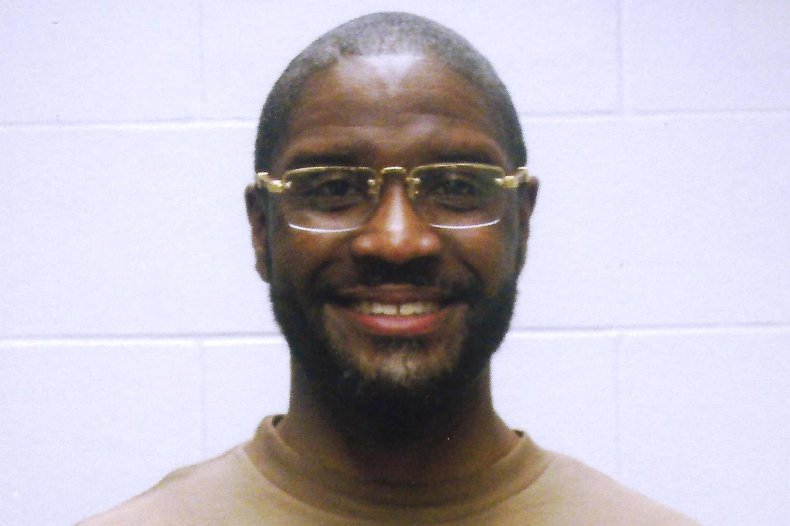 In a blog post shared by the American Civil Liberties Union, which has filed litigation to halt federal executions, Nur said he is "certain" he contracted the virus during the execution.
"My only risk of exposure was the day of the execution, when I was shuffled back and forth from packed vans to crowded rooms, and stood in the death chamber only feet away from unmasked executioners," he wrote.
In his declaration, Winter said Nur appeared to be referencing a U.S. Marshals' representative and the BOP's government official in the execution room.
He acknowledged that "both individuals removed their masks for a brief period of time so that they could clearly communicate."
He added: "As soon as the execution was completed and time of death announced, both individuals put their masks back on."
Cassandra Stubbs, the director of the ACLU's Capital Punishment Project, told Newsweek that there is no way to conduct executions safely during a pandemic.
"The fact that at least 20 percent of the BOP's execution team has contacted COVID-19 following Orlando Hall's execution speaks volumes—particularly given the fact that we don't know how many team members opted in to be tested," Stubbs said.
"There is no way to conduct these federal executions right now in a way that is safe. The federal government isn't just willing to sacrifice the health and safety of people incarcerated at Terre Haute—it's sacrificing its own employees, people who live in Vigo County, spiritual advisors, and so many others. And it's costing the American people millions of dollars in the process. This depravity has to stop."
The Trump administration has executed eight inmates after resuming federal executions over the summer, ending a 17-year moratorium.
Bernard's execution is set to go ahead on Thursday, after a judge denied a stay on Tuesday and despite five of the jurors who sentenced him to death calling for his sentence to be commuted. Another inmate, Alfred Bourgeois, is set to be executed on Friday.
Three more federal executions are scheduled to take place next month before President-elect Joe Biden, who has said he would end the federal death penalty, is inaugurated.
Lisa Montgomery, the only woman on federal death row, is scheduled to be executed on January 12, followed by Corey Johnson on January 14 and Dustin Higgs on January 15.