8-Foot Alligator Attacks Florida Bicyclist Who Fell off Bridge, Victim Airlifted to Hospital
A Florida bicyclist was attacked by an alligator in Halpatiokee Regional Park on Monday. The unidentified man had to be transported to a local hospital via helicopter, according to Fire Rescue official Shawn Lisowy.
On Monday afternoon, the cyclist was riding over a wooden bridge, when he lost control while traveling through the park. Once he fell into an area of water, he was bit by an 8-foot female alligator. The man was able to remove himself from the water with assistance from an onlooker.
"The unidentified man was airlifted to Lawnwood Regional Medical Center & Heart Institute in Fort Pierce with traumatic injuries," said Lisowy. Lisowy didn't have any information on the unidentified man's injuries or the time frame of the attack.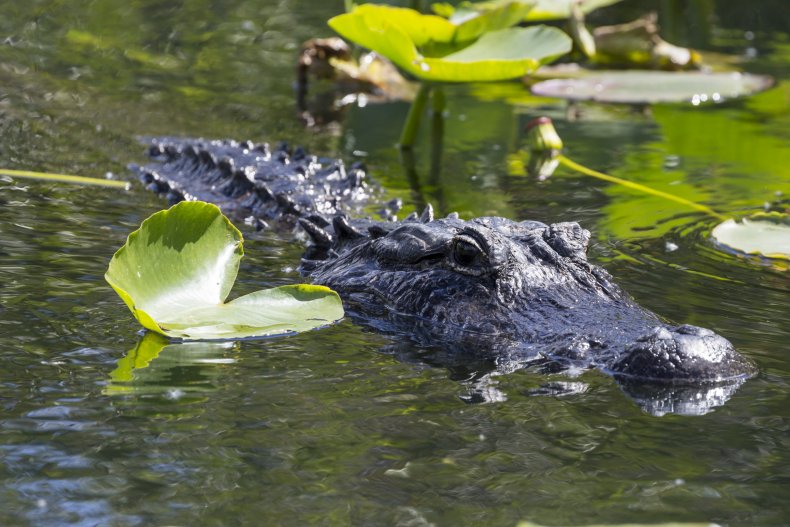 The Florida Fish and Wildlife Conservation Commission (FWC) didn't issue an immediate statement, but spokesperson Carollyn Parrish stated the FWC is handling the investigation.
The alligator was retrieved by Florida alligator trapper John Davidson. He was called to the park shortly after the attack took place. Davidson believes the female alligator has a nest of eggs around the area, which is why she was there.
He stated that he's going to come back to the park on Tuesday to retrieve the rest of the eggs and relocate them.
"You got to be careful when you're around the water, especially this time of year," said Davidson, a retired firefighter who has been a trapper for about 10 years. "The females are sitting on nests and are particularly aggressive."
The alligator will be located to a farm near Fort Drum, Florida.
There have been a total of 32 alligator attacks in Florida between 2018-2020, according to the FWC. Out of these 32 attacks, two of them were fatal. Although there are millions of alligators in the state of Florida, most of the attacks aren't because of a human being.
Oftentimes, an alligator is going after what it considers to be "prey." They also go after prey they can easily overpower, but humans don't fall in this category. Male alligators usually attack for mating reasons while female alligators attack to protect their egg nests, as mentioned above.
The University of Florida suggested that to avoid being bit by an alligator, individuals should never feed an alligator, keep a safe distance or avoid areas with alligators, keep pets away from water, and take other precautions to minimize the threat of an attack.